Just over the hills from Malibu, in the west end of the Valley on the L.A. side of the Ventura County line, you'll find a place where the sun always shines and the grass is always green -- and acres of it can be enjoyed on the golf courses. This is Westlake Village, home to Westlake Village Inn -- a 141-room Mediterranean-style boutique hotel.
Spread across 17 beautifully landscaped lush acres, the resort is a relaxing destination for business travelers, vacationers or Angelenos who just want to get away from the hustle and bustle of the city.
Guests stay not in a monolithic building, but in Spanish-style cottages scattered among scenic gardens. Each room is spacious, with luxurious bathrooms, even in-room safes. In addition, every room features a patio or balcony with mountain, lake, golf course or garden views. Some rooms include vaulted ceilings, fireplaces and Jacuzzis.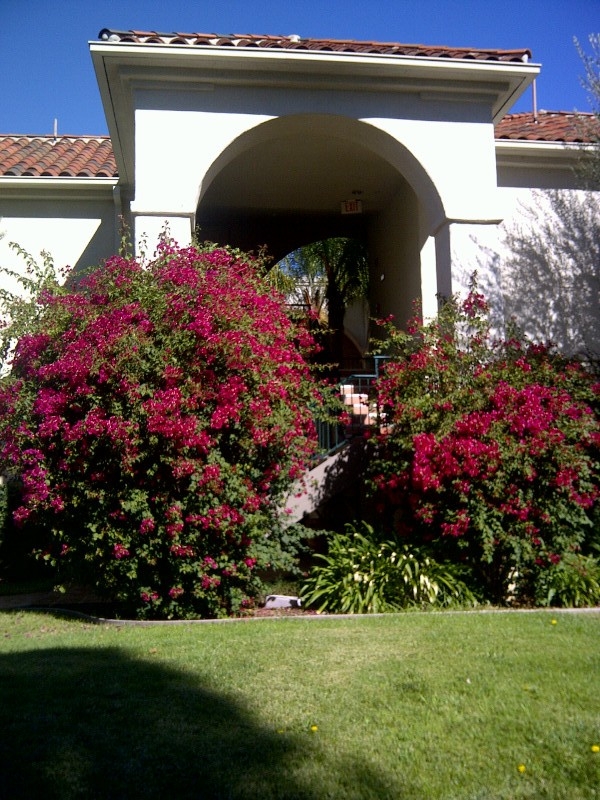 Bougainvillea adorns the Atrium cottage. (Photo by Scott Bridges)
I stayed in the Atrium cottage, and while my patio didn't include any sweeping vistas, I was impressed that it was secluded, and looked out on a bougainvillea-flowing garden and lawn.
Guests can spend an afternoon on the links or bicycling through the tree-lined community (bikes can be checked out at the hotel -- I only saw three, however) or just lounging at the pool with a daiquiri or Mai Tai. It can get hot in this part of the county, even in October, and the mid-sized pool shaded by tall palms offers a welcome respite from the sun.
And when you're ready to unwind, you'll want to visit Remedy Skin + Body, the inn's rejuvenating spa. They offer a variety of massages in-suite or poolside in one of a couple of cabanas. They also offer facials and many other cosmetic dermatology services.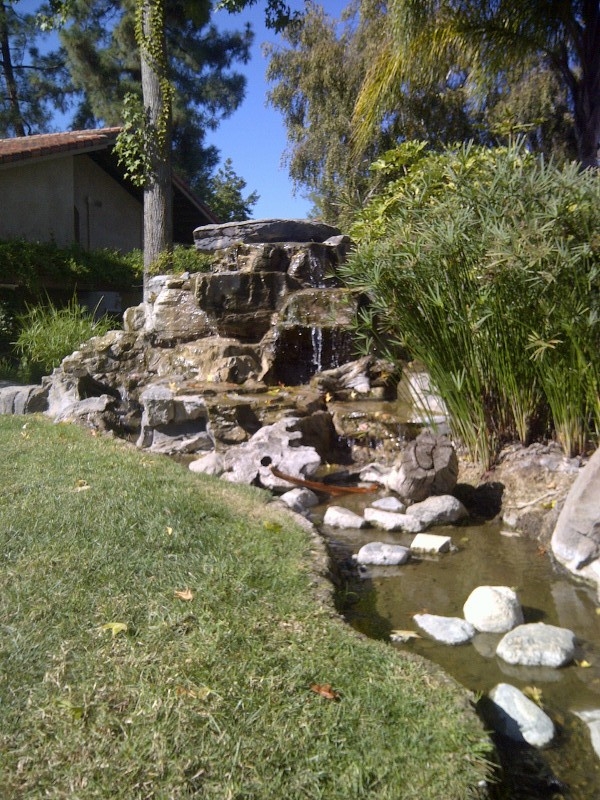 The inn boasts 17 acres of natural beauty. (Photo by Scott Bridges)
Westlake Village has a very low-key feel to it. In addition to the local yacht club, the lake itself includes canals, and each house on it has its own slip. Pontoon boats here are as ubiquitous as the ducks. It feels a little bit like a retirement community, actually - with the exception of Bogie's. The nightclub brings out a younger but elegant crowd. A dress code is in effect -- no T-shirts, sportswear, caps, shorts, flip flops, baggy pants, etc. It's a dress-to-impress dance club, with cover charge, bottle service and other "right crowd" elements.
For a fine-dining experience, you'll want to visit Mediterraneo. The restaurant features a modern Italian, chef-inspired menu, and a vast wine list with a particularly distinguished reserve list. It's also open for breakfast, lunch and dinner. Guests receive a complimentary continental breakfast at the bar -- but don't get your hopes up unless you're interested in a bowl of cereal, bagel, banana and so forth. Order from the menu -- there are a variety of good dishes -- or go out to a local restaurant.
But the dining scene at Westlake Village Inn just got more exciting with the long-awaited opening earlier this month of The Stonehaus, a coffeehouse/wine tasting room. The rustic Tuscan-style edifice (designed by local architects -- Aaron's Architects of Westlake Village) is set amidst olive trees and overlooks a working vineyard, which late last month produced two tons of grapes -- syrah, cabernet franc and cabernet sauvignon -- which will be bottled under The Stonehaus label.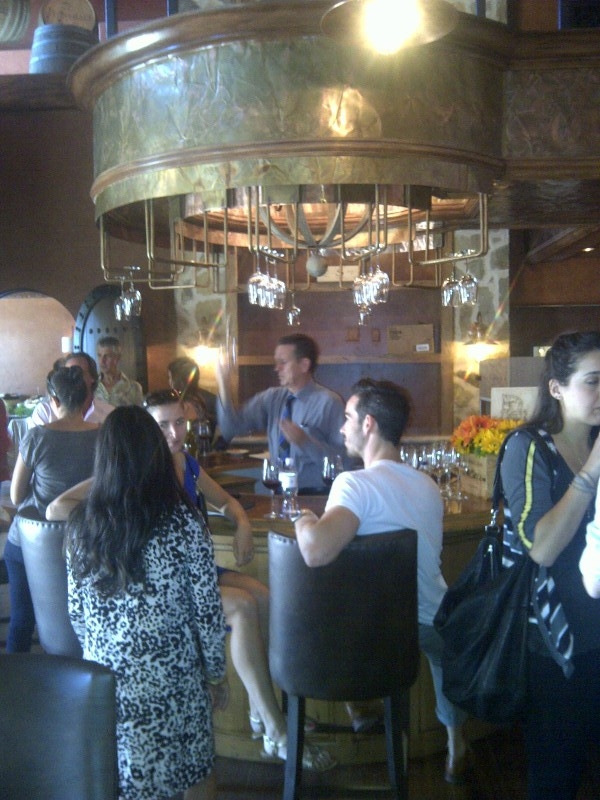 The Stonehaus is a coffeehouse and wine-tasting room with its own vineyard outside. (Photo by Scott Bridges)
The grounds are beautiful, and would be even more beautiful if not so near a street corner, across from a strip mall and abutting a tennis court. There's an outdoor fireplace and serene waterfall fountain, and amidst the Old World charm are picnic tables, providing ample space to savor the exceptional cheese and charcuterie and vast selection of cellared California and international wines.
The wine cellar at The Stonehaus is a thing of beauty. (Photo by Scott Bridges)
The interior is equally beautiful, with natural light cascading down from vaulted ceilings to highlight dazzling stone and woodwork. The private banquet room is stunning, and is centered around a communal table and surrounded by windows that look out at the vineyard and the back patio.
Westlake is something like a Mediterranean version of Palm Springs without the extreme heat and the out-of-the-way drive. And with the beaches of Malibu a mere dozen miles away, Westlake Village Inn is a beautiful and elegant place to enjoy a relaxing getaway.