The secret's in the dough. That's what Wildcraft Sourdough Pizza co-owners Chris Stone and Michael Barson tell me (partner Jed Sanford was busy at the time, actually working.)
"What differentiates us," Stone says, "is the yeast in our sourdough."
In fact, the "Wild" in "Wildcraft" derives from the wild Napa Valley yeast that Executive Chef (and fourth partner) Tin Vuong and fourth partner uses to prepare the slow-rising sourdough, which takes days to prepare.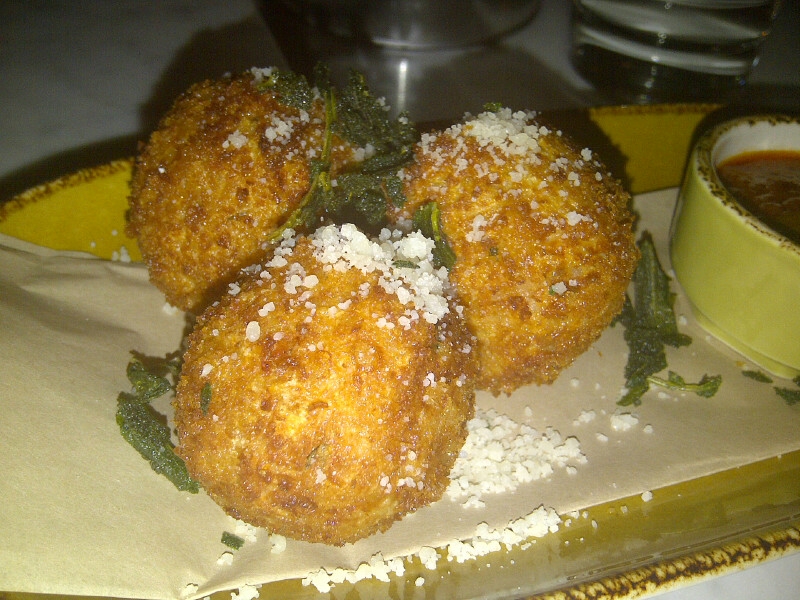 Arancini with smoked mozzarella and warm marinara. (Photo by Scott Bridges)
"About 95 percent of pizzerias use brewer's yeast," Stone says.
So why fight the prevailing current? "We're masochists," he jokes, adding, "You don't get that taste. There's more acidity, you get more flavor."
Stone compares the texture to a pillow, and after a few slices, I'm inclined to believe him.
Wildcraft, in downtown Culver City, is the latest brick-oven pizzeria, offering a Neapolitan-style pie developed while the owners ate their away across Italy - I beg your pardon - "researching" their way across Italy.
Charred cauliflower with golden raisins, capers, pinenuts and toasted breadcrumbs. (Photo by Scott Bridges)
The 900-degree oven, built brick-by-brick in Naples by third-generation oven builder Stefano Ferrara, is fueled alternately by almond, oak, walnut and olive woods.
Like every Southern California restaurant designed to stay in business, it sources produce locally and sustainably whenever possible. But there's also a desire to use genuine Italian imports -- meats, cheeses, etc., and obviously not arugula or cauliflower.
And writing of cauliflower, the Charred Cauliflower starter with golden raisins, capers, pinenuts and toasted breadcrumbs, represents eight of the best dollars you'll ever spend. Of course, for the same price, you can get the sliced Brussels sprouts cooked in almond brown butter with Meyer lemon and Parmesan, creating a bona fide dilemma. Get them both and spare yourself the road not the taken.
Truffle Pizza with mushroom, Fontina, Tallegio, fried sage and white truffle oil. (Photo by Scott Bridges)
Other starters, listed as snacks on the menu, include fried green olives stuffed with sausage, and risotto-based arancini with smoked mozzarella and warm marinara. Both, being fried little balls of chewy goodness, are of course embarrassingly addictive.
Continuing a trend that seemingly began at Father's Office earlier this century, "modifications are politely declined," as the menu euphemistically states.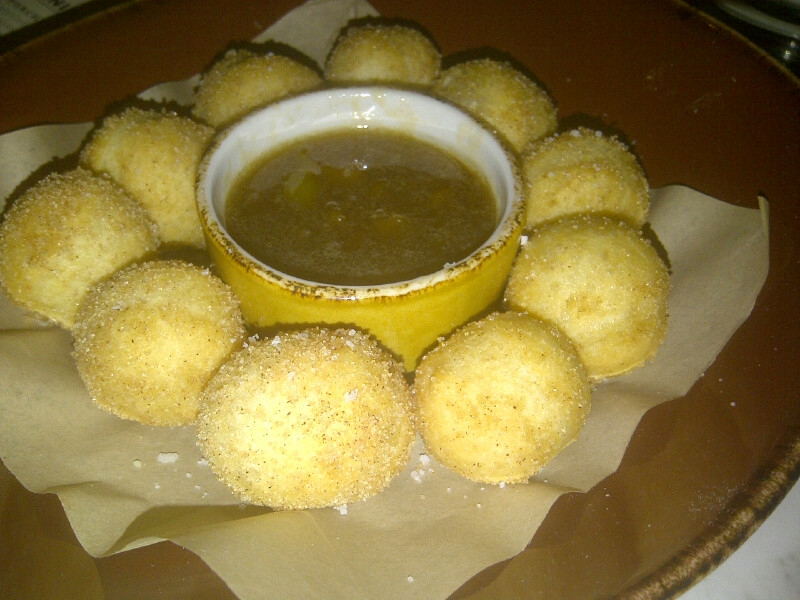 Sour Dough Nuts with cinnamon sugar and mixed berry sauce. (Photo by Scott Bridges)
But it's the pizzas that will ultimately decide the fate of this venture. Bear in mind that this triangular block -- anchored by the Kirk Douglas Theater and Starbucks -- where Culver and Washington Boulevards converge, is something of a Bermuda Triangle for upstart restaurants. Having said that, the indoor/outdoor space has been updated, featuring an open kitchen and the bold art of Kelcey Fisher on the wall.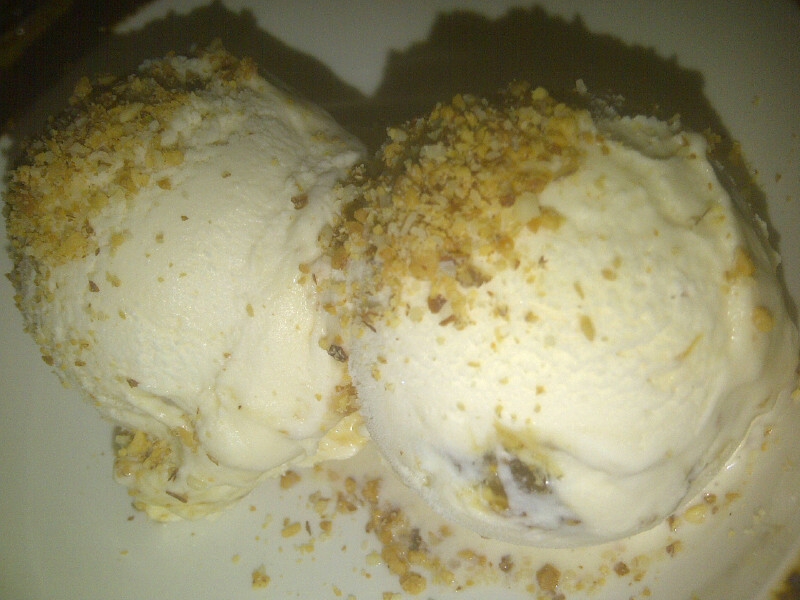 The "Pazzo" gelato and sorbet flavors change daily. (Photo by Scott Bridges)
So how's the pizza? I sampled, among others, the well-conceived Truffle Pizza, featuring mushroom, Fontina, Tallegio, fried sage and white truffle oil, and the well-meaning Veggie, which seems to sag from the sheer weight of its toppings.
And on a final note, I must address the beverage program. The craft beer rotation, pet projects of Vuong and Barson, and wine list make Wildcraft a viable option for serious connoisseurs in a 50-yard radius that includes such renowned watering holes as City Tavern, Rush Street, Akasha and Ford's Filling Station. Among those beers, you'll find a pleasant surprise -- South Bay-favorite Abigaile, and even more surprising -- the wine is kegged. Stone points out that it is a very nifty (my word, he's much more hip than "nifty") delivery system.
The verdict? Despite an abundance of good pizza options in this part of town, don't be the least bit surprised if next year at this time, the restaurant is celebrating a successful first anniversary.