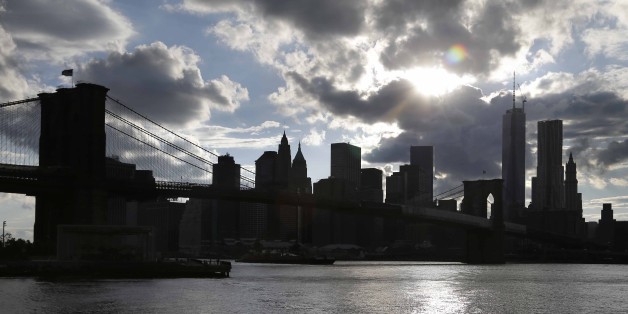 Imagine if the house you and your family lived in was falling apart in a hundred different ways. A family meeting has been called to try and save the house, because it has a great location and you don't have the money to buy another one. Your family decides that the day for this meeting is September 21 -- just two weeks from now.
But then, quite unexpectedly, Dad sends a note saying he has decided not to attend the meeting. He doesn't really have a good reason for canceling -- although there is some suspicion that some of his behavior is actually destroying the foundation of the house. And just as you are sitting there wondering what in the world he could possibly need to do instead of attend this vital meeting, you get a call saying that Mom has decided to blow off the meeting as well. Maybe she is pissed at Dad for flaking, or maybe she just doesn't want to hear about all the problems with the plumbing and heating and cooling and pests because it is pretty overwhelming, but either way she won't be there. Your older sister is a pretty powerful voice in the family, but she doesn't see the point in going to the meeting if your parents aren't there because they own the place and not much is likely to get done without them.
So, what is your expectation for the future of the house?
This is the current state of affairs with the UN's Climate Summit scheduled for September 21 in New York City -- sadly this is not something that requires your imagination, what it requires is your urgent attention and action.
The meeting was called by Ban Ki-Moon, the UN Secretary General. The house in question is, in fact, yours -- the planet earth. Mom and Dad and Big Sister are Xi Jinping, Narendra Modi, and Angela Merkel -- the leaders of China, India, and Germany. And all of them have announced they are not attending the summit. Prime Minister Modi is the author of a book about climate change entitled Convenient Action --e vidently showing up to the climate summit is somehow inconvenient. Chancellor Merkel and Germany have been leaders in the development of alternative energy -- as leaders on the issue, both of their absences are particularly shocking and heartbreaking.
President Xi initially said he would attend, but now claims he will be sending another senior Chinese politician in his place, though Beijing officials are yet to confirm this. And yet China is now the world's largest producer of carbon. President Loeak of the Marshall Islands issued a statement expressing his dismay at the refusal of world leaders to appear in New York: "Every study I have ever read makes it clear that developing countries have the most to lose from runaway climate change. And for the small island states of the world, the science says we might be forced to pay the biggest price of all -- the loss of our countries. We expect solidarity from our developing country compatriots, not excuses." And if we do not hear his voice now, it will be much harder when his country vanishes beneath the waves of rising oceans.
A forthcoming report from the Intergovernmental Panel on Climate Change, a group appointed by the UN to track the issue, paints a picture filled with mass extinction, cataclysmic weather and the potential for irreversible change. These are scientists, not screenwriters telling the story -- they are not given to hyperbole or trailer moments. According to the report, the current behavior of our "family" is likely to "slow down economic growth, make poverty reduction more difficult, further erode food security, and prolong existing poverty traps and create new ones, the latter particularly in urban areas and emerging hot spots of hunger." Aren't these the kinds of crises that world leaders are supposed to show up for?
It is crucial that a binding and meaningful agreement is generated by this summit -- we can still avoid the worst of what climate change will mean if we face the facts -- and each other. There are solutions that need to be brought on line and scaled up now.
If you live in a country where your leader has decided not to attend, ask them if they are spending those days finding another place for you and your family to live. Call them. Write them. Tell them your home is at stake. And if they still won't go, maybe you should. There's a march on September, 21 in New York and you don't need to be president of anything to be included -- you're a member of this family and you deserve a safe and healthy place to live.
See you there.