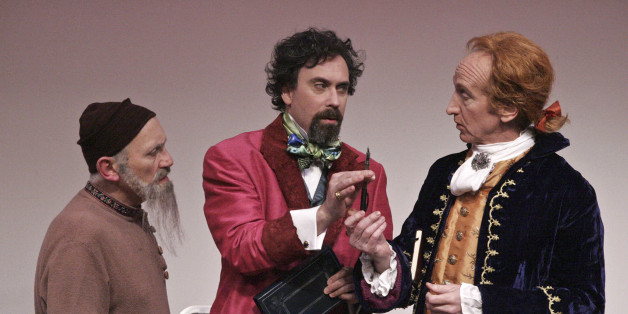 Twenty-seven years ago I had an idea for a play. This week, it opens in Los Angeles at the NoHo Arts Center under the title "The Gospel According to Thomas Jefferson, Charles Dickens and Count Leo Tolstoy: DISCORD". I don't know how audiences and critics will respond to it, but I know this epic process has enriched my life.

The journey started in June 1986 with a near death asthma attack that landed me in the hospital for a week. Upon my release, I experienced an epiphany like Saul on the road to Damascus. Or Scrooge on Christmas morning. I instantly evolved from cynical comedian to non-affiliated deist. It became the B.C./A.D. moment of my life. I went into a bliss which faded after ten days. Which I did not want to happen. I wanted to permanently become the better man that I had been during that time.

So I began a spiritual journey, making a pledge to the universe that I would henceforth consider anyone who wanted to talk with me about God, have me read their literature or attend a ceremony.

So it was with great interest that, on October 5, 1988, I watched an episode of "A World of Ideas" on PBS. Host Bill Moyers was interviewing Rev. Forrester Church of All Souls Unitarian in New York. And it was here that I learned about the Jefferson Bible.

In 1804 President Jefferson bought two identical copies of the King James Bible. He needed two versions because he would need both sides of the page for his secret project. Then, over three consecutive nights, he took a razor and cut out from the gospels of Matthew, Mark, Luke and John only the verses he liked. (As you'll hear, his audacity in condensing Holy Scripture was compounded by what he edited out.) Jefferson then pasted his chosen scraps of scripture into the pages of a blank book. He named his volume The Philosophy Of Jesus of Nazareth. Then, in 1819, while retired at Monticello, Jefferson produced a sequel to called The Life And Morals Of Jesus Of Nazareth. For this more elaborate work, he bought eight Bibles -- two each in Latin, Greek, French and English. He then divided a scrapbook's pages into four columns so one could follow his expanded chronicle of Christ in a single language by reading down or, by reading across, scan a verse in a quartet of tongues.

Jefferson died on July 4, 1826, the 50th anniversary of the Declaration. His heirs sold Life And Morals to the Smithsonian in 1895 for $400. In 1904, Congress printed 9,000 copies of it to be given to incoming Senators and Representatives. In 1956, Idaho's Senator Frank Church received a copy that he then gave to his young son, Forester. Church the younger later credited Jefferson's work with leading him to Harvard Divinity School and on to a career working in a, well, church. In 1988 he was editing a new edition of Jefferson's Bible with Yale Divinity School's Jaroslav Pelikan -- and thus the subject came up on Moyers' program.

Now, I had recently seen the great English actor Alec McCowen perform his one-man show of the unabridged St. Mark's Gospel. So I thought that there might be a play here. But that's as far as it went.

In 1996, I was producing Comedy Central's "Politically Incorrect With Bill Maher." The show moved that year from New York to Los Angeles. My wife and I got a house near Larchmont Village. There is a bookstore there called Chevalier's and, one day, I found a book called "The Life Of Our Lord" by Charles Dickens. It turns out that he, too, had written a gospel. His was for his children and he included all of the miracles that Jefferson's razor had cut out. There was a play: the two of them debate their visions of Christ.

But not so fast. While reading Stephen Mitchell's excellent "The Gospel According To Jesus," I discovered the Leo Tolstoy had also abridged the gospels. So I my debating duet became a trio.

One hundred drafts and 50 readings later, the play is coming to fruiting.

And, as I look back on the research that I have done, I've come to understand that the careers of Jefferson, Dickens and Tolstoy as something of a trajectory of humanity's quest for liberty:

In 1776, young slave-owner Thomas Jefferson asserted, in his Declaration of Independence, the "self-evident" truth that all are "created equal" and endowed by God "with certain unalienable rights," including "life, liberty and the pursuit of happiness." His words sparked a Revolution.

After which, Jefferson became our Ambassador to France. Just before their Revolution. Which devolved into the Reign of Terror. Which was described in A Tale of Two Cities by Charles Dickens.

Dickens became the favorite novelist of young Leo Tolstoy.

Tolstoy's success as a novelist prompted a suicidal depression. Which launched a spiritual journey. Which culminated with his assertion that the central teaching of Jesus Christ is for us all to "resist not evil." This was developed, as revolution fermented in Czarist Russia, into the technique of "passive resistance." Which Tolstoy described in the last letter he ever wrote, in 1910, to a young Mohatma Gandhi.

Gandhi, by passive resistance, liberated India. He inspired a young Martin Luther King, Jr. to apply the philosophy of passive resistance to struggle for African Americans to be able to free ride at the front of a bus, eat at a lunch counter or attend a puclic school.

In his most famous speech, King asserted that the "magnificent" words of Thomas Jefferson and the other "architects of our Republic" were a "promissory note to which every American was to fall heir" and that he and others in the American Civil Rights movement had come to "cash this check." And a nation's slumbering conscience slowly but surely awoke. And these rights - deemed "self-evident" and "unalienable" by Jefferson - were increasingly asserted Black, female, gay, brown, red, disabled, yellow and poor Americans.

And, in 2008, a president was elected whose skin color could have, in 1776, made him eligible to have been owned.

Humanity has come a long way. And, in pursuing this project, I have, too.