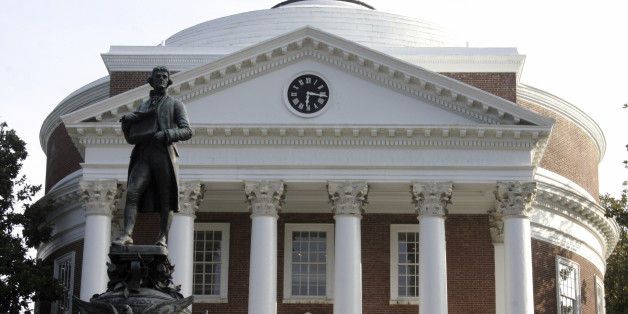 I teach at Ohio Northern University. More to the point, I received two degrees from the University of Virginia and spent six wonderful years on "Mr. Jefferson's" beautiful campus. It has pained me deeply to read the seemingly daily barrage of news coverage about the allegations of sexual assault involving a UVA undergraduate student first identified in a now-infamous Rolling Stone story as "Jackie." In fact, it has upset me so much that I stopped in Charlottesville on my way to Hampton, Virginia for the semester break to try to get a sense of what was going on.
Of course, I have no idea what happened to Jackie on the night in question and the specifics of what she alleges have recently been called into question. But as a longtime college professor and the son of a college professor, I think I do have some insight into how the crisis has been handled to date. As someone who has tried to use what I learned at UVA to guide my professional career in terms of both how I teach and how I try to conduct myself in an honorable way, I feel compelled to speak out. My message is simple: UVA needs to stop treating this incident as an exercise in image control.
I first learned of the allegations on November 21 when I received a mass email with the subject line "An Open Letter to University of Virginia Alumni" from a person named Tom Faulders. After two decades of receiving emails and letters from UVA -- almost all of them requests for money -- I was tempted to delete Mr. Faulders's email without reading it. I decided to read it, though. I was shocked when I did. The "open letter" identified Mr. Faulders as the president and CEO of the UVA Alumni Association and it alerted the alumni to the Rolling Stone article. The email also included links to UVA President Teresa Sullivan's and Rector George Martin's letters, along with "other related information." I read all of the material and was offended by much of it, especially President Sullivan's letter, which expressed not one word of concern for the student in question. Instead, the president's letter struck me as a transparent attempt at damage control by the university so as to ensure that the alumni would keep contributing money.
Apparently, President Sulllivan's letter struck many others in a similar way because the very next day, on November 22, I received yet another mass email, this one from President Sullivan herself in which she pointed out that "many" had reached out to her to offer "opinions, reactions, and suggestions." Unfortunately, the president's November 22 letter, although acknowledging that she had "heard" us, once again focused almost exclusively on image control. In fact, it wasn't until later in the evening of November 22 when someone in a leadership position at UVA actually got it right. That person was Ian Baucom, dean of UVA's college of arts and sciences, who wrote: "Above all, our thoughts, prayers, compassion and commitments are focused on the young women whose precious and unique lives this story has brought before us." (Meanwhile, on December 5, President Sullivan emailed yet another public statement to the alumni to make sure that we knew that on that very day the Rolling Stone reporting was being questioned in the media.)
It was bad enough to read the multi-part stories in major news outlets during the summer of 2012 about the petty infighting that led to President Sullivan's resignation and subsequent reinstatement. Embarrassment was all I felt about that episode, a reaction shared by Virginia's governor at the time who ordered the Board of Visitors to resolve the dysfunction between the president and the Board immediately or face removal from office. But, by definition, allegations of sexual assault against students impact the health and safety of the young people a university is charged with educating, inspiring, and protecting. It is profoundly inappropriate that such allegations be treated as public relations problems to be managed by the university's senior leadership and its lawyers.
The UVA administration's approach to Jackie's allegations is, regrettably, an unfortunate example of an all-too-predictable response by academic administrators across the country who seem to be concerned far less with doing the right thing than they are with keeping their own jobs. The result is almost always callousness, deceit, cover-ups and, far too infrequently, justice. Students deserve better, including the students at my beloved UVA. Mr. Jefferson would expect no less.