In what is perhaps an ominous sign for University of Michigan head coach Rich Rodriguez, the only known wolverine in the Wolverine State has died of "natural causes" according to biologists, ironically, at Michigan State University. The wolverine passed away at the tender age of seven, a premature death for an animal with a life expectancy pushing seventeen years. The only way the death of the lone wolverine in Michigan could possibly be more symbolic is if the wolverine had been found with a knife in its back alongside a note from the NCAA claiming responsibility.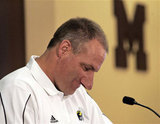 Michigan head coach Rich Rodriguez has had plenty to hang his head about.
Rodriguez's current stay with the storied Michigan football program has been the definition of tenuous. In his first year at the helm, Michigan posted a 3-9 record, the first time they had been held to three victories since 1963, and the first time the Wolverines had not qualified for a bowl game in over 33 years. In his second season he posted an improved 5-7 record, though Michigan yet again fell short of becoming bowl eligible. Back-to-back losses to rival Michigan State and a continued losing streak that has now reached six games in a row to hated Ohio State hasn't helped matters either. Though many Michigan supporters claim the poor results on the football field are directly related to Rodriguez transforming the program from a smash-mouth offense to a more contemporary spread attack--which isn't a stretch--Rodriguez's troubles in Ann Arbor extend far beyond the bowels of The Big House.
In less than two years with Rodriguez at Michigan's helm, Rodriguez's staff became the very first coaching staff in Michigan's history to have "major" NCAA infractions alleged against them. The allegations range from having too many coaches involved in on and off the field activities to having a graduate assistant lie to NCAA investigators. He has had to face major criticism from famed Michigan alumni such as Tom Brady, who told the Detroit Free Press that the program under Rodriguez's watch has been "bad" and "ugly." Throwing fuel on the fire, Brady also lavished praise on Rodriguez's predecessor, Lloyd Carr, stating he had been a "great coach" for the Wolverines.
Perhaps what is also noteworthy is the type of players Rodriguez is bringing into Ann Arbor. One of the more coveted recruits from the recruiting class Michigan inked in January is Demar Dorsey, a football player from Florida that has been on the wrong side of the law more than once. He was arrested for burglary twice as a teenager, though he was never convicted due to his agreement to enroll in a juvenile program. He was also tried--though acquitted--for an assault with a deadly weapon charge. His exploits were enough for the University of Florida--a football program that has seen nearly 30 arrests in recent years--to revoke his scholarship offer.
With the litany of problems Rodriguez has faced in Ann Arbor in such a short period of time, there is no doubt that the pressure is on to right the ship immediately. Michigan fans aren't accustomed to losing seasons, let alone consecutively, and losses to the likes of Michigan State and Ohio State have caused them to grow weary and impatient. The threshold for Rodriguez seems clear: anything less than bowl eligibility and a win over Michigan State will likely turn the heat into an uncontrollable boil. His task won't be easy, either, considering Ohio State will be powerful yet again and Penn State, Michigan State, Iowa and Wisconsin are Big Ten teams on the rise.
Maybe it's merely a coincidence the last remaining wolverine in Michigan reached a premature end. Only time will tell whether Rodriguez's career, come season's end, will be on the autopsy table courtesy of Michigan State like the ill-fated wolverine.
Scott Janssen is a graduate student, blogger, and all-around drain on society.