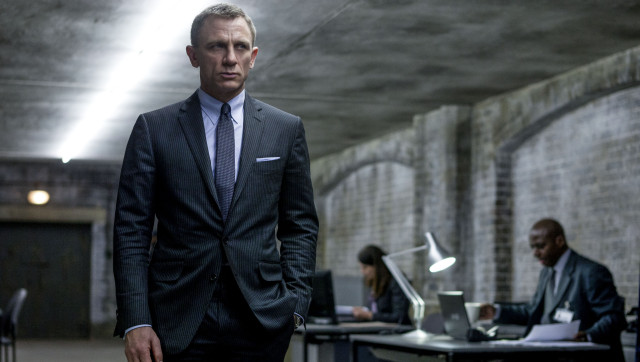 Opening with a flurry of positive buzz and already-cemented megahit status overseas, James Bond finally returned to U.S. theaters this weekend with San Mendes'
Skyfall (review 1 and review 2). The film easily crushed the opening weekend record of the 007 series, earning a massive $90 million in its debut. This also includes $2.2 million earned via its Thursday IMAX-only release, as the film earned $13.1 million in IMAX theaters since Thursday (the large-scale format's biggest non-summer opening ever). The picture played 60 percent male and 75 percent over 25 years old. For comparison, the last six 007 films had the six biggest weekends of the franchise, with Pierce Brosnan's GoldenEye
moving 007 into modern-day blockbuster territory back in 1995. For the record, the numbers are $26 million (
GoldenEye
), $25 million (
Tomorrow Never Dies
)
, $35 million (
The World Is Not Enough
)
, $47 million (
Die Another Day
)
, $40 million (
Casino Royale
)
, and $67 million for
Quantum of Solace
four Novembers ago.
Not only is this the biggest opening weekend for the 007 series by a long shot, it eclipsed the opening weekends of all but the last four series entries by the end of Friday (if you want to play the inflation card, it still eclipsed the openings of all-but the last six entries by the end of Friday).
Even though the overall consensus on
Quantum of Solace
was mediocre, four years of waiting but an ability to market
Skyfall
using the whole "50 years of Bond" angle made this one just as much of an event, if not more so, than the last few entries.
This is the biggest November debut for anything outside the Harry Potter/Twilight franchises. Just like Disney with The Avengers, Sony and MGM's best marketing tool was the film itself, as they knew that had a series classic on their hands. Thus they screened the finished picture early-and-often, building a tidal wave of critical acclaim and buzz. And like The Avengers, Sony was able to ride a tidal-wave of astonishing overseas box office prior to its stateside debut. Quantum of Solace ($67 million) had nearly the same first film-to-second film bump up from Casino Royale ($40 million) as the Bourne series, which jumped from $27 million for The Bourne Identity to $52 million for The Bourne Supremacy. Just the same, this film had an almost identical second film-to-third film weekend bump (30 percent) as the Bourne series, which shot up 32 percent between The Bourne Supremacy ($52 million) and The Bourne Ultimatum ($69 million). The question now is what this means for the final domestic gross. Obviously Skyfall will most certainly become the biggest-grossing 007 film of all time, both domestically and overseas. Its worldwide total is already $518 million, or more than any other non-Craig 007 picture ever (with $428 million overseas, it's already the biggest overseas-grosser in the series) . The film has an A from Cinemascore and I can't imagine anyone coming away dissatisfied on a pure popcorn entertainment/action spectacle level. I may not think it's the best 007 film ever (it takes too much from prior entries), but it's relentlessly entertaining and quite enjoyable on its own merits. Come what may, it looks like the James Bond series may be returning to the top-tiers of franchise filmmaking, a roast it once unquestionably ruled.
The last six James Bond films all surpassed the prior one to take the domestic crown, going back to Pierce Brosnan's debut back in 1995. For the record, we're dealing with Quantum of Solace ($168 million), Casino Royale ($167 million), Die Another Day ($160 million), The World Is Not Enough ($135 million), Tomorrow Never Dies ($125 million), and GoldenEye ($106 million). As you can see, there is a pretty good chance that Skyfall will surpass $168 million by the end of the next weekend and it darn-sure will do so by the end of Thanksgiving weekend. For pretty much the rest of the year, Skyfall becomes the de-facto second-choice movie of pretty much any moviegoer old enough to see it. Quite frankly, the sure-to-be-massive ($150 million-ish) debut of Twilight Saga: Breaking Dawn II may actually help Skyfall next weekend, as that film will play to almost exclusively hardcore fans who will arguably pick James Bond if Bella Swan is sold out (conversely, I can't imagine too many general moviegoers picking Breaking Dawn part II if Skyfall is sold out). For the record, it needs $262 million to surpass the adjusted-for-inflation gross of The Bourne Ultimatum and $286 million to surpass You Only Live Twice as the third-biggest adjusted-for-inflation 007 film (sorry folks, the $527-$593 million adjusted grosses of Goldfinger and Thunderball aren't in any danger).. The film pulled a solid 2.72x weekend multiplier off a $33 million opening day(s), compared to the 2.4x weekend multiplier of Quantum of Solace and the 2.8x weekend multiplier for Casino Royale. Since five out of the last six 007 films opened around this time, the numbers are pretty easy to crunch.
Ironically, of the modern 007 films, the best legs belong to Die Another Day, the one entry that opened in late-December (against Titanic no less) but pulled a 5x weekend multiplier despite massive competition that Christmas season. Such a (highly unlikely) multiplier would give Skyfall $450 million. Even the allegedly loathed Quantum of Solace had a decent 2.5x weekend multiplier, which would give Skyfall a scorching $225 million finish. The multipliers for the other November 007 films are 4x (GoldenEye), 3.5x (The World Is Not Enough), 3.4x (Die Another Day), and 4.1x for Casino Royale. We'll have a clearer picture next weekend when we can compare second-weekend drops to the last several entries. But being realistic, worst case scenario has Skyfall doing a solid-by today's standard 3x multiplier and ending with $270 million, while explosive overseas numbers get the film to around $800 million ala The Amazing Spider-Man or Pirates of the Caribbean: On Stranger Tides (which hit $1 billion worldwide, natch). Being optimistic, the film pulls an upper-level multiplier like the two prior Martin Campbell entries and ends up with over $336 million, which means a 3.74x weekend-to-final multiplier and a domestic total *doubling* the previous record holder in the series. Will it happen? Probably not. Could it happen? I wouldn't completely rule it out at this point. As always, weekend two usually tells the tale. The bad news about all of this success is that Martin Campbell won't have to ride into town and save their asses for awhile.
Lincoln
(
review
/
trailer
/
background
), which earned a massive $900,000 on just eleven screens. That's a pretty terrific $81,818 per-screen average. Depending on where the final numbers fall, it'll be among the top 25 or 30 per-screen averages ever and among the top 15 live-action per-screen debuts. But among films that opened on more than oh, six screens, it's topped only by
Precious
($104,000 per on 18 screens),
Memoirs of a Geisha
($85,000 per on 8 screens), and just above
Black Swan
($80,000 per on 18 screens), and
Up In the Air
($78,000 per on 15 screens). The picture expands wide next weekend and should do pretty well next weekend among older moviegoers who have already seen
Skyfall
and
Argo
and want to drop their kids off at
Twilight part 5
(it earned an A from Cinemascore). Obviously a massive per-screen average for a limited release doesn't always foretell mainstream success, as
The Tree of Life
($93,000 per on four screens, $12 million total gross) or
The Master
($147,000 per on five screens, $15 million total thus far) will tell you, but
Lincoln
is clearly a more mainstream vehicle than those artier films (although I still think
Tree of Life
could have been marketed as a Brad Pitt-starring somber family drama to wider audiences). Next weekend will tell whether it plays more like
Empire of the Sun/Amistad/Munich
($22 million/$44 million/$47 million) or
The Color Purple/Schindler's List/War Horse/
($98 million/$96 million/$79 million). The key is whether A) it can sustain Oscar heat throughout the awards season and B) whether it can be the consensus pick for large moviegoing families over the Thanksgiving holiday. The latter might be tough when deciding between a 140 minute historical drama and a 140 minute 007 film, but as I mentioned a couple weeks ago, we are in an embarrassment of riches for adult and/or discerning moviegoers.
In holdover news, Wreck It Ralph held strong in weekend two, for a $33 million second weekend (-34 percent) and a terrific $92 million ten-day cume. That's just behind Tangled ($96 million after 12 days) and ahead of the likes of A Shark Tale ($87 million), Megamind ($88 million), and Chicken Little ($80 million). It's $32 million second weekend was much higher than the post-Thanksgiving plunge of Tangled ($21 million) and just above Chicken Little ($31 million), A Shark Tale ($31 million), and Megamind ($29 million). $200 million probably won't happen, but $175-$185 million is a probability. Flight took a token hit from Bond, dropping 41 percent for a $15 million weekend. Still the $30 million film has $47 million in ten days putting it ahead of the ten day totals of Unstoppable ($41 million), Man On Fire ($44 million), and Deja Vu ($44 million) while below Inside Man ($52 million). Flight is looking at a probable $70-$80 million total, even if the R-rated 140 minute (yup, another one) drama will struggle to bring in families over the holidays against the arguably more consensus-building 007 film. Argo held up despite 007, crossing $85 million. It should surpass The Town ($92 million) by the end of next weekend or soon thereafter. It's still the presumptive Oscar frontrunner, with only Lincoln, The Silver Linings Playbook (which along with Anna Karina, opens limited next weekend), and the possible game-changer Les Miserables waiting in the wings. The Man With the Iron Fist has $12 million, Fun Size has $8 million, Paranormal Activity has $52 million, Looper has $64 million, Pitch Perfect has $59 million, while Hotel Transylvania crossed $140 million.
And that's it for this weekend. Next weekend sees the debut of the final Twilight film, the wide expansion of Lincoln, and the limited debuts of The Silver Linings Playbook and Anna Karina.
Scott Mendelson