My name is Scott Rubin and I am a long-suffering sports fan. I was born in 1959, the same year the Buffalo Bills were founded and quite possibly on the same day. I grew up in Buffalo and have been obsessed with the Bills as long as I can remember.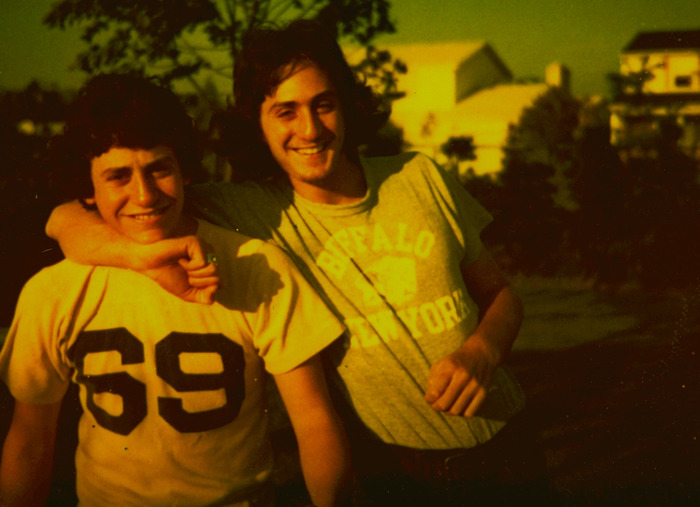 My brother strangling me in my Buffalo Bills practice jersey during the OJ years.... I had no idea what 69 meant but it always got a reaction.
But recently, after watching 12 hours of the NFL Draft to see whom the Bills would pick in the 7th round, I knew I had a problem. Maybe if the Bills had won at least one Super Bowl -- we've lost four in a row! -- or a playoff game in the last 20 years, it would have actually mattered. But Buffalo hasn't even made the playoffs in this millennium! AHHHHHHH!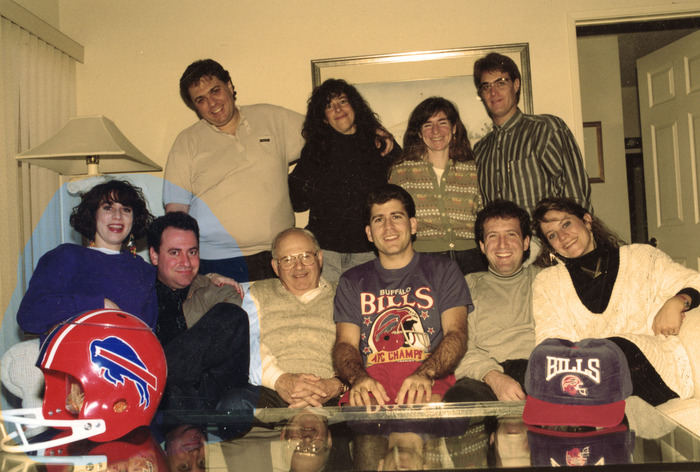 My Wife and I (highlighted in the left corner) snapped moments before the start of the Bills first Super Bowl appearance. Three-and-a-half hours later, the Bills would lose in the final second on a missed field goal, "wide right." I would never look so good.
How long can this agony continue? Recently, when I heard of the Bills free agent pick-up of NFL superstar Mario Williams, I turned to my wife and said, "This is the year, Evie... I know it!" She looked at me as if she was looking at a meth addict... with contempt, pathos, and a deep yearning to contact a divorce attorney. Somehow this was her final straw... Maybe it was me making her go through last season's Cinderella story when the Bills went 5-2, only to then lose eight of the next nine games. My futility, my madness were etched in her face... I could see for the first time, that I was sick, very sick. I needed help. I need to get off this losing addiction -- now -- or risk losing my wife and family, to say nothing of my physical and mental health.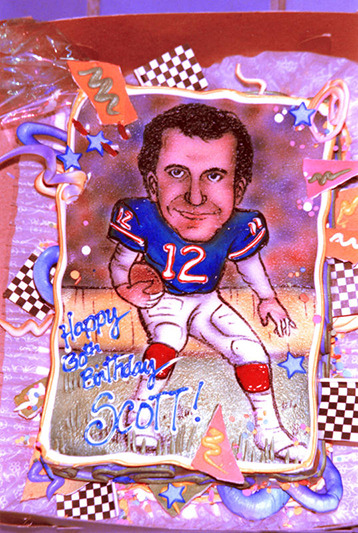 For my 30th birthday, my wife had me infused into a birthday cake as Bills great, QB Jim Kelly. The Bills never tasted this good... at least not since winning the 1965 AFL Championship -- I was five.
So, I'm going on a journey to document my attempt to quit the very thing that quite possibly defines me, my beloved Buffalo Bills. I am in search of the answers to my addiction to cellar dwelling. But this quest, however noble, is about more than just my personal suffering. That's why I am planning to roadtrip it to other drought-prone cities -- driving a perfect L across sports' losing corridor: from Minnesota (Vikings) to Milwaukee (Brewers) to Chicago (Cubs) to Detroit (Lions) to Cleveland (Browns, Cavs, Indians) to Toronto (Maple Leafs) and finally to my hometown, the mecca of sports losing, Buffalo, NY (take your pick).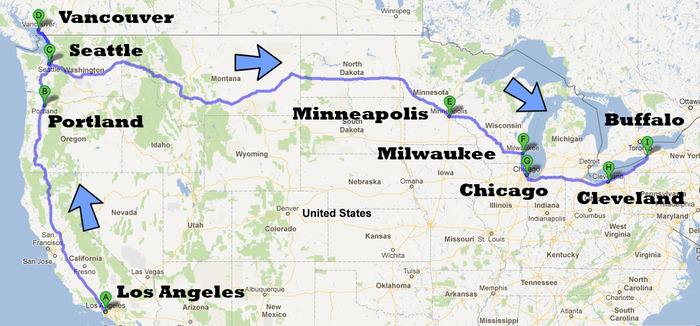 Our planned route. Join us along the way! We want to hear your story. You might even end up in the film.
I will also consult with scientists, addiction specialists, psychologists, aversion therapists, priests, rabbis, past-life regressionists, Kabbalists, witch doctors... I may even attempt to change my allegiance to a winning franchise, whatever it takes... I'll attend Roller Derby matches and American Kennel shows, anything where a winning team might stick.
But if somehow I fail, I will then turn my attention to breaking the curse and unleashing the winning energy that has stayed imprisoned in some sinister, underworld lair for nearly half a century. Yes, I said the "curse" -- you don't lose four Super Bowls in a row in a rational universe. Something's up and I will unearth its ugliness.
My goal is nothing less than to be the savior of losing, trying to bring salvation to my fellow sports masochists. Their pain will become my pain. We'll shuffle off to Buffalo to finally shatter our addiction to losing -- to confront the dark, menacing, overlord-of-sport who blows kicks six inches to the right just to watch fans weep. We deserve a life of joy and fulfillment; not one in which our losing teams obliterate whatever's left of our battered souls.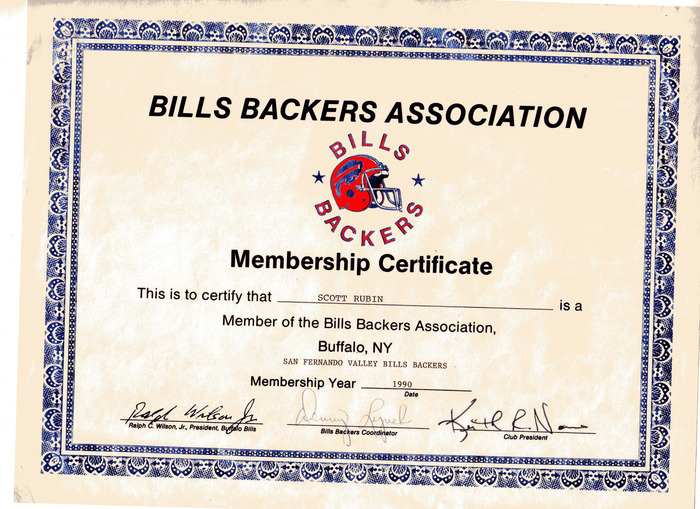 A once proud member of the BIlls Backers Association. Come with me and join the new Association in town: The "Losing It" Commiserators Club. Release the pain.
I understand that we are fanatics. Indeed, being a sports fan of a losing team is more extreme than being a radical Islamic fanatic -- at least they get 72 virgins at the end... what do we get, 72 extra pounds?!
Here check out this video I produced... our CEO wouldn't let us make this movie, even though our entire Web audience wanted us to... Yes, those are the Workaholics dudes starring in it.

To learn more about my quest -- and the film I am going to make about it (and, hey, who knows, maybe kick in a few bucks to help me on this journey of liberation), please check out this Kickstarter page.