I was at home last Saturday night when I first got news of the death of Peter Matthiessen. The initial report was brief -- a few paragraphs about how the author had succumbed at the age of 86 to leukemia after several months, and noted that he was among the last survivors of a post-World War II pantheon of American literary luminaries that included E.L. Doctorow, William Styron, Kurt Vonnegut, and George Plimpton.
As I sat alone in the darkness, I was surprised by the intensity of my own sense of loss, and how disproportionate it seemed. After all, I'd had just a few momentary encounters with the legendary writer. Yet, I felt as though I'd lost someone I'd known for a very long time. Where did these emotions come from?
Peter Matthiessen's muscular, unflinching prose was every bit as lean and chiseled as the man himself -- a tall, ruggedly handsome figure who seemed to embody the very definition of the romantic quest. His books raised profound ethical questions about the natural world, human society, and our own relationship to each. His outward journeys into the wilderness regions of New Guinea, Africa, Asia, North and South America were often paralleled in his books by deep inner explorations of spirituality, and he inspired an entire generation of writers to follow in his footsteps out to the far reaches of the Earth in search of meaning and adventure.
I count myself among those who heeded his call. I identified with his rage over the folly of our cavalier destruction of nature and his empathy for victims of injustice. I stood in awe of his uncanny ability to capture in words the fleeting beauty of this world -- and do it in both fiction and nonfiction. Like thousands of other writers, I sought to follow his example, to find a way to sculpt meaning from the world through the written word.
In that quest, I'd coincidentally shared a common experience with Matthiessen that eventually led to a crossing of our paths. We'd both trekked into the remote depths of the Himalaya with renowned wildlife biologist George Schaller, whom Matthiessen portrayed as the intensely private, indefatigable "GS" in his 1978 National Book Award-winning classic, The Snow Leopard. In writing my own profile of Schaller for National Geographic nearly 30 years later, I called Peter at his home on Long Island to get his insights into Schaller. He was effusive in praise for his old traveling companion, and the clear intelligence with which he spoke left no doubt he meant exactly what he was saying.
That was my first direct experience of what I can only call Peter Matthiessen's genuine and disarming kindness. Fortunately, it was not to be my last. In 2010, I attended one of his last public lectures, about Alaska's Inpuit Eskimos at National Geographic headquarters in Washington, DC. I approached him afterwards as he signed books, including copies of Shadow Country, which two years earlier had won him another National Book Award, this time for fiction. (He is the only writer ever to win National Book Awards in both fiction and nonfiction). I explained that I was finishing a book about a trek I'd been on through the land of an uncontacted tribe in the deep Amazon. Just his kind of story, I hoped he'd think. Would he consider writing a blurb for the cover? He seemed receptive but made no promises. He wasn't getting any younger, he noted wryly as he looked up from signing a book, and he was racing to finish a number of projects of his own.
Several months went by and then one day, I received a hand-scrawled note by fax. The message included scratched-out words, underlinings for emphasis, an inserted phrase. I held the paper in my hands and took in the magnitude of what he'd done for me. Not only had he offered extremely generous praise of my book; in an matter of 35 words or so, the missive also provided a glimpse into Matthiessen's own writing process.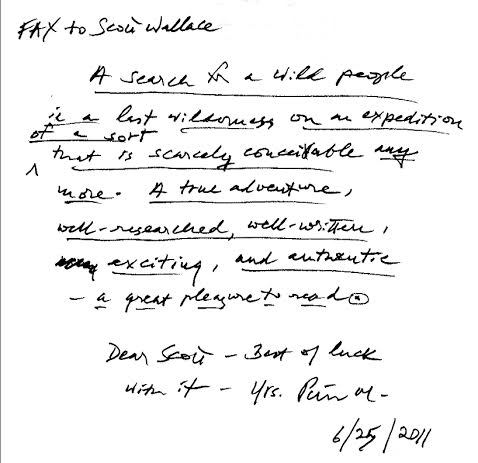 There was no deleting, copying, and pasting. No use of an antiseptic cursor to handle words remotely, like a pair of forceps. On paper, without computer, he had put down what he wanted to say -- a word crossed out here, a bold stroke there -- arriving at something that sounded right, that had the ring of truth. Then he dispatched the results by that quaint, 20th-century contrivance known as the facsimile machine. "Dear Scott," he'd written beneath his endorsement of my book. "Best of luck with it - yrs, Peter M."
Peter Matthiessen gave me something I could never hope to repay. With his own days dwindling, he'd taken the time to read the work of someone who was a friend of a friend, scarcely more than an acquaintance. As I sat alone and absorbed the news of his death, it occurred to me that beneath his act of graciousness lay a rare disposition toward deeper connection and an intuited friendship, as if we had somehow known each other before, from a long time back, and that we'd likely see each other again. We never did. And then I understood the enormity of what I had lost with the passing of Peter Matthiessen. The enormity of what we all have lost. And the enormity of what he has left behind.
Scott Wallace is the author of the book The Unconquered: In Search of the Amazon's Last Uncontacted Tribes.