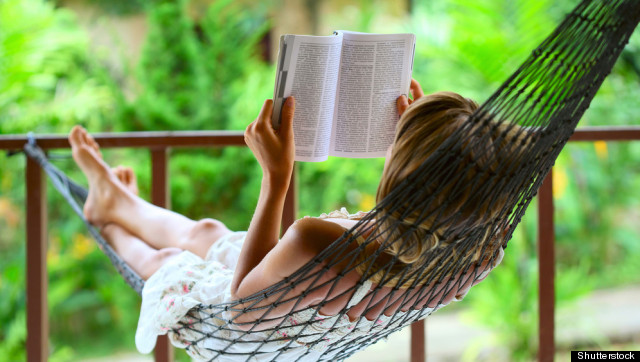 For many, summer is a chance to dive into a good book. It's no different for college presidents -- although what they consider a "beach read" is not generally what the rest of us pack for vacation.
Light reading it isn't. Nonfiction and biographies are especially popular, as are -- no surprise -- books on higher education. Here's a sample of what college presidents will be reading this summer.
Donald Eastman, president of Eckerd College, in St. Petersburg, Florida will be reading two recent books critiquing the current status of higher education in America: Andrew Delbanco's College: What It Was, Is, and Should Be (Princeton University Press, 2012) and Andrew Rosen's Change.edu: Rebooting for the New Talent Economy (Kaplan, 2011).
Delbanco's book caught the eye of Jay Lemons, president of Susquehanna University in Selinsgrove, Pa., who plans to read it, too, along with Lessons Learned: Reflections of a University President by former president of Princeton William G. Bowen (Princeton University Press, 2010) and Not for Profit: Why Democracy Needs the Humanities by Martha C. Nussbaum (Princeton University Press, 2010).

Messiah College President Kim Phipps' picks include Crisis on Campus: A Bold Plan for Reforming Our Colleges and Universities by Mark C. Taylor (Knopf, 2010) and Richard A. DeMillo's Abelard to Apple: The Fate of American Colleges and Universities (MIT Press, 2011).
The president of Meredith College in Raleigh, N.C., Jo Allen, will tackle a few leadership tomes this summer, including Strengths-Based Leadership by Tom Rath and Barry Conchie (Gallup, 2009) and Emotional Intelligence 2.0 by Travis Bradberry and Jean Greaves (TalentSmart, 2009).
Presidential biographies are a popular pick, too.
John M. McCardell, Jr., vice-chancellor of Sewanee: The University of the South in Sewanee, Tenn., will be reading Robert A. Caro's The Passage of Power (Knopf, 2012), the latest installment in the multipart biography The Years of Lyndon Johnson. McCardell will also enjoy an advance copy of a new biography of Thomas Jefferson, set to be published in the fall by Sewanee alum Jon Meacham.
Lincoln's Emancipation Proclamation: The End of Slavery in America by Allen Guelzo (Simon & Schuster, 2006) is on the reading list of Michael Maxey, president of Roanoke College in Salem, Virginia, who also plans to enjoy Great Heart: The History of a Labrador Adventure by James West Davidson and John Rugge (Penguin, 1988), about a canoeing expedition in the northern reaches of Atlantic Canada.
Other college presidents will browse the non-fiction shelves this summer.
Sports fan Allan Golden, interim president at Mansfield University in Mansfield, Pa., will read a biography of Mickey Mantle and Those Guys Have All the Fun: Inside the World of ESPN by James Andrew Miller and Tom Shales (Little, Brown & Co., 2011). "The whole subject of ESPN just fascinates me," he says. "It's also 600-plus pages, so it's going to take awhile."
This summer, George L. Hanbury II, president of Nova Southeastern University in Fort Lauderdale, Fla., plans on reading the books Incognito: The Secret Lives of the Brain by renowned neuroscientist David Eagleman and Nonviolent Communication: A Language of Life by Marshall B. Rosenberg. President Hanbury will recommend both of these titles to his deans and administrators for the team to discuss collectively.
Susquehanna's Jay Lemons plans to read Thinking, Fast and Slow by psychologist and Nobel Prize winner Daniel Kahneman (Farrar, Straus & Giroux, 2011), while Meredith's Allen will pick up All Marketers Are Liars: The Power of Telling Authentic Stories in a Low-Trust World by marketing guru Seth Godin (Portfolio, 2005).
Several presidents hope to make room for at least a little fiction, too.
"In the summer I take more time to read the fiction in the New Yorker, which I rarely do in the rush of the school year," says Ted Wachtel, president and founder of the International Institute for Restorative Practices in Bethlehem, Pa.
Eckerd's Eastman hopes to find time for Bring Up the Bodies by Hillary Mantel (Henry Holt and Co., 2012), on the downfall of Anne Boleyn, and The Song of Achilles by Madeline Miller (Ecco, 2012), a retelling of the Iliad. Kim Phipps at Messiah College will read two novels, Queen of the Underworld by Gail Godwin (Random House, 2006) and The Lacuna by Barbara Kingsolver (Harper, 2009).
Not one president mentioned plans to read 50 Shades of Grey. But maybe they just wouldn't admit it.