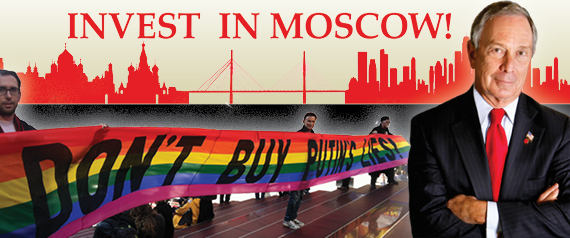 In February, a study published by Global Financial Integrity showed that "the Russian economy suffered an outflow of US$782.5 billion between 1994 and 2011, a massive figure that is nevertheless in-line with previous estimates of capital flight from Russia."
This is bad news for Russia, so, in an effort to battle capital flight, Russian government officials have been on a worldwide "Russia Investment Roadshow." They are touring the globe in hopes of persuading foreign investors to inject capital into their economy. An "Invest in Moscow" seminar was hosted at the Princeton Club in New York City on Oct. 28. The Russians chose the word "roadshow," but this particular show may have featured more theater and drama than the Russians had bargained for. LGBT activists turned it into a stage for protests, and some shockingly homophobic footage from inside the event was leaked.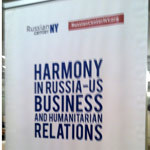 The show is back, and it's playing for still more American dollars! The same group of players, Russia Forum New York (RFNY), has an event scheduled for Nov. 18 in New York City. This time it is hosted by Goodwin Procter LLP, a law firm that, according to its site, "focuses on recruiting, advancing and retaining GLBT attorneys while promoting a culture of inclusion across the firm." Organizers describe it as "a series of discussions with a thematic emphasis on the Russian investment climate."
Considering that the discussion is being organized by people who have a vested financial interest in persuading American investors to fork over cold, hard financial capital, it's probably safe to say that the "discussion" will heavily emphasize pro-investment talking points and be very light on any downsides. The Oct. 28 event was moderated by Boris Epshteyn, an investment banker and managing director at TGP Securities whose bio says that he "has very significant experience in working with small to middle size companies in need of capital." This is a "discussion" in much the same way that a timeshare seminar is a "discussion" of your potential vacations options.
Initially, Russia Forum New York billed this event as sponsored by the Office of the Mayor of New York City. Then a funny thing happened: The NYC.gov presence on its website began to disappear.
The event's sponsorship page on Oct. 31 (left) and on Nov. 1 (right):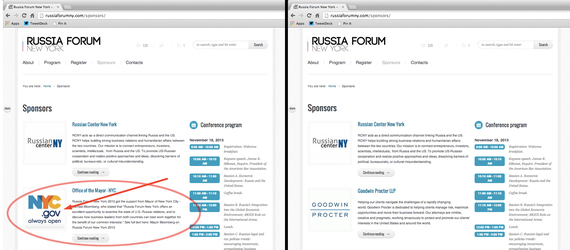 A week ago the page reserved for sponsors clearly showed an image of the NYC.gov logo and this text:
Russia Forum New York 2013 got the support from Mayor of New York City - Michael Bloomberg, who stated that "Russia Forum New York offers an excellent opportunity to examine the state of U.S.-Russia relations, and to discuss how business leaders from both countries can best work together for the benefit of our common interests."
A cached version of the previous sponsor page is still visible here.
Sponsoring this event seemed oddly inconsistent with the city's choice to close its Moscow tourist office last month. Chris Heywood, Senior Vice President for Communications for NYC & Company, told Gay City News that the anti-gay laws and rising anti-gay violence "prevented us from sending our tourism sales staff into the [Russian] market. We do have LGBT staff."
Reached for comment on Friday, the press secretary for the mayor's office, Marc La Vorgna, confirmed, "We are not a sponsor." Asked to clarify if Russia Forum New York made a mistake, he said that they had, claiming that the mayor's office had never been approached by Russia Forum New York about sponsoring the event and certainly had never agreed. He said that any representation of the mayor's office sponsorship had been done without its knowledge or permission.
The text on the Russia Forum New York website that claimed "sponsorship" by the mayor's office appears to have been lifted from a welcome letter that the mayor's office sent to organizers, which can still be seen here. In the letter, no mention is made of any sponsorship deal. La Vorgna described this letter as a "pro forma" gesture. It is true that such welcome letters are a common courtesy extended to visiting groups by mayors' offices nationwide. They are often included in conventions' welcome packets.
However, the mayor is still featured prominently on Russia Forum New York's front page with a "testimonial" implying that the billionaire investor endorses the event: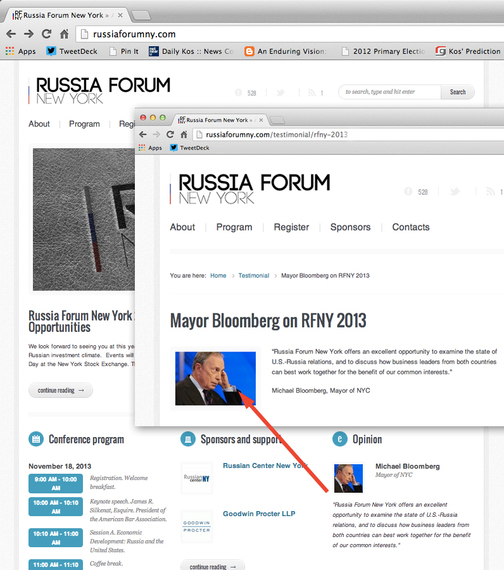 I hope that potential investors consider carefully how safe their money is with a group of people who would mislead them about who is sponsoring the seminar. Shady marketing tactics are not a good foundation for building an honest business relationship.
And Mayor Bloomberg's office is correct to distance itself from this event. Russia needs to clean up its act before it passes the hat at another "Invest in Russia" dog and pony show in the civilized world. Queer Nation NY has already announced its intention to protest the event on Nov. 18, which is also "Russia Day" at the New York Stock Exchange.