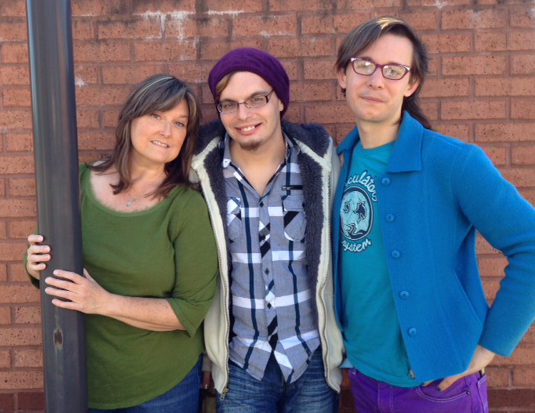 From left: Karen Thompson (Lucie's mom), Sonny Byrum (formerly homeless and a recipient of Lucie's Place's services), and Executive Director Penelope Poppers
I helped kicked off a tweet storm last week, and frankly no one was more surprised than I that it snowballed as it did. As of this writing, the #DefendTheDuggars social media campaign has delivered almost $25,000 to help the homeless LGBTQ youth population in Arkansas.
A brief background is this: The Duggar family (of reality-TV fame, appearing on TLC's 19 Kids and Counting) donated $10,000 to repeal an LGBTQ nondiscrimination ordinance in Fayetteville, Arkansas. Worse, Michelle Duggar recorded a horrible robocall that equates trans people with "convicted pedophiles." So Jim Wissick started a Change.org petition calling out the Duggars for "ignorance," "fear mongering" and anti-gay political activism and asking TLC to cancel the show. This outraged the American Family Association, who said "rabid homosexual activists" were attacking Christianity. Meanwhile, right-wing Christian news site LifeSiteNews urged their readers to #DefendTheDuggars.
Though I actually have much respect for the power of the petition, I wondered if allies of the LGBTQ community could transform our disgust and objections into a more tangible way to help. Could gays and our allies respond to the #DefendTheDuggars bigotry eruption with a compassion eruption? Michelle Duggar's robocalls are literally reaching into Arkansas homes and spreading hateful propaganda. We can't stop that, but we can work to undo their damage -- damage like the family rejection that comes from the misguided beliefs the Duggars are working to propagate.
To be honest, I didn't know much about Lucie's Place at the time I "adopted" them. I'd discovered them by just Googling "LGBT Youth Arkansas." I was careful to confirm that Lucie's Place is an authentic nonprofit in good standing with the IRS. I saw their operating budget is around $7,500. As relatively meager as that is (according to the Campaign to End Child Homelessness, Arkansas has 14,000 homeless children and ranks third worst in the nation for homeless children), I figured even a few extra hundreds dollars could only help. I tweeted this out:
Turn the ugliness of #DefendtheDuggars into good! Help @LuciesPlaceAR help #LGBT homeless kids http://t.co/U1n8tEdFfZ pic.twitter.com/hcrwZvu8BQ

— Scott Wooledge (@Clarknt67) November 23, 2014
I certainly never imagined -- not in a millions years -- we'd net over $25,000! (And thank you Dan Savage!). Having #DoubleTheDuggars, dare we shoot for a Triple Duggar?
So for all those who gave, and for all those who might consider giving still, here is more about Lucie's Place from the executive director, and my new friend, Penelope Poppers.
Location:
Little Rock, AR

Founded:
2012

Operating budget:
About $7,500

Clients:
35-40

Staff:
All volunteer

Volunteers:
Around 75
How many clients does Lucie's Place currently serve?
Lucie's Place assisted 35 young adults last year and has assisted 40 to date in 2014. We expect to work with at least 50 before the end of this year, especially now that we have seen this explosion in publicity and funding.
Tell us a bit about the size of staff and volunteers at Lucie's Place.
Lucie's Place is currently an entirely voluntary organization. We have a board of six people and an executive director. As we don't currently have any physical space, our volunteer needs are somewhat sporadic through the year. We utilize volunteers for events, and also to assist us in securing the items we need to do our work, such as food, toiletries, or furniture when we are able to get someone in a home that needs to be furnished. I'd say around 75 folks have volunteered in one way or another in the past 2-plus years of our existence.
So $20,000-plus is a nice and unexpected nest egg for 2015. What do you plan to do with the money?
Before all of this happened, we were discussing a new program that we could open which would be able to get LGBT homeless young adults off the street right now. Currently we don't have any housing for our clients and facilitate placement in already-existing shelters in the area. Unfortunately, many of these are horrible places for LGBT people. This [$25,000] has really given us the financial kick we needed to get this program off of the ground sooner than we expected. It's still in development, but we have a very solid draft of programming right now, and we expect to be able to open this program in January of 2015, which is much sooner than we expected.
What is your plan for acquiring a house?
The long-term goal of Lucie's Place is to open a home for homeless LGBT young adults. In this transitional living program (modeled off the Ali Forney Center in NYC), residents will live for two years and develop all the skills necessary for their future independence. We've been working hard over the past few years to obtain the funds necessary to open this home, but that has been a very slow process, and we are still one to two years away from having those funds necessary. Opening this home is still a goal for the organization, but we are now focusing more on what we can do now for these LGBT homeless young adults.
You suggested that funding for homeless people is "earmarked" for religious organizations. Is this for private or government grants? Is bidding for funds a competitive process, and do you find that Lucie's Place is at a disadvantage?
Right now Lucie's Place is a very small organization in the South, and this makes it hard to get attention from the larger foundations, such as Rockefeller, Ford, Gill, etc. Because of this, we've focused our foundation asks towards smaller family foundations in the area. But, much like the shelters in the area, many of these families have religious backgrounds that may not be tolerant of LGBT people, which would make it very unlikely for them to fund an LGBT organization. In searching for foundations to request funds from, we've found that a majority of those which specifically fund "homelessness" in the area have made past gifts to programs which we know to be exclusive of LGBT people or require the organization to have a religious tie, which Lucie's Place does not have. As we grow, we hope it will be easier for us to obtain the attention of foundations outside this area which may be more inclusive of the LGBT population. We've received funding from a small handful of family foundations in the area (Darragh Foundation, Chamberlin Family Foundation) and a few other groups that are local to this area, including a few LGBT-friendly churches (Unitarian Universalist, Episcopal).
Talk a little bit about the experiences you hear LGBTQ kids have at faith-based shelter and outreach programs.
We've had clients with a wide range of experiences at local shelters which are faith-based. Best-case scenario is that they can "butch up," not talk to anyone, hide their sexual orientation or gender identity and fly under the radar until they can find somewhere else. We've had many clients get kicked out of these shelters, with sexual orientation or gender identify being the given reason. Often the shelter states that they don't work with individuals who "go against the word of God" (the implication being, of course, that LGBT people are sinners, going to hell, etc). We've had clients experience assault from both staff and residents at these shelters and have no one to go to for any sort of accountability within these systems.
We do work with Our House, a local homeless shelter, which is partially publicly funded, accepts LGBT people and has open LGBT staff members. We are grateful for this relationship; however, they are the best in town, so they are often at capacity and we are unable to place clients in their program.
Can you tell us about how family rejection plays into youth homelessness? Do you find religious beliefs often play a part in rejection?
A huge majority of the reasons parents kick LGBT people out of their homes is due to their interpretation of the Bible and what it says about LGBT people. Nearly every single client we have worked with found themselves homeless because their parent didn't approve of their "LGBT lifestyle" and wouldn't house a sinner/someone who blatantly goes against the word of God. It's becoming more clear that many parents don't actually understand what specific portions of the Bible they are using to justify the eviction of their child; however, they have just heard this information from their church and are repeating what they heard. We've had clients confront parents about what specific portions of the Bible state that LGBT people are sinners, and they often don't know specific verses but know that it is in it somewhere. This is especially frustrating.
Across the nation, homeless and poverty are vicious cycles. However, for LGBT people (and we feel especially in the South), they find themselves also having to battle anti-LGBT doctrine, which makes their journey out of these systems that much more difficult.
Who is Lucie?
Lucie was a good friend of mine that I knew for several years, starting in high school and a few years after we graduated. For many people, she was the first trans person they ever met, so people always thought it was her responsibility to educate them on what being transgender was about. This led to her having to deal with all of the inappropriate questions that people ask trans folks ("Do you have a penis?" "Where do you go to the bathroom?" "How do you go to the bathroom?" etc.). Even though she had to deal with all of this at a young age, she always handled it beautifully and always had a great outlook on life. She was unapologetically Lucie, and many people hated her for that, but she never let it get her down. Lucie passed away at the age of 20 due to "natural causes"; however, that's all the information anyone ever received. Her passing was felt throughout the LGBT community in the state. Homelessness was never an issue Lucie faced, and her mother was always very supportive (and is now on the board of Lucie's Place); however, we named the organization after her as a memorial and to ensure no one would ever forget her.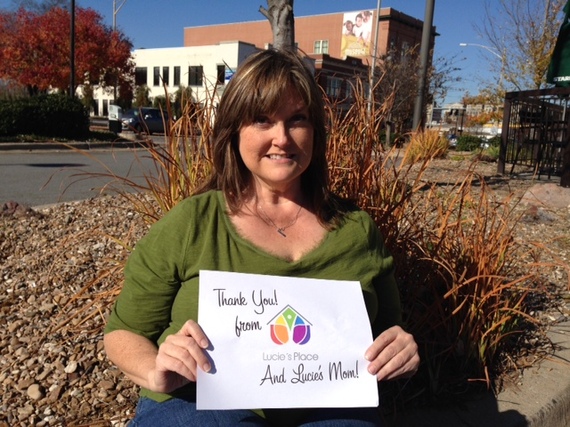 Lucie's mom is involved? What does she think?
Karen (Lucie's mom) is very active in the organization and also helps run the local PFLAG chapter. No mother should have to lose her child at such a young age, but she has been able to take that loss and turn it into something good for the community and is working to make the state a better place for LGBT people.
I notice you serve kids ages 18 to 25. What about minors? We certainly have plenty of minors on the street.
Unfortunately, we can't work with anyone under 18 unless they have been emancipated from their guardians, which is a very difficult process. We hope to change this at some point, as we know that people under 18 do in fact get kicked out of their home (even though that is technically illegal).
Anything to say to all the angels who "adopted" Lucie's Place last week?
It's sometimes so easy to focus on all the negative things that the Internet can offer that we forget how amazing of a tool the Internet can be. This entire #DoubleTheDuggars/#DefendTheDuggars campaign has been proof of that. We have received 1,000-plus donations from every state and several countries, and this simply isn't something that often happens to small organizations in the South. It's always a constant struggle to get people to pay attention to the South when much of that attention is focused on the coasts and Chicago. The South has a beautiful history of resistance to oppressions, and that continues to this day through the work that groups like Break Out in New Orleans, Lost N Found Youth in Atlanta and Lucie's Place in Little Rock are doing.
I'd like to thank Vivian Sapphire, whose voice could not be missed on Twitter around this campaign! Her spirit actually reminds me a lot of Lucie's. From the very beginning, we didn't understand what this campaign could turn into. We're not used to receiving a lot of outside attention, so matching the $10,000 donated by the Duggars sounded impossible! But then we did match it. Then we doubled it, and now we're at [$25,000]. We've received a bit of national attention in the past (an Al-Jazeera article), but nothing of this scale.
My personal goal is to take this huge swell in national attention be able to make an appearance on The Ellen Show so that we can continue educating people that LGBT homeless is an issue and it's an issue everywhere, not just in large cities. If we could make an Ellen appearance possible, that would hopefully stop all of these Ellen-based dreams I've been having lately!
And finally, what is with the name Penelope Poppers?
Penelope Poppers is a name I choose for many reasons. I fall somewhere on the transgender/genderqueer spectrum and needed a name that represented that, as my outward appearance is not enough for people to understand that I fall on this spectrum. I have no plans to transition and don't really identify with any gender; however, the general population does not understand this, and I am forced to identify with a specific gender each day. When forced to choose between "male" or "female," I go with "female," which isn't necessary accurate but a better representation of my gender identity than "male." The name is also very campy and is also unique (only a few Penelope Poppers in the world, from what I can find), which is important to me. I would like to think that every day I challenge people's assumptions of what gender is and what it can be.
The Arkansas LGBT nondiscrimination ordinance will face a voter referendum on Dec. 9. The campaign to protect it is Keep Fayetteville Fair. Penelope and I will be speaking with Joe Sudbay on Tuesday at 4 p.m. EST as he substitute-hosts Michelangelo Signorile's radio show. A short interview with Lucie's Place client Sonny Byrum (pictured above) can be found at the New Civil Rights Movement.
CORRECTION: An earlier version of this post erroneously attributed the #DefendTheDuggars campaign to the American Family Association. It was actually initiated by LifeSiteNews. The post has been updated accordingly.