Once you know where the fish for your dinner came from and how it was caught, the difference is in how fresh it is. While the traditional seafood supply chain usually takes six days (or more) to deliver a fish from a boat, Sea to Table has built a business on delivering seafood next day direct from the dock; the only way to get fresher fish is to ride your bike to the dock and buy it yourself.
For the longest time frozen fish was a dirty word. It used to be that if a fishmonger didn't sell his fish on Monday, on Tuesday, on Wednesday, on Thursday, he froze it on Friday. But in recent years quickly evolving new technologies are delivering flash frozen IQF (individually quick frozen) seafood of outrageous quality that top chefs are coming to appreciate. The best examples are seen in highly seasonal fisheries like wild salmon and wild shrimp.
Christopher Nicholson and Reid Ten Kley's family has been landing sockeye salmon near Naknek on Alaska's Bristol Bay since their grandfather homesteaded the land in the 1940s. A state-of-the-art processing and freezing facility was built six years ago just five miles from their set-net site. Here their fish are filleted while still flopping, and blast frozen within minutes.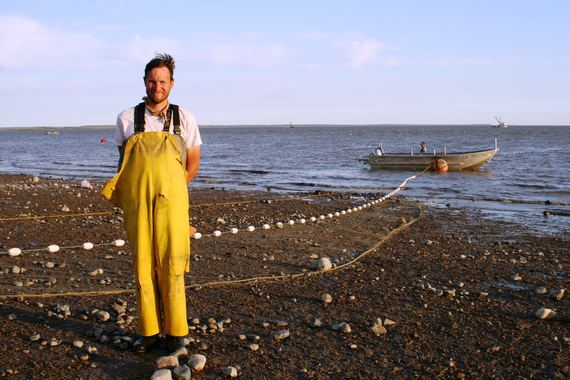 Christopher Nicholson at Graveyard Point on Bristol Bay
In Sitka, Alaska we are working with a dozen small boats that have installed on-board freezing capacity, where their trolled coho and king salmon are hook and line caught 'ocean bright' at peak fattiness before they even reach the river of their birth. Right on the boat the salmon are catheter bled, headed, gutted, meticulously cleaned, and blast frozen within minutes.
In Port St Joe, on Florida's panhandle, Edward Wood is a shrimp man just as his grandfather's grandfather was during the Civil War. He has built a new IQF blast freezer tunnel, and lands the best wild shrimp in the Gulf. Ed told us last month "We're early in the fall season of White Shrimp where they're still small but growing fast in warmer shallow waters shedding sometimes more than once each week. Already most shrimp are around 16/20 head-on and will stay that way for about 30 days before we see 13/15's and not until November for them all to go 9/12."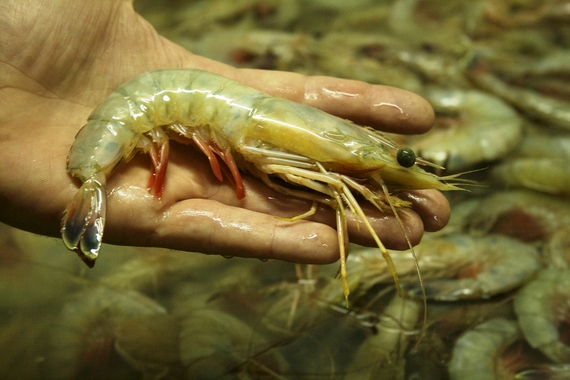 Gulf White Shrimp from Port St Joe Florida
Sea to Table can take these phenomenal frozen products, stage them slowly and efficiently in cold storage facilities around the country, and ground deliver to kitchens next day at dramatically reduced carbon footprint and cost. The key to super quality frozen products is in the refresh ; freeze real fast, refresh real slow. Refreshing (aka "defrosting") fish too fast can damage cell walls and affect texture. Always allow frozen seafood to slowly refresh under refrigeration for up to 24 hours.
No one appreciates fish next day from the water more than we do, but the ability to enjoy wild salmon and wild shrimp all year long is a blessing, one that sustains family fisheries and your family's health.