This week at the Smithsonian's Sackler Gallery you can experience some of the coolest modern and ancient Chinese art you are likely to see for a long time.
On Friday at 3 p.m., to the north of the gallery on the National Mall, in what promises to be a captivating visual spectacle, Chinese artist Cai Guo-Qiang will, in the spirit of the season, explode a tall pine tree. In addition, until December 9, in a heated, circular tent constructed in the gallery's Moongate Garden (just to the south and east of the gallery), you can experience a virtual, three-dimensional recreation of a jaw-dropping seventh century Buddhist mural from the Mogao Caves, a UNESCO World Heritage Site in Gansu Province, China, along the ancient Silk Road.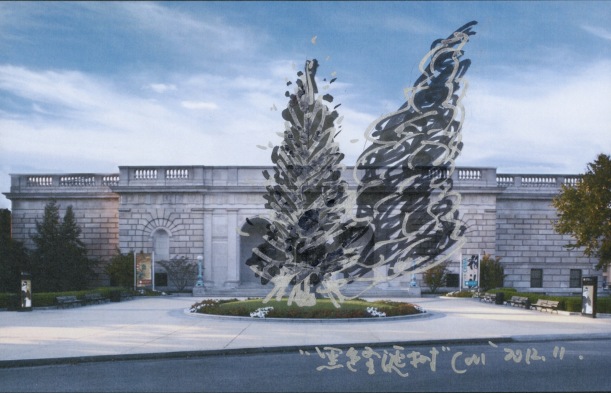 Guo-Qiang, who will set off the pine tree pyrotechnics, established what was probably a world record by having his permit application to explode something on the National Mall approved by the National Park Service in only two weeks. The Sackler's press materials describe Guo-Qiang's work as "drawing on Eastern philosophy and contemporary social issues... to establish an exchange between viewers and the larger universe around them," but after hearing him speak at the gallery's press event on Tuesday evening, I came to the conclusion that, in addition to his conceptual artistic ambitions, he really just likes to blow things up. As he described Friday's event, his face lit up and words failed him in the moment he described the explosions. That was when his excitement overtook him. After reeling off a phrase in Chinese he excitedly said, "brup, brup, brup!" which his translator happily repeated as, "boom, boom, boom!"
Everyone in the audience laughed happily. Building international understanding through creative use of explosive devices! Never underestimate the power of art.
Guo-Qiang's previous works include "Reflection," which consisted of six tons of porcelain fragments spilling from the hull of an excavated wooden fishing boat (imagine how awesome that must have been), and other experiments in gunpowder and explosives, including a work in early 2002 in which he sent a daily puff of black smoke into the air over Central Park, thereby giving the residents of Fifth Avenue the impression of a series of nearby, regularly-timed, transformer explosions. Guo-Qiang reported that at first local residents were concerned, but after the exhibit ended they were calling the city to ask where their daily puff of black smoke had gone.
I don't want to give the wrong impression. Guo-Qiang's explosive works are more than mere spectacle. He designs them to produce patterns of smoke that create an artistic effect in a novel medium, a kind of ephemeral sketch or painting, but one made in the air, by smoke.
On Friday, Cai Guo-Qiang will set off a series of three explosions from a pine tree on the north side of the Sackler Gallery. First, there will be what he described as "2,000 smoke droppers," an intriguing description that may have been lost in translation but at least sounds amazing. The Smithsonian's press materials describe it as "an effervescent shimmer of fireworks, as if in a 'tree lighting' ceremony." That will be followed, Guo-Qiang explained, by a series of explosions that will rise from the base of the tree to its top. Then, one and a half seconds later, a group of explosions will mimic the shape of the tree. Hopefully, he said, they will waft to the side of the tree, creating, in Guo-Qiang's eloquent description, an ethereal tree adjacent to the real one.
"A black tree will be born," he said.
"If it goes well," he added, "it will create a perfect negative image of a Christmas tree."
Of course, his work will, in part, be painted by the wind (that will be part of its beauty), but no matter what the weather on Friday, the work is certain to look like an artist's sketch of a Christmas image, made in smoke instead of charcoal, and in the sky instead of on paper.
Until December 9, you can also see a truly mind-blowing recreation of an ancient Chinese Buddhist cave fresco. In yet another of the seemingly endless ancient wonders of the world, in northwest China's Gansu Province, southeast of the center of Dunhuang, along the route of the ancient Silk Road, there are 600 caves decorated with elaborate seventh century frescoes and murals depicting stories from the sutras of ancient Buddhist texts. Scholars in China are preserving the works by using lasers and high-definition digital photography to record their images. Their crowning achievement is a three-dimensional digital replica of Cave 220, which the Sackler will present inside a circular tent in the gallery's Moonscape Garden.
I saw the three-dimensional recreation of the cave on Tuesday and it is incredible. The mural itself is gorgeous, ancient Chinese art that looks as lovely and as expressive as a Matisse painting, depicting seven medicinal buddhas and a world of scenes that recall the fantastical stories of The Arabian Nights. The three-D technology incorporated into the exhibit, and the glasses offered to visitors, allow museum guides to isolate details in the paintings and float them closer to the audience. The technique can sometimes make the paintings a little hokey (I'm thinking here of the free-floating, rotating pan flute), but this small aesthetic downside is greatly outweighed by the power it offers to viewers to closely inspect a virtuosic work that -- let's keep things in perspective here -- was painted 12,000 years ago and is half a world away from Washington.
This three-dimensional recreation of the Mogao Cave painting is incredible. You have to see it. And the Christmas tree explosion is almost certainly going to be amazing, too. Enjoy!
"Explosion Event" by Cai Guo-Qiang, 3 p.m., Friday, north of the Smithsonian's Sackler Gallery on the National Mall, 1050 Independence Avenue, NW.
"Pure Land," a project of the Run Run Shaw Creative Media Center of the City University of Hong Kong, until December 9, Moonscape Garden, Sackler Gallery.