As we waited on Monday night to order beers at the Club Iota bar, I asked my friend Kendall Jackson, the singer, songwriter, and guitarist for the Highballers, to explain the D.C. rockabilly band's recent run of success.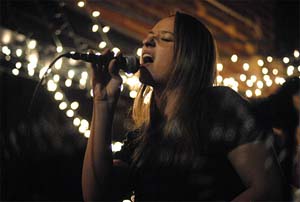 "It's Tara," he said, referring to Tara Callahan, who sang in Christian rock bands in Seattle before graduating from the University of Washington and moving to D.C., and who was playing only her third gig with the band. "Her voice is amazing," Jackson said. "We send clubs the links to the videos we have of her singing with us, and they call us right back."
But when I sat down with Drake Sorey, a freelance editorial photographer and the band's drummer for the past two years, he gave a different explanation.
"It's all Mike," he said. Mike Barrientos, who plays bass, joined the band about a year ago. He played in punk bands in L.A., then had a 15-year journalism career. At one point he was a picture editor at the New York Times.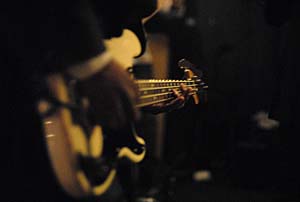 "He's so driven, so organized," Sorey explained. "Shooting our videos, running the websites, getting our name out to bloggers and clubs. It makes all the difference." Barrientos also designs the band's eye-catching concert posters. (In this interview for The Falls Church News-Press, Jackson also credited Barrientos with turning the band around.)
When I spoke to Barrientos, though, he praised Jackson's songwriting, Sorey's rock-solid drumming, and the talents of lead guitarist Sean Lally, who joined the band around the time Barrientos did.
Tara Callahan had yet another explanation.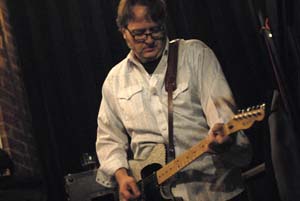 "They play original songs and have such a good time on stage," she said. "And they are all so talented. Did you know that Sean is a physics teacher?"
It probably makes sense that the members of a band that plays songs about hard liquor and crime would, when asked a direct question, point their fingers at each other. But it's also true that the Highballers are an exceptionally strong band. They are doing so well because they are all so good.
Jackson, who can turn a phrase in a lyric as easily as he can on the guitar, writes songs that hold their own against the Merle Haggard and Waylon Jennings covers that fill out the band's repertoire. Except that Jackson's songs tend to be more whimsical, even though they are still mostly about murder, drinking, cheating, and sex.
"Soft Music and Hard Liquor," for example, is an empathetic ballad about a cross-dressing cowboy looking for love:
Soft music and hard liquor.
Short leather skirts and high-heeled shitkickers
Little things to help a cowboy
Look like a girl.
Red lipstick and a rhinestone jacket
Platinum wig with earrings to match it
And he's looking for a cowgirl
Who'll understand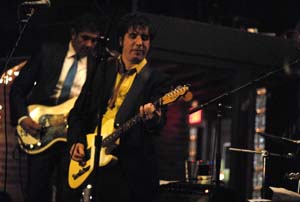 "Doin' Time in Pennsylvania" is a prison song that would have made Merle Haggard proud. In "Aint No Stranger," a song with a clever double (or even triple) meaning in its title, the singer gently lets an acquaintance know he's probably not the father of his son.
"Our songs are all about two things," Jackson joked on stage Monday night. "Alcohol and murder." Then he introduced "The Price You Pay," which is about both, and may stand as the only country music adaptation of Crime and Punishment.
If Jackson writes great songs, the Highballers are the perfect band to play them. Tara Callahan has a country rock star's voice. She played her second gig with the band at the Cowboy Cafe on the night before the Grammies. As news of Whitney Houston's death spread through the crowd, Callahan offered an impromptu rendition of "I Will Always Love You" that filled the room with swaying lighters. Her cover of the Everly Brothers' classic "When Will I Be Loved?" during Monday's Iota gig was tremendous.
Sean Lally -- the physics teacher -- is simply a terrific lead guitarist. He could play with anyone. Drake Sorey plays drums with rhythm, style, and a sense of humor. A couple of times on Monday he answered Jackson's between-song irreverence with a quick snare drum flourish and high-hat crash. Barrientos plays a driven and melodic bass line and infuses the band with energy, on stage and off.
The Highballers are a great band on the brink of wider success. They are booking themselves into bigger clubs, plan to release their first original album in June, and are likely to tour the East Coast this fall. Now is the time to see them live.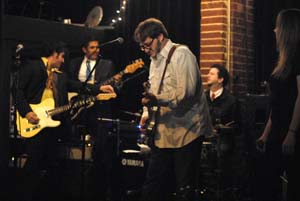 The Highballers at Reverb Nation
On Facebook
All photos by Sean Carman