The San Francisco Symphony's Centennial Gala Opening happens on Wednesday, September 19. Featuring Music Director Michael Tilson Thomas, the SF Symphony and special guest violinist Joshua Bell, the celebration honors Marcia Goldman and SFS President John Goldman. A native San Franciscan, Mr. Goldman has served as president of the San Francisco Symphony since December 2001 and has been a member of its Board of Governors since 1996. Proceeds from the Centennial Gala benefit the Orchestra's many artistic, community, and education programs. Each year more than 75,000 Bay Area school children benefit from this outreach. The program for this year's Gala has a French theme and will include Ravel's Boléro and selections from Berlioz's Roméo et Juliette. Joshua Bell joins with the Orchestra in Saint-Saëns's Introduction and Rondo capriccioso and Chausson's Poème.
Joshua Bell is among the premiere violinists in the world. He is ultimately charismatic and the perfect guest artist for the SF Symphony's Centennial Gala. His virtuosity is universally celebrated and his performances offer an alluring blend of daunting technique and dramatic know-how. Joshua Bell and the Saint-Saën Introduction and Rondo capriccioso are perfectly matched. The work is a jewel in the crown for the composer and a stunning gift for the artist ready to take it on.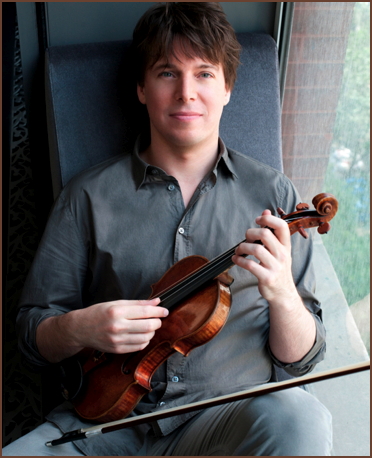 JOSHUA BELL. Photo, courtesy of the artist
"The Saint-Saëns is one of the great pieces written for the instrument," Joshua said. "I happen to love Saint-Saëns in general. I think he's a brilliant composer and sometimes underrated in a way, because people like to pass him off as fluffy and not being serious. It's very beautifully written and the kind of thing that sends people away humming the tunes. My teacher, Josef Gingold, a student of the French school, always loved the music of Saint-Saëns and Henri Vieuxtemps and all the French repertoire. So, it's a piece I love to do whenever possible. It's not quite as in fashion as it used to be when Jascha Heifetz and the older generation were around and the piece was a staple. But I love to play it whenever I can."
For the Poème of Ernest Chausson, Mr. Bell will be plugged into the composer's private line and the charms of the genius artist for whom the piece was written and dedicated.
"The Chausson is quite a deep piece," he says, "and one of the most touching pieces of music written for the instrument. My connection to it is also through my teacher. I learned the Poème when I was very young. He studied the piece with Eugène Ysaÿe for whom the piece was written. Chausson dedicated the Poème to Ysaÿe, so I feel particularly close to it. Gingold used to imitate the way Ysaÿe would play certain passages. In fact, Ysaÿe even embellished things and added certain notes here and there that never made it into the score. I do a couple of those little Ysaÿe-isms as a sort-of homage to my teacher. I love the Chausson very much."
Returning to the dimension and privilege of guest star status at an opening night performance, I admitted to Joshua how mesmerized I was the last time I saw him play the Rondo capriccioso. "For a musician such as yourself," I asked, "is there a heightened rush because it's an 'occasion performance'? The piece lends itself to such glamour and, let me just say it -- the freedom to show off a little bit. How is the piece different when you have a special occasion as opposed to an engagement that is simply in sequence with the Company's season?"
"It's hard to say. As far as I'm concerned, the stakes are always very high. Whether it's playing at the White House or playing for a group in my own house -- you know, one of those soirées I play in. Once I start playing, the stakes are somehow higher, in a way, than any of the context. Great music was written by the great geniuses and you want to do it justice. So, it's hard to say. But, having said that, it's particularly appropriate to do a piece like the Saint-Saëns at a Gala Concert -- like the one in San Francisco -- because I think the attitude of the public will be in the right space. They are there to celebrate and there will be an added excitement coming from the audience, which actually does spark and spur us artists on stage. A piece like that can really feed off of that kind of energy. So, it's a good match."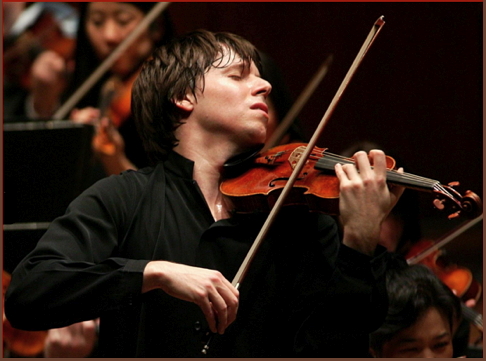 Joshua Bell in concert. Photo, courtesy of the artist
Joshua was appointed music director of the Academy of St. Martin-in-the-Fields in May 2011, a position he described as "a great new adventure." Because the SF Symphony Gala raises funds for and promotes opportunities for children's music education, I asked Joshua about his own concerns and involvements with bringing music to young people.
"I'm now working on ways I can use that to reach more children. It's still a portion of my career. My role at the Academy is a fraction of what I do the rest of the year. I'm involved with some children's charities -- one of them in particular called Education Through Music, in New York, which is expanding around the country. It brings music programs into schools, particularly challenged schools -- inner-city schools that have absolutely no music program at all -- and brings music to these kids. Every kid that plays the violin has to have a violin. It's really neat. I've visited many of the schools as one of their ambassadors and it's always very rewarding. I just got back from a two week trip to South Africa. While I was there I was able to go out and visit one of the schools that take in about a hundred kids from the townships. The kids are living in the worst conditions you can imagine. And yet, when they play music, it lifts them in so many ways. They all danced and played for me, they put on a whole show for me. It was absolutely incredible, the highlight of my tour. It's very rewarding and I get a lot out of it. I like being involved with that. So, I'm very happy to see that San Francisco Symphony is dedicated to reaching children, because that's where it all starts. It's an absolute tragedy when music is cut out of the kids' curriculum at school. It's one of the basic human needs -- music and art, along with math and language. It's such an oversight when administrators think that it's dispensable."
More than likely, we will one day hear from the career artists who were affected by these programs and, perhaps, from an encouraging visit by Joshua Bell. I asked him about his own heroes as a kid and who turned him on to the violin.
"When I was a kid, there wasn't great music in the school system. I was one of the lucky ones because, for my parents, music was their greatest passion even though they are not professional musicians. So, I grew up in a very musical household. My great hero was my teacher, Josef Gingold, who I went to when I was twelve. He's the one I hold responsible for my being a professional musician and taking it as far as I have. It was all because I admired him so much and saw the kind of love that he had for the instrument. Of course I had many heroes, like Jascha Heifetz, but my own commitment to music was through my teacher. So when I go into a school like I did in Africa and play for them and show them things that are possible on a violin - they haven't really seen anyone up close play complicated things. To watch their eyes light up and see what's possible on the instrument, it may affect at least a few of them to really want to take it further. As I get older I would like to play that role more for other people just as my teacher played for me."
"What's coming up for you after the Symphony Gala?"
"I'm doing a lot of openings of seasons and galas through most of September. In October I'm really psyched about doing a tour with my orchestra, the Academy of St. Martin-in-the-Fields, because it's new repertoire for me. I get to tackle the Mendelssohn Scottish Symphony and Beethoven's Symphony No. 1, which I haven't done yet. And Bruch's Scottish Fantasy -- without conductor. I have never done it leading myself and playing. We'll see how that goes. That stuff is very exciting for me. But San Francisco is always one of my highlights. I love the audiences there. The San Francisco Symphony always seems to get enthusiastic audiences. And the Orchestra is so fabulous. So I'm really excited having been asked to be part of the Gala."
Click here to purchase tickets online: SFSymphony Gala
Joshua Bell plays the first movement of Bruch's Violin Concerto No. 1: