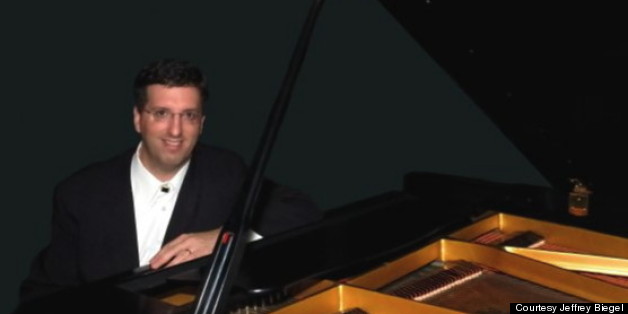 Pianist Jeffrey Biegel's latest recording for Steinway and Sons, A Grand Romance, is a treasure of sixteen keyboard gems from the Romantic era. The selections are rare and virtuosic, the musical shocks and sentiments gliding between fervent longing and eye-popping wonderment to the frenetic congestion of a Friday night rush hour and a crazy-wicked E Ride down the Danube. A Grand Romance is a perfect recital, a musical confession that launches the imagination and heralds the artist.
"The recording was done in two days," admitted Jeffrey Biegel during our recent interview. He came prepared to record every piece in one take. "I did not want to take a little from this or a bit from that. I didn't want the recording to be a mixture of a million takes. We recorded each piece straight through. Some I played twice, three times at the most, or a complete section to make sure it was good. Then we'd pick the best."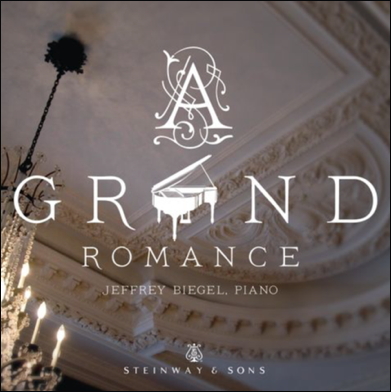 The sixteen compositions come together as would a great story ballet with sixteen separate scenes, each supporting a clear line of thought -- with changes in atmosphere and mood along the way -- leading to an ultimate crest and feverish afterglow. What does it involve, what does it take to arrive at a recording studio -- this being a former house of worship in Winchester, Virginia now owned by Sono Luminus -- where the celebrated talents of 2013 Grammy nominees producer Dan Merceruio and engineer Daniel Shores are waiting to capture the sparkle and dynamism of century-old keyboard chestnuts?
"That took thirty years," said Jeffrey. "Back when I was a student of Adele Marcus at the Juilliard School, I was playing some Etudes by Scriabin and Moszkowski for her. She would stop you in three seconds with -- 'Dear! No. That's not what he says.' But with these pieces, she didn't stop me at all. Two thoughts went through my mind -- either this is pretty good or it's so bad she's just going to say she shouldn't have bothered giving them to me. It actually ended up being something more than either of those two options. She sat there and said nothing. I said, 'What's the matter?' Well, nothing was the matter, but something had reminded her of pianist Josef Lhévinne. Watching me play, she said it sounded just like him -- 'You look like him, and you play sitting slightly hunched over the keyboard like him. It's just very unusual, dear.' I didn't know much about Josef Lhévinne. I was seventeen or eighteen -- I knew less than nothing. But that propelled me into exploring a world I knew nothing about. I found two LPs, The Immortal Josef Lhévinne. They contained the Chopin double-thirds etude which I learned when I was fifteen, the Schumann Toccata which I learned at sixteen and the Schulz-Evler Blue Danube which made me think -- 'Oh, I could never play this!'"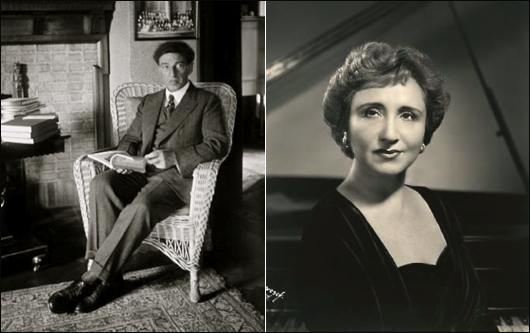 Josef Lhévinne and Adele Marcus. Photo, courtesy of the artist
The hesitation was about the speed, the tempo. The Schulz-Evler Arabesques on "The Blue Danube" is the definition of tour de force, requiring godlike technique. You either have it or you don't. From the fickleness of wind-up Victrolas to the curious workings of early piano rolls, speed variables were always hovering in the conversation. But with the arrival of electricity came the technology to transfer these sound products to something even more sensational -- the 78 rpm disc, much later the 33 vinyl. But the skeptics continued the chatter about lightning -- fast dexterity vs a mechanical surge. Were such tempos humanly possible? Could Josef Lhévinne actually play so fast?
"I'm certain Lhévinne played these pieces up to speed because they are playable, just like that. Lhévinne had a certain sound. Arthur Rubinstein said he had a sound that could move a listener to tears. Adele Marcus was all about sound. I tried to connect to this period somehow, because I felt a door had opened to me."
These days, every musician on a search and rescue mission for sheet music knows that when a publishing company goes out of business and its inventory is relinquished to and isolated (or destroyed) by an unrelated corporation, that locating a once-popular work involves much more than hunting on the Internet. It means haunting dusty bookstores -- especially those dealing in rarities -- also charitable collectives, garage sales, and roadside flea markets. Some of the sheet music Jeffrey used for A Grand Romance was unearthed while waiting for his lesson at Adele Marcus' apartment.
"She had these little cardboard bins stacked on a shelf. I'm thinking that she must have some of these pieces. I found a copy of the Schirmer score of the Etude du Concert in E-flat Major, Opus 1, no. 1 by Paul de Schlözer. It looked like a challenge. She said, 'Oh, yes, dear. Mr. Lhévinne played that. You should learn it.' And I did."
As a collector of Hollywood memorabilia from the '30s, I know the advantages of connecting with like-minded spirits. For Jeffrey, one of them was Ken Caswell who was the Executive Director of the Austin Symphony back in the '90s. In addition to his large music collection, everyone recognized Mr. Caswell in his big black Cadillac El Dorado convertible.
"He had the Ampico and Duo-Art player pianos in his home and so many rolls. Among them was the Moszkowski Juggleress [Track 6] and the de Schlözer Etude du Concert in E-flat Major. I played these pieces for him and he said, 'Wow! I haven't heard anyone actually play this in years.' He sent me recordings of the rolls with Lhévinne playing them. It was a revelation. I only knew this music from my own playing. No one else had ever recorded it, you couldn't find it anywhere. I have a hunch that my recording of the de Schlözer Etude [Track 10] is the world premiere."
Jeffrey treasures his copy of the Schulz-Evler transcript of The Blue Danube obtained at the internationally famous (now defunct) Patelson's Music Store once located behind Carnegie Hall.
"It was around 1984 that Adele told me to learn the Schulz-Evler Blue Danube. I ended up closing my 1986 New York recital debut in Lincoln Center with that. She said it was Lhévinne's signature piece. It ended up becoming mine. There's a photograph of him signed to her from 1928. That picture was hanging in her apartment for years. When she passed away her niece gave it to me. I have it hanging by my pianos. When my students see it they ask if he's my father. I tell them he's my musical grandfather. There are just so many weird connections."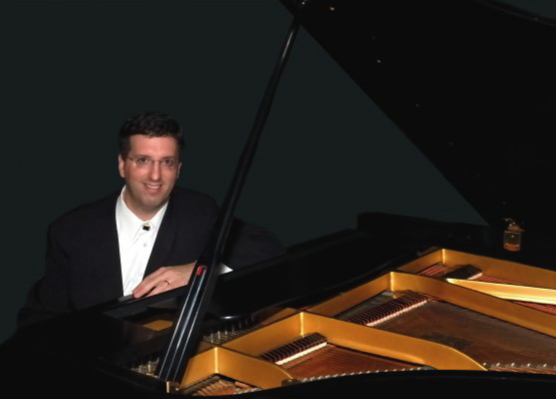 JEFFREY BIEGEL. Photo, courtesy of the artist
In every way, A Grand Romance is an up close and personal encounter with Jeffrey Biegel. As a young pianist he studies with a master teacher -- a legend in her own time -- whose personal experience and knowledge of repertoire inspires her one day to suggest he learn a handful of works and become acquainted with the artists who performed and recorded them. One of those pianists, Josef Lhévinne, proved to be a heaven-sent connection. However powerful the link, the message was clear: practice, practice, practice.
"Things cycle," said Jeffrey, "they take dips and jump back up. There's plenty of young people still taking piano lessons. There may be an isolated event where a piano store closes or a city that had an orchestra and now it doesn't. It's economy-driven. That's what causes a lot of these states of flux for so many different facets -- not just the arts -- but other merchandise. You just have to hope that it will come back in those areas that lose it for a time. There's just no way of knowing. All we can do is provide it and hope it reaches the people who want to hear it and embrace it. A recording like this is to be enjoyed. But it's also a legacy recording. A hundred years from now they'll say, 'That was the guy who played what his teacher's teacher played and he tried to carry through with the legacy and the tradition.' It's basically a little spot in time. A lot of work went into it! But in the big scheme of things, it's just a morsel in keeping the tradition alive."
Click here to get better acquainted: Jeffrey Biegel