San Francisco Symphony begins its 102nd season on Tuesday, September 3, at Louise M. Davies Symphony Hall. Music Director Michael Tilson Thomas (MTT) leads the orchestra in an all-American program that will include composer George Antheil's progressive Jazz Symphony from 1925 and George Gershwin's 1928 masterpiece, An American In Paris. This year's special guest artist is the incomparable five-time Tony Award winning soprano Audra McDonald. The always glamorous event is surrounded by an array of cocktail receptions, formal dinners and an afterglow feast and dance party. On an even higher note, the proceeds from the Gala are directed to SF Symphony's community outreach programs which include musical education for thousands of children throughout the San Francisco Bay Area.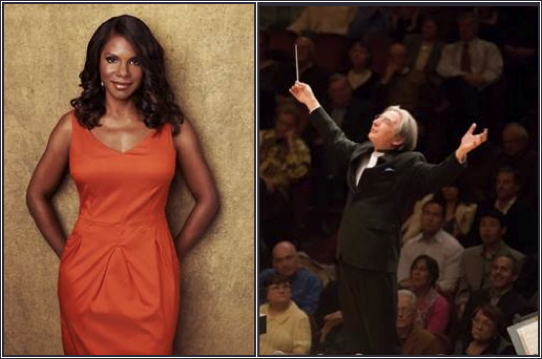 Audra McDonald and Michael Tilson Thomas. Courtesy of SFSymphony
Audra McDonald is an alumna of the Juilliard School of Music, Class of 1993. After the cap and gown came off, she crossed over to the Vivian Beaumont Theatre where she was cast as Carrie in a revival of Rodgers and Hammerstein's Carousel, which opened the following March. Three months later she headed down the aisle of the Gershwin Theatre to pick up her Tony Award as 1994's Best Featured Actress in a Musical. In June of 2012, she carried away her fifth Tony as Best Leading Actress in a Musical for her performance as Bess in The Gershwins' Porgy and Bess. Audra McDonald has become America's favorite soprano.
Her program for opening night is an inspired combination of Broadway songs from composers Leonard Bernstein, John Kander, Jule Styne and Frederic Loewe. "I have a great working relationship with MTT," said Audra during our recent conversation. "I wanted to do a Bernstein set. So I proposed some songs and he said, 'Great, I love it, also think about this along with that.' We came to a meeting of the minds which would fit the festive atmosphere of the Gala."
She will begin with Bernstein's "A Little Bit In Love," from Wonderful Town. Based on the play, My Sister Eileen and with lyrics by the dynamic duo of Betty Comden and Adolph Green, the show took five Tony Awards in 1953 including Best Musical and Best Actress in a Musical for Rosalind Russell as Ruth. Audra's performance as Eileen in the Berlin Philharmonic's 2002 New Year's Eve concert presentation of Wonderful Town, conducted by Sir Simon Rattle, was stunning. She also received high praise for the 1999 studio recording on the EMI Classics label. Audra will then treat us to sister Ruth's hilarious showstopper, "A Hundred Easy Ways to Lose a Man."
Michael Tilson Thomas is renowned for his connection with the Bernstein repertoire. Earlier this summer, MTT led the SF Symphony Orchestra in five performances of West Side Story, marking the first time the complete score had been presented on a concert stage. Featuring Cheyenne Jackson as Tony and stunning new-comer Alexandra Silber as Maria, the project was a crowning success and is soon to be released on CD. It probably didn't take much persuasion for Audra to include the show's haunting ballad, "Somewhere."
Her fans are very familiar with the warmth and insight she brings to the song as recorded on her all-Broadway album, How Glory Goes. Also on the Bernstein list is an unusual combination of two lesser-known songs, "Build My House" from Peter Pan and "Take Care of This House" from 1600 Pennsylvania Avenue. There have been attempts to rebuild or re-imagine the shows -- each never getting off the ground during the composer's lifetime. Bernstein also wrote the lyrics for his abbreviated Peter Pan, some arguing that his collected songs surpass those of the ever-popular 1954 version from Jule Styne and Moose Charlap. Alan Jay Lerner provided the lyrics for 1600 Pennsylvania Avenue, which has been described as both a classic bomb and an abandoned masterpiece. What remains, however, are two Bernstein gems that have found their way into the Classical arena -- championed and recorded by such superstars as Marilyn Horne and Frederica von Stade.
Audra is on a concert tour through late December, hitting 21 cities and highlighting selections from her just released CD, Go Back Home. The title refers to a piercingly sensitive ballad from Kander and Ebb's final project, The Scottsboro Boys.
"I feel that this album is my most autobiographical," said Audra. "These are songs that I've been looking at and singing for a while and which have come together in a very organic way. It's from the last seven years -- themes that have been popping up in my life. Then they kind-of popped up artistically through these songs. So, 'go back home' is not only one of the song titles, it also has a lot to do with my coming back to the theatre, coming back home."
Track four on the album is another Kander and Ebb song, "First You Dream" from Steel Pier, which she will also perform at the Gala. Though Scottsboro Boys and Steel Pier received numerous Tony and Drama Desk nominations, each closed within a two month period. No matter. Audra McDonald's golden vocal chops and daunting ability to impart a great story will guarantee this material stays onboard. So will her rendition of "Make Someone Happy" from Jule Styne's Do Re Mi (1960) -- the final track on the CD and in her concert set. Though the show is a distant memory, "Make Someone Happy" became an overnight success and was recorded by such mega personalities as Eydie Gorme and Steve Lawrence, Judy Garland, Barbra Streisand, Sergio Franchi, Tony Bennett, Aretha Franklin and many more. The song has become firmly ensconced in the genre of music referred to now as "The American Songbook."
"I have to have a reason to be singing a song," she said. "Otherwise, I don't do it well. I don't sing something because it's pretty. I have to have 'the why' -- I have to have the objective. I try to find the character within the song. What is this person saying? What do they want? Even if it's just to say that I'm celebrating love, it's still -- what do I want, what do I want to get out of singing this song? That's what I do with every piece I sing."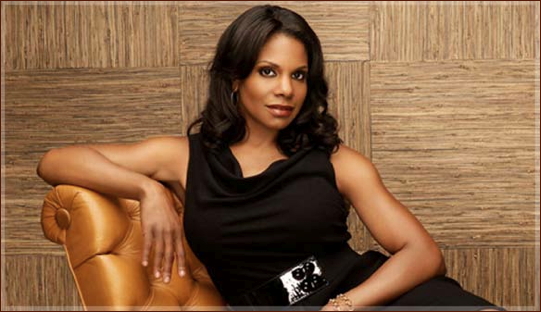 Audra McDonald. Courtesy of SFSymphony
I asked Audra if she maintains the vocal regimen acquired at Juilliard. In her recently broadcast concert at Avery Fisher Hall, Audra hit a spot-on High C-sharp at the end of "Gorgeous," a great comic number from Jerry Bock's The Apple Tree.
"That's called prayer and luck. Sometimes it's not there. You try to stay healthy -- that's the only thing you can do. I still take voice lessons. I've had the same teacher going on -- oh my goodness! -- almost 20 years. I do warm-ups that keep the voice as healthy as possible no matter the repertoire and which are standard to whatever I happen to be working on at the time. I would be nowhere without that. I try to stay as fit and healthy as I can because I want to use my instrument as long as I am able."
"You are doing so much good to advance the work of new composers," I said, "especially those who have written specifically for your voice. Would you consider working with composers of contemporary opera?"
"I'm open to anything, Sean, I really am! I'm someone who looks for challenges. For some reason, the great gift in my life is that I've been fortunate enough that the right artistic project always seems to fall in my lap at the right time -- when I need to learn something. I'm looking for things that scare me, that will challenge me, that will help me to evolve. If that turns out to be contemporary opera, then I would absolutely say, 'yes!'"
Audra's set will conclude with "I Could Have Danced All Night," from Lerner and Loewe's My Fair Lady. "Sleep? Sleep? I couldn't sleep tonight!" says the character Eliza Doolittle. "Not for all the jewels in the crown!"
Soprano Audra McDonald is a jewel in the crown of American Theatre. And for San Francisco Symphony -- the Fairest Lady in Town.
Click here to stay in touch with Audra McDonald.