Soprano Dominique Labelle is on a short list of today's truly great vocal interpreters of Baroque Music. This week she appears in San Francisco, Atherton and Berkeley with conductor Nicholas McGegan and the Philharmonia Baroque Orchestra in Handel's oratorio, Alexander's Feast. The event coincides with the release of PBO's latest CD, an opera by Handel, Atalanta, featuring Dominique Labelle as the legendary Arcadian princess prized for her athletic prowess and long-sustained sexual purity. Each composition emerges in 1736.
It seems, for a while, the composer was totally turned-on by the notion of dedicated virgins and their stalwart defenders. His Alexander's Feast is based on the 1697 ode of poet John Dryden, "Alexander's Feast, or the Power of Music," the secondary title being a tribute to Saint Cecilia -- virgin and martyr, and the official Patroness of Music. The Philharmonia Baroque Orchestra and Dominique Labelle are truly blessed in their long collaboration together. The increasingly loyal fan base knows that the overall resurgence in popularity of Baroque opera and oratorio -- especially when it includes historical instruments -- has been fueled by this inspired partnership. When it comes to Handel, it doesn't get any purer than this.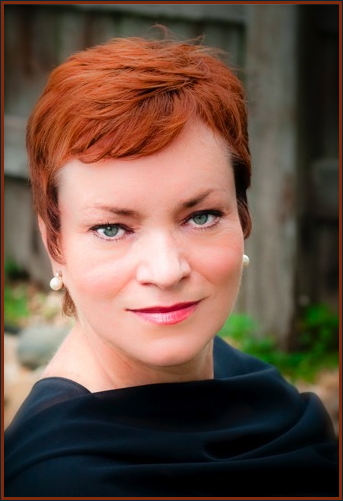 DOMINIQUE LABELLE
Photo, Lino Alvarez
Alexander's Feast, or the Power of Music premiered at Covent Garden on Sunday, 19 February 1736. The performance was followed by a celebration of fireworks. At the PBO concerts this week, the pyrotechnics will be confined to the orchestra and the excellency of the cast which includes the Philharmonia Chorale, baritone Philip Cutlip and tenor Dann Coakwell. Last week I spoke with the production's leading lady, PBO's most favored and fiery soprano, Dominique Labelle. We talked about the paths and peculiarities that sustain a singer who's into early music.
Before I went to Boston Conservatory, I studied voice at McGill University which offered studies in early music," she said. "I loved my Song Interpretation class. We worked on literature in French, German, Czech and Russian and performed a cycle together. That was amazing. We also had a Contemporary Ensemble and worked in a recording studio. There were four different choruses, so there was always an opportunity for me as a young singer to audition for all the small soprano roles. I had a lot of exposure to all kinds of music.
As a professional vocal coach, I know there is a special kind of soprano that latches on to Baroque music. There is something in their spirit that responds to the sounds of the period, the phrasing and ornamentation, along with a host of other demands so distinct from later composers such as Puccini and Verdi. By contrast, the vocal literature from the Baroque is a more exacting experience.
"That's a very good observation," she responded.
Sometimes I wonder why I didn't wind up doing more opera. I did Puccini and Verdi, I sang La Traviata and Lucia -- all those Italian roles. But the people who kept hiring me were doing early music or oratorio. I can't really say if I was not talented to do Puccini, or because it's just life that basically carries you where you're supposed to go. I also have to say that my relationship with Philharmonia Baroque is a good one. I've been working with them for many years. I know the musicians and they want to make music with me. A lot of singers have a very different attitude when they show up in front of an orchestra. They are the voice and the orchestra is accompanying them. For me, I always come as part of the music. I can play the role of a diva, but I always approach the music as a musician.
Referring to the coloratura work within La Traviata and Lucia, I asked Dominique how her experience with it might differ from the coloratura of the Baroque?
"It doesn't differ at all," she replied.
I think what changes it is the color, the character and temperament, its situation in history. It may effect the line, but it's the same notes and the same approach. Think of Italy, for example. The sun in Italy doesn't shine like the sun in Amsterdam. It's going to be a little bit different. The music is going to effect the quality of the lines because it's a different universe. But the way to sing is the same. If you're a soprano who sings a lot of Puccini, then the way the voice is handled can be very different. There may be a lot of bad habits that don't need to be there, like a lot of scooping to reach a note. In oratorio, that is not acceptable. If you sing a lot of heavy material all the time, it will show - the voice carries too much weight.
The subject of Alexander's Feast, or The Power of Music deals with the burning of the city of Persepolis by Alexander the Great in 330 BCE. In the course of the story, Alexander's female companion for the party, Thais, a "hetera" from Greece -- a sort-of sacred/dedicated sometimes sexual companion for hire who was likewise versed in music, the arts and political rhetoric -- encourages the flamboyant general to set fire to the palace and, thus, settle an overdue round of vengeance.
"As I'm looking at the score," she said, "my music is listed as Soprano Solo."
There's no specific character. I think with Alexander's Feast you don't pass a judgement. Basically, you just sing. It's not required of you to take a position on anything, such as, "I can't believe I'm feeling this way" or "Everybody should be happy". I think the emotions have to be coming from the music and you are a part of it. There is a lot of beautiful music in the score. There is one piece that is very funny. The Prince is looking at the woman's breasts - for about four minutes:
The prince, unable to conceal his pain,
Gaz'd on the fairWho caus'd his care,
And sigh'd and look'd, sigh'd and look'd,
Sigh'd and look'd, and sigh'd again:
At length, with love and wine at once oppress'd,
The vanquish'd victor sunk upon her breast.'
What do you have to do as a singer to make this piece funny and interesting? There's no judgement, nobody saying, "How terrible of him to be staring at this woman's breasts!
I responded with, "Well, if it were me singing, then I would be appealing to everyone out in the audience fixated on my chest! In other words, for four minutes, I couldn't say or sing the same words the same way to just -- everyone."
"Exactly! That's where your knowledge of music comes in. Like with my little brush when I paint -- you have to use it very well. When am I going to look surprised, where can I use a longer note to express excitement or boredom? This is where you apply your musical expertise in making choices."
Dominique is keeping a very busy and prestigious schedule these days having appeared on April 12th at Carnegie Hall in the Mozart Requiem conducted by Iván Fischer. Prior to that she was in Montreal performing The Messiah and in Seattle at Daniels Recital Hall for Handel's The Triumph of Time and Truth. With that kind of itinerary and shifting from one time zone to another, I asked Dominique about her practice schedule.
Pretty much everyday. I work very hard on my warm-up. A lot of singers show up to rehearsals without having practiced and I'm always so surprised. You have to be in contact with your instrument - all the fine tuning, working the consonants and vowels, the breath control, making sure your high notes are beautifully placed - before you begin making music. The pure exercise of it, physically and mentally. You have to know what you're doing beforehand or you will focus only on the technical problems. A good fifteen minutes of very focused warming-up is very important, then you sing for thirty or forty minutes. Everyday.
But Dominique's personal warm-up is informed by a life-time of study and performance opportunities. She understands how to exercise her voice effectively so that she is ready to rehearse with an orchestra or to learn new material for a future engagement. 
"When did you start practicing the aria from Alexander's Feast?"
About two weeks ago. I know what I have to do with this music and I've done it with Nic many times. So, it's not new and it's not going to be that difficult. In the first aria, I have to sustain a very long High A. I've been singing it in my head everyday for the last three weeks. When it comes time to perform it, I will know exactly what kind of mental work to do to make that note work.
It is very clear that Dominique loves working with Nicholas McGegan and the Philharmonia Baroque Orchestra. She will be back with them again on June third at the Berkeley Festival in a program of songs by Beethoven and Haydn.
Click here to order tickets on-line: FESTIVAL
Get better acquainted with this amazing artist: DOMINIQUE