Grammy Award-winning operatic superstar Joyce DiDonato is caught up in a fiery 18th-century whirlwind since the November release of her CD, Drama Queens. With Alan Curtis directing the ensemble of Il Complesso Barocco, the thirteen tracks include the white-hot arias of over-the-top femme fatales, sorceresses and really angry Queens. The composers, some whose works have never been recorded, include Giacomelli, Porta, Keiser, Monteverdi, Orlandini, and more. George Frideric Handel gets the lion's share of attention with three tempestuous heroines including "Cleopatra", whose aria Piangerò la sorte mia has long been a staple for many feverish concert artists.
Small wonder -- Handel gives his Cleopatra a magnificent lyrical line through which she ruminates about inflicting perpetual vengeance upon her brother Tolomeo. "But when I am dead," she cries, "my ghost will, wherever he may be, torment the tyrant by night and by day." Joyce DiDonato's exquisite mezzo-soprano voice, striking vitality, and awesome musicianship contains all the right stuff for such Royal declamations and raises her up as one of the most legit Drama Queens of our time.
On Tuesday, Nov. 20, Ms DiDonato joins Director/Violinist Dmitry Sinkovsky and Il Complesso Barocco in presenting selections from the CD in concert at the newly-opened Weill Hall at the Green Music Center in Rohnert Park. The lofty design and incredible acoustics of the grand hall provide the perfect setting for this dazzling mezzo-soprano who recently starred as "Romeo" in San Francisco Opera's production of Bellini's I Capuleti e i Montecchi. Joyce DiDonato is recognized as one of today's most outstanding interpreters of Bel Canto repertoire. In our recent interview I asked about her daunting technique and the particular "fire within" that it takes to wrap one's artistic passions and dedication around the Baroque literature.
"I think I've learned more about Baroque music than any other genre," said Ms Donato. "It forces me to keep working on my technique. It forces me to learn how to be a better singer because it demands so much of the voice. It demands everything. You've got the fast and furious coloratura, the long-slow-languid/you need breath-for-days arias. High and low, everything in-between, and every dynamic. This is what I love about Drama Queens. The emotional content of it is so charged, so raw. It asks that you have complete command over your voice so that you can paint the emotion and paint it any color you want."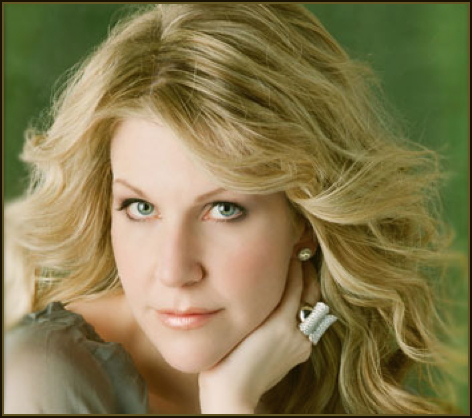 JOYCE DiDONATO. Photo, courtesy of the artist
"I didn't start out wanting to be a Handel/Baroque singer. I thought I was going to go the way of a really typical American lyric mezzo -- doing Rossini, Mozart and maybe Donizetti and Bellini. When I started in Europe it was full-on love affair with Baroque music. They sort-of took me and said 'we think you're going to be great in this repertoire'. This was in 2001, when I did my first Handel opera. I was the second cast "Festo" in Giulio Cesare. That's where Alan Curtis first heard me as well as the president of Virgin Classics. They put me together immediately to do a duet disc, Amor e gelosia, with Patrizia Ciofi. From there on, it was, 'Joyce is a Handel Singer.' And I'm, like, 'No-no-no! I do other stuff too!' But it's a title that I wear proudly. I think this project really highlights where I am as an artist. For me, it's the heart of Bel Canto singing."
The program is big on larger-than-life drama, deep on emotional catharses, and as wild as a hurricane. The sorceress "Alcina" is more seductive than the Sirens and is easily bored and vindictive with the knights who chance upon her island. "Ifigenia" is murdered by her father Agamemnon. "Octavia," wife of Nero, meets her end by being bound and bled, suffocated in steam and then beheaded. Geminiano Giacomelli's villainess "Irene" is also a woman scorned. She offers ancient insight into the theme of 'what I did for love' as she laments about her husband -- "I love him, but he is unfaithful. I hope, but he is cruel. Will he let me die?" I asked Joyce about her work as an actress in such a vast arena of dramatic expression. Exactly how much does the theatrical exercise of -- "What is my motivation for being in the room?" -- influence her vocal technique during a live performance or recording session?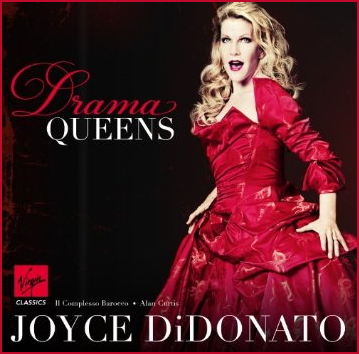 DRAMA QUEENS. Courtesy of Virgin Classics
"There's a big answer to that in the sense that it's very philosophical," she said. "It's tricky when you're doing a recording, because the only weapon you have is your voice and the delivery of that voice. You don't have a gesture or a facial expression, there are no costumes or set pieces. Everything needs to be present in the voice. So, I have to make sure I'm 100 percent invested in every syllable and every note that comes out of my voice. Essentially, that requires me to be 100 percent present. I say it's a "big answer" because that's what I go for in my everyday life as well -- though I usually fail. Miserably. But I can do it now in the studio. So, OK, I have to keep learning the studio trick for my life. It's this idea of being present. So, when I'm singing "Octavia," I am right there. I'm listening to this bizarre world of five bassoons -- surrounding me in an orchestral color I've never heard in my life. I'm singing "Geloso, sospetto", diving headfirst into Octavia's plight. Then, later that afternoon, we're recording a different aria and I go 100 percent into the next Queen's adventure. I would say the same thing in concert or performance. I have to be 100 percent totally present."
"A lot of times it's simply a matter of logistics. I'm a pianist and over the years I've learned to trust my instincts a lot. I like that dialogue between me and the composer. Over half of the pieces on the recording and in the concert have not been heard in modern times and it's their world premiere recording. I didn't have anything to study. I didn't have different interpretations to listen to, compare, and make up my own mind. I had to just come out at the gate and decide who these women were and what these pieces were about. It's very empowering. I like not having to compete with previous versions of these arias. But then there's 'Piangerò la sorte mia' which, of course, everybody has sung. I like the sense of trusting the artist I've become. I may not have the definitive versions, they may not be to everybody's taste. But it is absolutely a portrait of where I am. At this point, I can take that risk -- putting myself out there and letting people make up their own minds about it."
The issue of physical stamina goes hand-in-glove with vocal stamina. The collected material of Drama Queens certainly offers a list of heavy-duty physical challenges. With all the variations around a wounded heart, a broken heart, a heart filled with revenge -- it's always a good idea for the singer to include cardiovascular work in the physical exercise program. Now that she's on the road for a while, I asked how she maintains her physical fitness. During intermission of the opening night performance of I Capuleti e i Montecchi, the comments out in the lobby were about Ms Donato's performance seeming so effortless.
"I like people thinking that," she responded.
"I don't want them to be thinking, 'Wow, listen to that breath control!' I want them to just let me disappear into the characters. While I was in San Francisco, I was staying in Hayes Valley and went everyday to Yoga Tree -- a great yoga studio just around the block from where I was staying. Yoga is the biggest help to me. When I'm in one of those endless phrases and think 'Oh-my-Lord, I'm not gonna make it' -- it's my ability to relax. Once tension starts coming in, the breath has to work a lot harder to be efficient. The more relaxed you can be and not panic, the more efficient the breath will be. I think yoga builds strength, flexibility, and calming of the mind -- which is never a bad thing. And during a concert, when I'm in a pose for a long time, I have the ability to relax into it and let it be. My whole approach is holistic health. I've learned that you don't need a lot in life. If it can't fit into a suitcase, you don't really need it."