The city's golden gates were opened for ballet star Gennadi Nedvigin in March 1997 when Helgi Tomasson, artistic director of San Francisco Ballet, handed him the opportunity of a lifetime -- the kind served-up on the proverbial silver platter. From the time he was 10 years old the young Russian-born dancer had trained at the Bolshoi Ballet School. Now he was on tour with Le Jeune Ballet de France and San Francisco was in its sights. The company would stay about two weeks, take classes with San Francisco Ballet, and collaborate on a number of pieces to be performed at the Palace of Fine Arts. After that, who knew? Gennadi needed a job and the curtain was coming down on this gig with the French company. A few years later, it completely folded.
"They always had young dancers," he said, "not more than 20 years old. With Jeune Ballet de France you usually stayed for a year and then moved on. It was like a transitional company that helped young dancers get some practice, become stronger, learn new things and then head into a bigger company. Right after our last performance, Helgi was standing in the wings and asked if he could have a word with me. He said, 'I have a contract to offer you -- as a soloist. Give it some thought and get back to me within two weeks.' I didn't have to wait two weeks. I had never been in America before and the city was so beautiful. The weather was great, we were performing at the Palace of Fine Arts which is so romantic, and everything that surrounded me at the time was so enjoyable. So, I changed and went back to the reception. A lot of dancers from San Francisco Ballet were there, a lot of students -- I didn't realize everyone was watching me. I signed the contract right there and all of a sudden the champagne bottles started popping."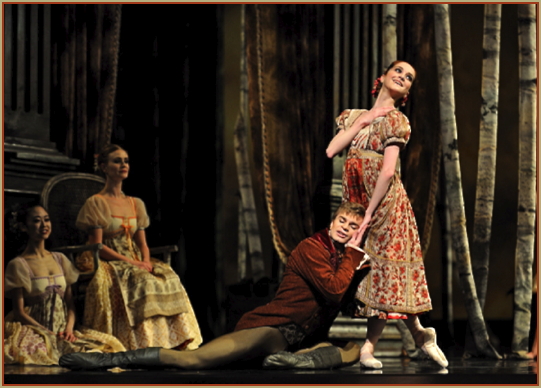 Gennadi Nedvigin and Clara Blanco in John Cranko's Onegin. Photo, Erik Tomasson
Three years later Gennadi was promoted to principal dancer. Since then, his continued openness to all things new and commitment to excellence has turned him into the consummate artist/dancer. But it was in this season's opening production of John Cranko's Onegin that Gennadi's dramatic abilities took on a new dimension. Based on the classic novel by Alexander Pushkin and set to a collection of various works by Tchaikovsky, Gennadi portrayed "Lensky," friend to the dashing and arrogant "Eugene Onegin" danced by Vitor Luiz. The second Act involves a party scene where the dazzling Onegin decides to alleviate his boredom by inviting Lensky's fiancée Olga to dance. Onegin's deeper motivation is to provoke Lensky by aggressively flirting with her. Olga is naïve and unaccustomed to such overt sexual energy, especially coming from someone who is obviously way out of her league. As they continue to dance, it is apparent to everyone that she is foolishly responding to Onegin and creating an atmosphere that has gone beyond inappropriate. Lensky fails to stop their dance and responds by challenging Onegin to a duel. By this point, not only had the dramatic tension risen to its highest point but so had the hot-blooded magnetism of the very-appealing Mr. Nedvigin. Like never before.
"Lensky has purer feelings," he said. "He is sincere and genuinely mad. It's basically a black and white situation, with Olga in-between them as "red" -- the kind of woman that goes with one man and then with another. Audiences always have better feelings towards Lensky. I re-read the story before we started rehearsing. It is so dear to me. The hardest part for me was to find Lensky's fragility and innocence and to actually bring those emotions to the stage. You don't want to fake it or overplay it and then look ridiculous, because Lensky is a sincere soul. There are not many characters like this in ballet."
"Sincerity must be the food of love then," I responded, "because I'm sitting out there glaring at Olga (Clara Blanco) and thinking, "Fool! Why would you be throwing yourself at Onegin when you've got a lover like this guy?"
Gennadi laughed. "Well, you know, as my girl says -- 'Girls always like the bad boys.'"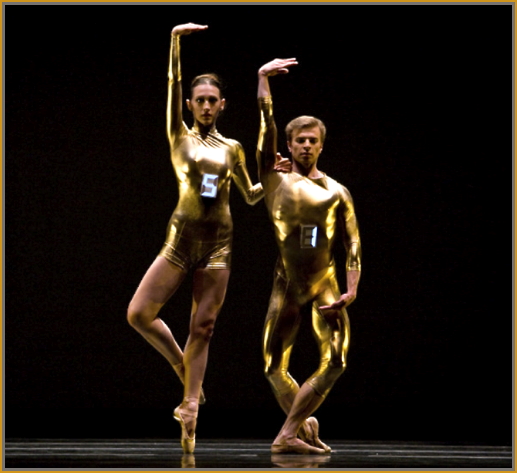 Sarah Van Patten and Gennadi Nedvigin in Mark Morris' Joyride.
Photo, Erik Tomasson
San Francisco Ballet has an international roster of world class dancers with varying gifts who can step-in for each other at a moment's notice. Compared to European companies which may favor taller dancers in lead romantic roles, at San Francisco Ballet the look is about balance and perspective. It is not unusual within a course of nine performances of certain programs for there to be as many as five casting combinations. All of them are "star-studded," each ensemble delivering an artistically remarkable product. Gennadi acknowledged my observation that artists here have the opportunity to flourish.
"In Europe, it's usually the taller people who do principal parts," he said. "I know if I were in Europe, I probably wouldn't have been as fortunate to have danced as many of the leading roles in Classical ballets as I have here. It's true. Here we are given the chance to do it. And I am so grateful."
"With that leeway in mind," I asked, "that everything is possible for you -- what leading Classical role do you still dream about doing?"
"I would like to do a production of Sheherezade. Something like that. Not what our company has ever done or maybe thought of doing. These ballets are very different -- very different style, different color, and ethnicity. The roles are very different. It has a more Eastern style and approach. The character of the "Golden Slave" is not a prince, but more like the pirate in Le Corsaire. That's what interests me -- the opportunity to explore different types of characters. That's why I enjoy the roles of Albrecht, Franz, and Lensky. They are all different. A prince is a prince. You're doing different steps, but your character is pretty much the same everywhere."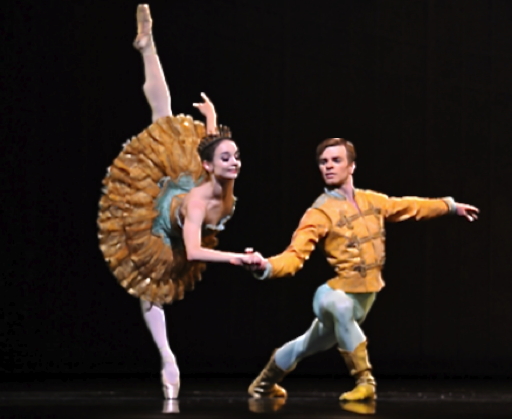 Maria Kochetkova and Gennadi Nedvigin. The Nutcracker, Grand Pas de Deux. Photo, Erik Tomasson
Along the way, I have missed seeing Gennadi as "Prince Albrecht" in Giselle. He recounted his adventure with a last-minute call to replace Joan Boada who'd had an injury and could not finish the rehearsal of Act II. Gennadi had not been scheduled into the role that season. Like riding a bike, does the choreography just stay in your body?
"I wasn't upset. I've done the role. There were lots of casts. But I had to jump in because of his injury. We would be doing this Giselle in two days. I danced with Masha (Maria Kochetkova). I had been rehearsing something else at the time. They called me and said, "Can you come on stage, please?" It was during their first run-through. They were in the first Act and Joan was already starting to hurt, but they weren't sure. I did the second Act -- with only my memory of the performances from about three years before. It went pretty smooth. We had another rehearsal the following day and the day after that we did the performance. It was one of those really good performances! Sometimes when you just jump in, without a lot of planning, you have a kind-of freedom. You think, 'OK, if I do something wrong, well, I'm sorry. I really didn't have that much time to prepare.' You don't feel the same kind of pressure as when you've been rehearsing for a month and then go on stage and do something wrong. Then you feel really horrible! But when you jump in like this, you have to work within that limited time frame. Whatever happens, happens. Yes, it was running through my head for two days. But you go on stage with more freedom. And sometimes it turns out that it's one of the best performances you've done. Actually, when I was in school, Albrecht was one of those roles I did dream about doing."
I asked Gennadi how he comes down from a role such as Albrecht -- one that is so physically demanding and, emotionally speaking, so high-strung. The plot and dramatic style of Giselle sits on a very high plane. After all, not every prince gets to have one last dance with the ghost of his sweetheart. "Do you still feel the choreography running through your body? How do you end the day, go home and turn off?"
"I'm still looking for an answer," he replied. "It's pretty much impossible. Your mind is running, somehow your body is still running. I may not be able to fall asleep until two or three o'clock in the morning. I may wake-up at five or six and not be able to fall asleep again. It's horrible. I can be sitting still and thinking of how I did it or will do it the next time and all of a sudden my leg gets very tight or the whole body becomes very tense because I'm going through the steps again. And then I think, "OK! Just relax, just relax." It's really challenging, just to be able to relax afterwards. I don't think anyone has the answer. It just takes time."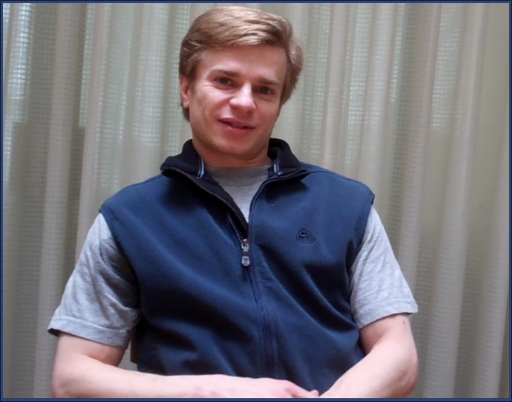 GENNADI NEDVIGIN Photo, Sean Martinfield
There is still time to catch a performance at San Francisco Ballet before the season closes on May 6. Click here to order tickets on-line: SF Ballet