Beginning Wednesday, October 30 through Saturday, November 2, San Francisco Symphony presents a festival of films directed by Alfred Hitchcock. The scary series begins with Psycho, the great horror classic of 1960. The film will be accompanied by the Symphony Orchestra under the direction of Joshua Gersen. On Halloween night, Todd Wilson will accompany Hitchcock's last silent film, The Lodger on the magnificent Ruffatti organ. Starring one of Britain's most popular matinee idols, Ivor Novello, the film is based on serial killer Jack the Ripper. Joshua Gersen returns to the podium on Friday, November 1 with the concert premier of Vertigo and the following night will lead through a medley of other Hitchcock favorites including North By Northwest, To Catch a Thief, Strangers on a Train and Dial M for Murder.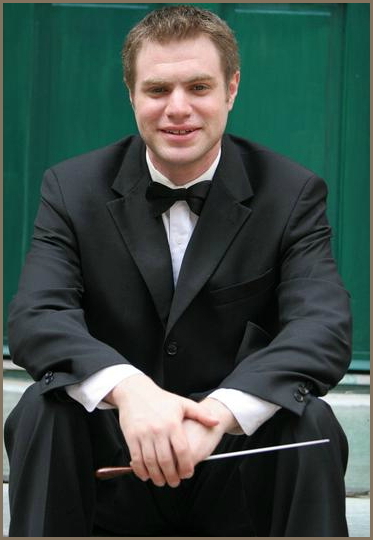 JOSHUA GERSEN. Photo, courtesy of SFSymphony
Joshua Gersen works with Miami's New World Symphony where he serves as assistant conductor to Michael Tilson Thomas. In September 2012, he was appointed Music Director of the New York Youth Symphony. "This is my first time to actually work with San Francisco Symphony," said Joshua during our recent interview. "It's an added challenge to do music with film and I'm looking forward to tackling it."
Three of the films -- Psycho, Vertigo, and North By Northwest feature soundtracks created by one of Hollywood's greatest composers, Bernard Herrmann. Accompanied films have grown to be one of the most popular events of the Season. It is an extraordinary opportunity to watch the delicate balance between the progression of the film and the precision timings of the accompaniment. But for the occasional streaks of light on the bows in the string sections or sparkles on the brass, it is amazing how unified, how "organic" the experience becomes. At times, the orchestra seems to disappear. Imagine the added three-dimensional flashing as the violins slash their way through the shower scene.
"The music is all the original," said Joshua, "nothing has been changed or re-composed. I'm watching the movie on a small screen in front of me. It has a clock on it. It's the least useful because it's an analog clock. The second hand just moves smoothly, it does not tick-off the seconds. As opposed to a digital clock, it's very hard to read. I have timings in my score -- indicated above certain measures of music -- that show the exact point and time where that music should be playing. So, it's my job to keep looking at the clock, at the film and conduct the orchestra in a way that makes sure everything is lining up exactly at the right time. For most movie scores there is a click track. Everybody gets a set of headphones, the beats are clicking as they are playing. Everybody knows where everything has to line-up. In this situation, however, there is no click track. It's just me and the clock. It's up to me to keep the pulse going. The musicians don't know how far off or ahead they may be at any given time. The burden is on the conductor to make sure everything is lining up correctly. If we're a little bit behind or ahead, if the tempo gets too slow or too fast -- after a while that can really accumulate and we will end up just seconds behind or ahead. It's a balancing act."
My first-ever film experience in a darkened theater happened the summer before kindergarten -- back in the old days and way-before the existence of "pre-school". I managed to cry my way out of the first day of class, but had been totally silent and mesmerized when my brother took me to see The Egyptian at the Saturday matinee. The score of this CinemaScope epic was jointly composed by Alfred Newman and Bernard Herrmann. Five years later I became obsessed with Journey to the Center of the Earth and its supernatural score by Mr. Herrmann. I followed its screenings all over the City and was first in line for its DVD release. By the time Psycho was released, I was a seasoned fan of Bernard Herrmann. During that period, the music of Tchaikovsky pushed into my life. Turns out, my earliest musical influences are with two composers who not only inspire deep longing but telegraph toward the completely Unknown.
"I think that's a great observation," said Conductor Gersen. "There is a German word my teacher used: sehnsucht. It means unfulfilled longing. It's something out there that you're searching for that is unobtainable. Tchaikovsky is a great example, so is Brahms. For very practical reasons, there was so much that Tchaikovsky could not express -- but revealed through his music. All the unfulfillment -- the love story, in a way, but there's always something not quite right about it. I think Tchaikovsky does a wonderful job expressing that through his music. I think that's exactly where Herrmann's influences come from."
Devoted fans of Vertigo know the weight of that longing, the sense of tunneling into a reality that is disquieting and tinged with apprehension. Gavin Elster (played by Tom Helmore) confides to Scotty (James Stewart) that he is afraid some harm may come to his wife, Madeleine (Kim Novak).
"From whom?" asks Scotty.
"Someone dead," says Gavin. "Do you believe that someone out of the past, someone dead, can take possession of a living being?"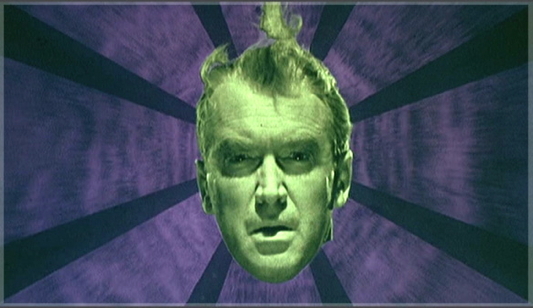 JAMES STEWART (Vertigo). Photo, courtesy of SFSymphony
"What I find interesting about Herrmann is how eclectic his style seems to be," said Joshua. "It's great that we have these three scores because they all present a different inspiration. Psycho has the eeriest feel throughout the score. There are spots that are atonal, obviously drawn from composers that are much more contemporary to him. There is definitely a lot of Schönberg and Berg in Psycho, much more than in Vertigo. In a way, North By Northwest is the most "Hollywood" of the three. Harmonically it's the least interesting or rather where he's using the most accessible language -- the Hollywood influence. Whereas Psycho is incredibly complex music, both harmonically and the way he uses only the string section -- no winds, percussion or brass. For instance, the shower scene. The different effects and sounds he creates with just the string section is terrifying. Psycho is incredibly more progressive and complex than many other movie scores -- even from Herrmann -- at that time. Even now. Especially now."
Joshua Gersen composes in his free time. His works have premiered at the New England Conservatory and been presented by the Greater Bridgeport Symphony and its Youth Orchestra, and the New Mexico Symphony. He has also worked with contemporary composers Steven Mackey, Christopher Rouse, and John Adams. I asked him what he has been learning from Bernard Herrmann.
"That's a good question. I'm definitely losing sleep over certain scenes that are very difficult. There is one in the beginning of To Catch A Thief. It's about two minutes of music in a pretty quick tempo where I have to think really fast. The music has to cut off right as a woman [Doris Day] begins to scream. It can be really awkward if it's not exactly right. Either the scream is going to happen while the orchestra is still playing and you won't hear her or the orchestra will cut off and there will be five seconds of dead silence before she begins to scream. Either way, the effect is lost. I have to really concentrate through that stretch to make sure we're exactly where we need to be. It's almost as though the scream is cutting the orchestra off."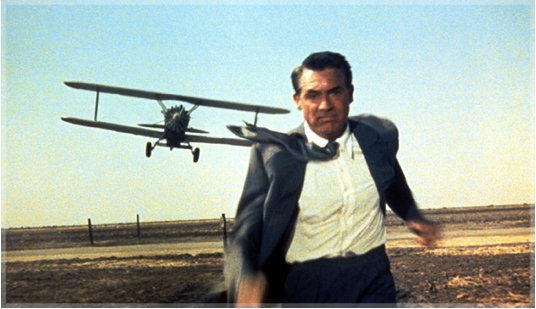 CARY GRANT (North By Northwest). Photo, courtesy of SFSymphony
"We have a couple of other composers -- Dimitri Tiomkin for Strangers On A Train, Dial M For Murder, and a little bit from Lyn Murray for To Catch A Thief. I was actually blown away by how very well organized and structured Herrmann's scores are. With the orchestras of Tiomkin and Murray, it seems that everyone is sort-of playing all the time, a sort-of homogenous orchestration. But Herrmann is very economical, using different colors in the orchestra and leaving out instruments he doesn't need."
Hitchcock's body of films are all about convincing an audience that what he is showing them is plausible -- in a certain way. Can they escape into that world being presented to them? Herrmann's score to Vertigo is completely integral to that question.
"There is a relative stigma on current film music," says Joshua Gersen. "I was a composition major. I remember it was almost always an insult to be told that your music sounded like that of film musicians. It's been great working with these scores, especially the Herrmann scores. He's a great composer and it's wonderful that we're celebrating him. It's a shame that we don't have scores like this being composed now. It's wonderful that we can present this music with San Francisco Symphony and a expose a younger generation to it."
Click here for more information on: Hitchcock!