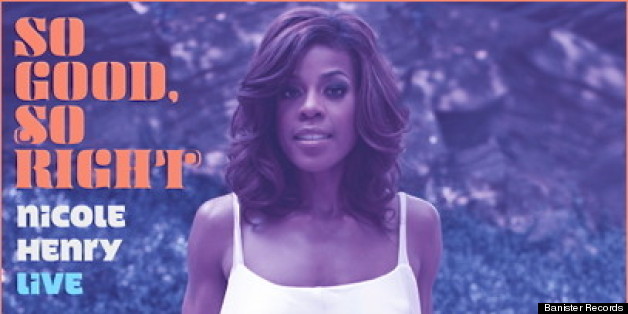 There is nothing better than a live recording which captures the shine and pizzazz of a performer in real time. Jazz diva Nicole Henry's latest CD, So Good, So Right, produced by Matt Pierson, rings true and vibrant in this intimate encounter with a spectacular artist. The album takes us front and center at Feinstein's at Loews Regency, New York City. The club is packed with admirers, ready for a journey back to the '70s. But within a few phrases, it's just you and Nicole, alone with the night and the music -- and it doesn't matter what year it is. The temperature rises, the stories go deep, the moods stretch from sweet and reflective to the occasionally wild and sometimes orgasmic. Nicole Henry sings it like it is -- with soul exposed and heart laid bare. The vocals are powerful and lush, the selections show off an incredible range of expression, the arrangements are fresh and high above anything that smacks of nostalgia. So Good, So Right: Nicole Henry LIVE is so present, so right now.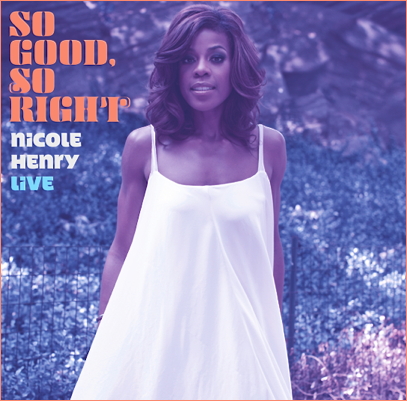 Courtesy of Banister Records
"The '70s for me meant The Spinners and The Commodores because that's what my parents were playing," said Nicole during our recent conversation.
Last May, I was at Feinstein's in New York City for five nights. My last CD, Embraceable was released in August 2011. I did a bunch of shows in New York, and didn't want to repeat the same material. I wanted a theme, something more soulful. I started looking at the '60s with my producer, Matt Pierson, who had worked with me on Embraceable. But songs from the '70s kept coming up. This is what I was raised on, what my parents played for me. So, we decided on the soul music of the '70s. It became a challenge, because so much of that music were group songs. It became a difficult task, not having a duet partner or background vocals. The first songwriter that popped into mind, from my college days, was Bob Marley who really helped shape who I am. Also Joni Mitchell. I've grown to love her writing, her political and social views, as well as her perspective on life and love. That's why we added Big Yellow Taxi, which winds up being more of a love song at the end, but does talk about social issues.
Nicole Henry is an absolute beauty. Designers Mark Badgley and James Mischka have her in their scope, along with bling from Asprey. Beyond the '70s theme, the recording presents a very strong dramatic flow. Nicole's distinct personality and message pierces through her song list and places her alongside the original and much-revered artists. Her energy is unstoppable on Bill Withers' super hit from 1972, "Use Me." There's no holding-back with the lyrics: "But, oh baby, when you love me, I can't get enough. I want to spread the news, that if it feels this good getting used, you just keep on using me until you use me up!"
Nicole says:
I have never been afraid of sharing my deep feelings. No matter what sensual aspect they come from. I've never been afraid of what my heart feels, telling someone I love them or that they're beautiful. I've never been afraid of sharing my truth, how I feel. Like with James Taylor's Fire and Rain, I've never been afraid of crying or laughing out loud. That's basically it. I think that through singing, I can welcome and encourage people to feel or at least consider the same thing.
Breaking-up really is so very hard to do. Track 3, "Neither One of Us," was a mega hit for composer Jim Weatherly when it was released in 1973 and garnered a Grammy Award for Gladys Knight & the Pips. Nicole's rendition is filled with tenderness and tinged with regret. It can also leave another guy panting -- maybe, if she would just turn in his direction.
With "Neither One of Us," I think the acting part of it allows me to put myself in a place where I can feel that. Such as loving somebody, but not being in-love with them and you have to take it to the next step. How can the stakes be higher? What is the real pain? Is it from other things, something outside of just spending days with each other? What are we losing? It's also thinking about -- I'm not only saying 'goodbye' to you, I'm saying 'hello' to loneliness. There are a lot of things that go on in a break-up -- like self-doubt and not feeling you've wasted your time. Emotionally, that's an easy one for me to get through.

I did a bit of research before I started rehearsing the songs. I really wanted to get inside them and see what else they could mean to me in spite of the fact I grew up listening to them. "Love Don't Live Here Anymore" was written by Miles Gregory. At that time, he was a junkie and at the end of his life. He was in and out of homes, sometimes living on the street. This was one of the last few songs he wrote. When I think of him writing these lyrics, to me he is just basically talking to himself -- that "love don't live here anymore." I thought about how sad that was. Putting that twist on the song made it go much deeper for me. It wasn't always about someone I loved, but how I would feel if I deserted myself, if love wasn't inside of me anymore. Being that empty is a tough place to be.
So Good, So Right: Nicole Henry LIVE (song title by superstar Brenda Russell) is bases-loaded in the relationship game. But Nicole knocks it outta the park with a winning version of "Home" from Broadway's iconic hit from 1975, The Wiz.
She says:
That song has meant so much to me. To realize what home means, regardless of how perfect it was or wasn't. I can look back and love home. The lyrics say, "Maybe there's a chance for me to go back, now that I have some direction. It sure would be nice to be back home where there's love and affection." At a certain point, it's up to you to be able to move on, to grow, to find your own place. That's what this song means to me.
Nicole Henry's passionate vocal chops and superb musicianship pushes this collection of mega hits from the '70s square into the 21st Century. For those who cling to the era or may have missed the original experience or for the new-comers who can be distracted long enough--So Good, So Right: Nicole Henry LIVE is a must-have. As a live recording, it's a date with an angel.