"WIFE K.O'S LOVE THIEF" reads the headlines of the New York Dispatch. "Society Matron Mauls Girl from the Wrong Side of Park Avenue".
The story was a scorcher. Until now, some women living outside the elite boundaries of Park and 5th believed the well-situated Mary Haines to be nothing more than a wet firecracker. Perfect wife, perfect mother, always photographed at her best angle. All of a sudden: scandal. Publicity. "La Publicité!" bemoaned the Countess de Lave.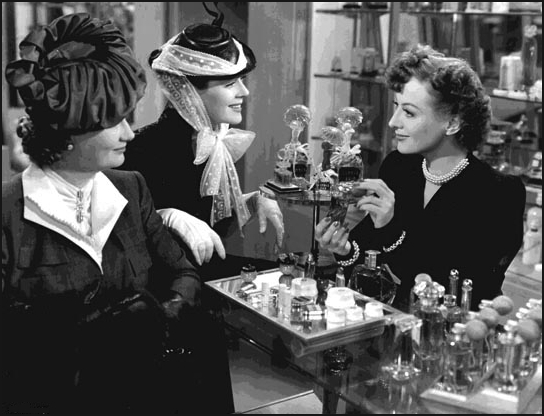 Phyllis Povah (Edith Potter), Rosalind Russell (Sylvia Fowler), Joan Crawford (Crystal Allen). Collection of Sean Martinfield
"I'll take this," says Sylvia to shop girl Crystal Allen. "Charge it and send." The game is over. She knows they know. "It'll be out tomorrow -- Mrs. Prowler!"
Mary's husband, good looking New York engineering tycoon Stephen Haines, is caught red-handed -- carrying on with some shop girl who peddles perfume at Black's. Crystal Allen. Mary's snoopy socialite friends, Sylvia Fowler and Edith Potter, size her up as a "beazle". Not listed with the Great Four Hundred. Former chorus girl, Miriam Aarons, who's now sleeping with Sylvia's husband, sees Crystal as a "red-headed octopus." And Olga -- who used to work beside Crystal at Black's perfume counter (got fired) and is now a thriving manicurist at Sydney's, coating her Park Avenue clients' nails in this simply divine new shade called "Jungle Red" -- is absolutely ground zero for having spread the rumor in the first place! Poor Olga. She didn't realize it was Mrs. Stephen Haines' nails she was filing while blurting out the juicier details.
The alleged mauling was a total schock, of course, even for gossip columnist, Walter Winchell. According to the Countess De Lave -- who may have enlarged her perception of the story -- claimed that Mary Haines had "yanked the scalp off" of Crystal Allen during their awkward encounter in the dressing room of a high end couture fashion salon. The Allen dame, the beazle, was on a spending spree and the bills were going to the office of Mr. Stephen Haines at 20 Wall (right by the NY Stock Exchange). In the middle of trying on a new gown, Mary decided to barge into Crystal's dressing room and have it out with her. Eyeing Crystal's particularly gaudy lounging ensemble with open-toed shoes to match, Mary suggested that if she were buying the outfit to please Stephen she might want to reconsider. "Not that one. He doesn't like such obvious effects." Allen barked back, "Thanks for the tip! But when anything I wear doesn't please Stephen -- I take it off."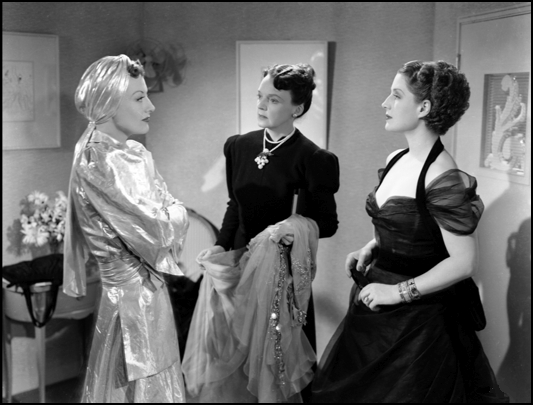 Joan Crawford (Crystal Allen), Frederika Brown (Saleswoman), Norma Shearer (Mary Haines). Collection of Sean Martinfield
On Friday, August 17, as part of its month-long 90th Anniversary celebration, San Francisco's magnificent Castro Theatre is screening one of its all-time favorite blockbusters, The Women. Directed by the illustrious George Cukor and featuring a roster of MGM's top female stars, critics include The Women on a list of films that designates 1939 as being the greatest year in the art of filmmaking. Others on the list include Mr. Smith Goes to Washington, Gunga Din, Wuthering Heights, The Wizard of Oz, Gone with the Wind, and Goodbye Mr. Chips.
Over time, The Women has soared beyond its previous tag as a "cult film." In 2007 the National Film Preservation Board, a wing of the Library of Congress, selected The Women for preservation because of its cultural, historical and aesthetic significance. Vanity Fair declared it to be one of the fifty greatest films of all time. Add to this list of imprimaturs the fact that The Women has become a veritable cornerstone in Gay Culture and when viewed at the Castro Theatre - a true "Only in San Francisco" type of experience. Should the sound system fail, the audience will supply the dialogue.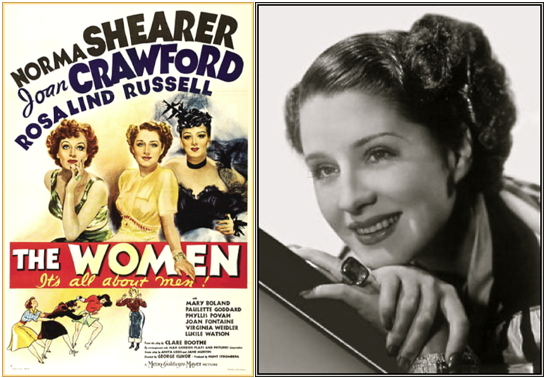 NORMA SHEARER as "Mary Haines". Collection of Sean Martinfield
In every way, The Women is the most glittering of those listed among the Greatest Films of 1939. Studio chief Louis B. Mayer ear-marked it as a "prestige picture". For MGM that meant an elite production team starting with cinematographer Oliver T. Marsh. Whereas director George Cukor was understood to be the best in the business when it came to directing high-powered women, Marsh was the master of the glamorous close-up, creating unforgettable images of the studio's top ranking stars including Jeanette MacDonald, Myrna Loy, and Joan Crawford. Cedric Gibbons took charge of the Art Direction, Sydney Guilaroff was the wizard of hair, and Adrian designed an over-the-top wardrobe that sits apart from all his other work. The opening credits reveal the inclusion of a special Technicolor fashion sequence -- a virtual ballet with sparkling musical accompaniment -- which not only showcases Adrian's boundless creativity but gilds the dramatic flow and adds a huge splash of pizzazz to the film's already fantastic and elevated reality. The screenplay, a censored adaptation of the Broadway play by Clare Boothe Luce, was bolstered with rapid fire quips from the take-no-prisoner pen of Anita Loos (Gentleman Prefer Blondes, San Francisco, Another Thin Man). The controlling invention is that there are no men. "It's all about men!" was the best advertising ploy MGM ever used. And, it's all about divorce.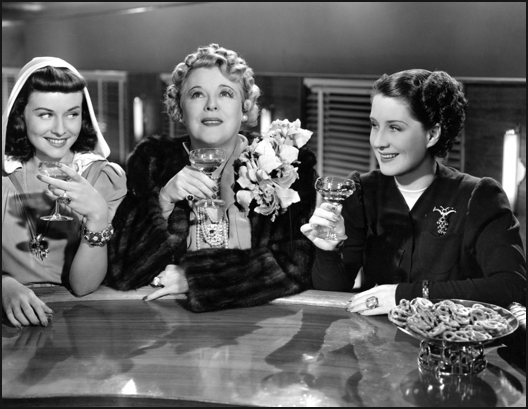 Paulette Goddard (Miriam Aaarons), Mary Boland (Countess de Lave), and Norma Shearer (Mary Haines) -- on the train to Reno. Collection of Sean Martinfield
"To Reno!" toasts the Countess de Lave. "The Biggest Little City in the World. The American Cradle of Liberty."
MGM producer Hunt Stromberg knew from the outset that Norma Shearer was the perfect choice for the role of "Mary Haines." Although Carole Lombard (Twentieth Century, My Man Godfrey) had been mentioned and even though Norma had expressed some resistance to the role, calling it "bland," Stromberg knew that Shearer's innate sophistication and penchant for arch expression would balance the crudity of Joan Crawford and the inflated comedy of Rosalind Russell. Playwright Clare Boothe Luce described her characters as representing a particular group of women -- "the idle, stupid rich who marry for money. The kind of women who ought to be hit over the head with a meat-axe."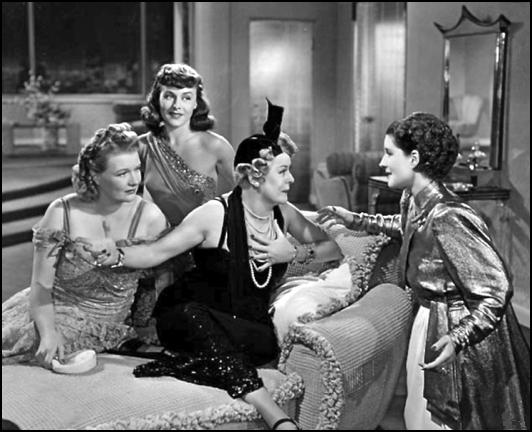 Phyllis Povah, Paulette Goddard, Mary Boland, and Norma Shearer.
Collection of Sean Martinfield
"Oh, the publicity!" cries the Countess de Lave in the ladies restroom of the Casino Terrace. Her new husband, radio star Buck Winston, has been having an affair with Crystal Allen, the new Mrs. Stephen Haines. "La publicité! Get me a bromide. And put some gin in it!"
The tag, "Cult Film" can sometimes happen overnight with the release of a new film. When applied to The Women, the term has had a long and varied history with meaning and association. Way before the introduction of VHS tape players and the marketing of classic films in the '70s, fans of Norma Shearer and The Women relied upon pirated 16mm copies and rentals from Films Incorporated or a rare screening at a museum or festival. In those days, the bookstores were yet to be filled with tell-all biographies. One of the most relevant and boundary smashing, Mommie Dearest, written by Joan Crawford's adopted daughter, did not appear until 1978. Rosalind Russell's biography, Life Is A Banquet, came out in 1977 and Gavin Lambert's sensitively written Norma Shearer: A Biography was published in 1990. Film critic Mick LaSalle's Complicated Women: Sex and Power in Pre-Code Hollywood, published in 2001, is the most recent account of Norma Shearer and her rightful place as a major Hollywood star and one of significant social influence.
Around 1980, audiences at the Castro Theatre were treated to a new 35mm print of The Women. From that point on the production's stunning cast and iconic characters, all its lip-smacking dialogue, and the multi-layered innuendos around a nail polish called "Jungle Red" became permanently infused into the Gay community. Key phrases became de rigueur among the drag stars -- such as Mary Boland's repeated exclamation of "L'amour, l'amour"; Virginia Wiedler (as little Mary) and her fearless reprimand of Joan Crawford, "And another thing, I think this bathroom is perfectly ridiculous!"; and ultimately, Mary Haines' ten-fingered salute before setting out to reclaim her husband, "I've had two years to grow claws, Mother. Jungle Red!" Only one of Mary's friends, Nancy Blake (played by Florence Nash) doesn't care for the color. "It looks as if you've been tearing at somebody's throat."
Fasten your seat belts. The Women is on a double-bill with Bette Davis and Joan Crawford in another amazing classic, Whatever Happened to Baby Jane?
The Women screens at 1:45 and 7:00. Whatever Happened to Baby Jane screens at 4:15 and 9:30.
Click here for more information. It's going to be a bumpy night.