Romeo and Juliet opened at San Francisco Ballet on Tuesday night under the light of a silvery full moon. Set to music by Sergei Prokofiev, Artistic Director Helgi Tomasson lifts Shakespeare's complex and familiar language off the gilded pages and translates it into lucid classical choreography that is visceral, fresh, and ultimately sublime. In the title roles, Joan Boada as "Romeo" and Maria Kotchetkova as "Juliet" formed the ideal portrait of the legendary star-crossed lovers. They are perfectly coupled in physical imagery, artistic expression, and in the pulsating charms of flaming youth. Together, Boada and Kotchetkova embody the innocence and determination of teenagers in love, and not that of impetuous adults who ought to be free of the parental units by now.
Fans of San Francisco Ballet know that the Company takes pride in its troupe of Principal Dancers, many of whom are international celebrities and have performed with a host of world class companies. With each of the eight programs throughout the season, it is standard practice to have multiple casts assigned to every lead and supporting role. The current production of Romeo and Juliet has a team of four separate casts appearing in seven consecutive performances. The Saturday night cast on March 10th will feature recently-wedded Davit Karapetyan and Vanessa Zahorian. During the curtain call of the ballet's revival in 2010, when the pair first danced the title roles, the audience went nuts as Davit knelt before Vanessa, pulled out a ring and proposed. It was totally tantalizing. And while we resident regulars certainly have our particular favorites and may wish them under the spotlight a bit more often, it is also true that first-time viewers and visitors to the City can attend any performance at SF Ballet and find it strong on talent, rich in production values, and with superior orchestral accompaniment under the guidance of pre-eminent ballet conductor Martin West.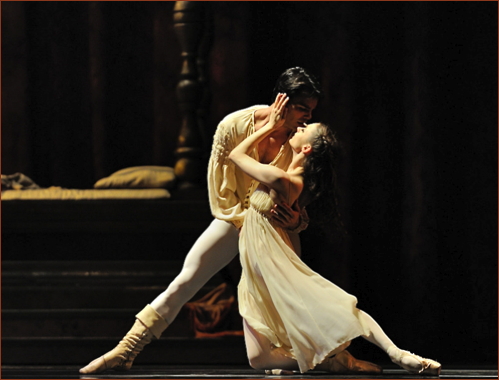 Maria Kochetkova and Joan Boada in Tomasson's Romeo and Juliet. Photo by Erik Tomasson.
Opening Night performances are always charged with excitement and glamour and an air of prestige. Gennadi Nedvigin was a complete stand-out as the aggressive thrill-seeking ladies man, "Mercutio." A difficult enough challenge in the original play as well as the opera by Charles Gounod, the ballet role demands the same level of virtuosic dancing required of Romeo. Nedvigin's recent dramatic appearance as the jilted lover in the season's opening presentation of Onegin and his endearing comedic flair in the role of "Franz" in last year's Coppélia seem to have come together in his characterization of Romeo's mischievous friend who just doesn't know when to quit. Daniel Deivison as Juliet's cousin "Tybalt" is an unrelenting bully and ruthless thug. An always-tricky bit of business happens in the duel between Mercutio and Tybalt. In Romeo's attempt to end the confrontation, Mercutio is distracted as Tybalt plunges in his sword. Nedvigin's death scene was a heartbreaking blend of sarcasm, lost passion, futility, and remorse.
Tomasson's Romeo and Juliet is distinguished by the formidable displays of swordsmanship throughout the frequent street brawls of the Montagues and Capulets. No awkward fakery and embarrassing tip-tapping here! Being "dis-respected" is an everyday occurrence in Verona's town square and these gangland aristocrats are short-fused and out for blood. With so many dancers covering so many roles that require free wheeling thrusts and parries with double-edged swords and deep piercings from handy daggers -- and with the orchestra beating-out an urgent tempo in front of them -- Tomasson decided to engage an expert. Enter master swordsman, Martino Pistone, a very experienced stunt co-ordinator who understands that timing is everything, and so is a cool head and a keen eye. From cast to cast, the choreography remains identical but might get thrown off balance with a last-minute replacement. The look and effect at every outbreak was authentic and exhilarating.
Prokofiev's 1935 score of Romeo and Juliet was quickly recognized for its powerful impact and enduring potential. Prior to its first complete staging in 1938, three suites were created for symphony orchestras and ten pieces were transcribed for piano. In 1940 the ballet was re-choreographed and presented by the Kirov. Prokofiev's music is at one with the spirit and essence of Shakespeare's most popular romantic tragedy. It has remained in standard repertoire for many Classical ballet companies and has proven to be a popular challenge for choreographers seeking to put their own stamp on it. With the gorgeous costumes and clever set designs of Jens-Jacob Worsaae along with the moody sunrise-to-tomb lighting patterns from Thomas R. Skelton, Helgi Tomasson's Romeo and Juliet remains an exciting, vital gift to San Francisco Ballet.
Click here to purchase tickets on-line for R&J and future programs: SFBallet