Last month David McVicars' ultimately entertaining production of Handel's Giulio Cesare was broadcast on the PBS series, Great Performances at the Met. The four and a half hour performance had been recorded at the Saturday matinee on April 27th as it was being transmitted live around the world. Countertenor David Daniels was appearing in the title role, soprano Natalie Dessay sang Cleopatra. In the opera world, this is a very rare opportunity.
David McVicar's production re-defines opulence and theatrical dazzle. The location is not in ancient Egypt but, at first glance, during Britain's colonial period. The sets and wardrobe are peppered with a bit of Bollywood and in Cleopatra's first encounter with Caesar, Dessay appears in sunglasses and an haute couture Flapper dress from the '20s. The production is also quite physically aggressive and is enlivened with stylish choreography by Andrew George. Conductor Harry Bicket brings glory to the composer and David Daniels appears to have been born for the role. His energy, charm and musical artistry is mesmerizing. His performance was delivered with stunning authority, colored by wit and sexual passion, and festooned with vocal fireworks.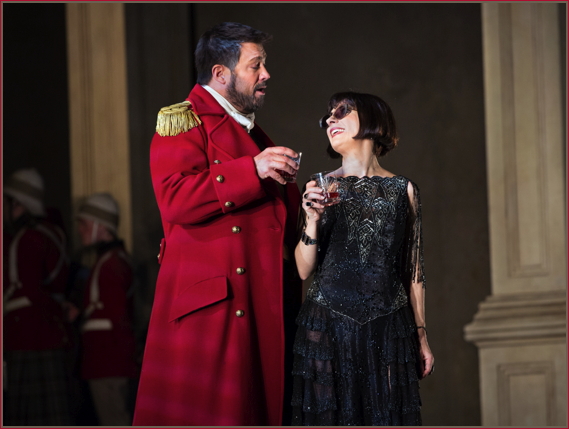 David Daniels (Julius Caesar) and Natalie Dessay (Cleopatra). Photo, Marty Sohl/Met Opera
"The production is fantastic," said Daniels during our recent interview. "It's one of my all-time favorites. I've performed it more than any other role and I've done this production three times. Sarah Connolly, a British mezzo, did the first version in 2000 at Glyndebourne. I did at the Met in 2006, then at Chicago Lyric in 2007, and now again at the Met."
In that 2006 Met production, David shared the role with countertenor Lawrence Zazzo. It marked the first time in the Met's history that "Caesar" would be sung by a man. In fact, since 1988 when the Met produced its first Giulio Cesare, the role has been the property of mezzo-sopranos and contraltos. David was in the right place at the right time. But how and where did the whole adventure start?
He laughed. "First, I was a boy soprano. Then my voice changed and it was about trying to be a tenor. I went through all of my undergraduate work at the University of Cincinnati--College Conservatory of Music as a tenor. My graduate work was at the University of Michigan. It really wasn't until the spring of my second year of graduate work that I decided my most natural voice was the countertenor voice. I had always sung with that voice -- around the house, in the car, in the shower, or vacuuming... if I ever actually did that. I was twenty-five at the time. I felt a huge sense of relief and that's when doors started to open for me. My career just took off and probably a little quicker than I wanted it to. I'm certainly not complaining."
Handel demands a vocal dexterity that is Olympian in proportion. The composer also intended that a certain instrument be the voice of his Roman emperor. On Sunday, 20 February 1724 when the opera premiered at His Majesty's Theatre - the title role went to Handel's "primo uomo", the Italian castrato, Senesino. After that vocal fach went out of fashion (and with the Law standing by), the opera drifted into the shadows. Then in 1966, New York City Opera made musical history when it cast bass-baritone Norman Treigle in the role opposite the fairly unknown Beverly Sills as Cleopatra. The recording of that production was released soon afterwards in 1967. The world and I went nuts for Beverly Sills. I admitted to David that this recording is the only version of Giulio Cesare I've ever known. Too bad I missed his performances in San Francisco Opera's 2002 production conducted by Nicholas McGegan. I asked David if his drive to perfect his technique as a countertenor had been driven by the Baroque repertoire.
"I think my passion was about being a singer and a performer," he said. "That's what I always wanted to do. My parents were both singers and that's what I was around my whole life. My passion for this repertoire was learned. I was exposed to Handel's Messiah as much as everybody is, but I did not know his operas. They simply weren't done. And now universities are doing it. Times have changed over the last twenty years. My reason for pursuing the countertenor voice was not because of the repertoire, it was just my most actual way to sing. My passion came from learning that repertoire after I made the decision to become a countertenor. That's when I really learned it and found the heart and the depth and, in some ways, the darkness of this music."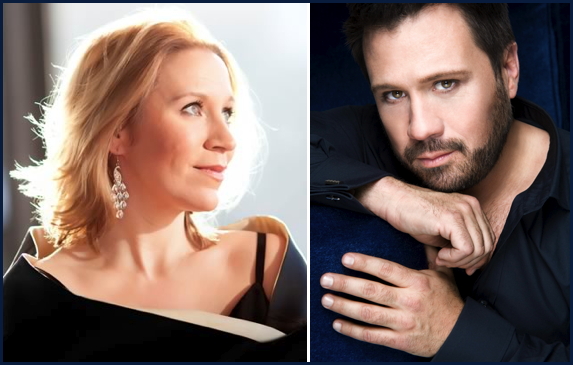 Carolyn Sampson and David Daniels. Photos, Ingpen & Williams and Robert Recker
This week David Daniels and soprano Carolyn Sampson join the Philharmonia Baroque Orchestra in a series of four performances beginning Wednesday, 10/2 at The Center for Performing Arts in Atherton, followed on Friday at San Francisco's new Jazz Center, and concluding in Berkeley with two performances, 10/5-6 at First Congregational Church. Entitled Pergolesi in Naples, the Grammy Award winning ensemble led by Music Director Nicholas McGegan offers an evening of top-grossing hits from the early 18th Century, beginning with the Pergolesi's Stabat Mater. The program will also include arias and duets from Handel's Giulio Cesare and Rodelinda.
The Friday 10/4 performance at the SFJAZZ Center marks the first time the PBO will have performed there. Jazz enthusiasts coming to the auditorium for the first time that evening, along with dedicated fans of Baroque and the PBO, can find plenty of common ground in these genres of music separated by only a few hundred years--particularly in the use of improvisation. I asked David what he would say to the Jazz connoisseurs who might have a question for him about improvisation and its presence in 18th Century music.
"It's very similar," he responded. "The da capo aria and the ornamentation that happens with the A-B-A form--and when you return to the A-section--is definitely related to Jazz, no question about it. I'm not one to sort-of ad lib on ornamentation. I work it out beforehand. If I've sung an aria a hundred times, I probably have numerous ornamentation to pull from and I'll do something at the last minute, off the cuff. But I generally don't do that. I don't think it's fair to the orchestra and it's not fair to my colleagues who are used to doing it a certain way. I don't want to throw anyone off."
"When you know you want to throw a bit in, is there some sort of signal between you and the conductor?"
"No," he said. "I'll either get a smile or a frown. Ultimately, I think for anyone hearing me the first time or hearing any countertenor for the first time, there may be an initial sort-of taking a step back and saying, 'Is this really happening?' But I know it's my most natural voice and the most natural way for me to sing. I think people realize pretty quickly and feel this is natural as well. Part of being a countertenor is that my whole career has been about education. Even after twenty years of doing it, I'm still educating certain people who haven't heard the voice or just can't deal with the voice-type. And there's no changing their mind about it and that's their prerogative. Singers today have to be inspired in different ways. Certainly multi-media is something I didn't have to deal with early on in my career, but that is what they must learn how to do. That is where younger singers are going to get their publicity and promotion. It's all changed and the music business is struggling to change with it. But it's going to have to find a way to do it. San Francisco is my favorite city in the country and I can't wait to come back to sing."
As a native San Franciscan, I had to ask David about his favorite thing to do when he's in town. Everyone can agree with him on this point: "Eat!"
Click here for more on Pergolesi in Naples