San Francisco Opera opens its 2014 summer season with a spectacular production of Jerome Kern's SHOW BOAT. It's an opera -- where the ideal performer with the optimal voice is a capital match for the intentions of the composer and his lyricist, Oscar Hammerstein II. Given that Gershwin's Porgy and Bess was still eight years into the future, Show Boat is the seed of American Opera.
The score glistens with a number of "specialties" -- the kind that audiences in the Twenties would have recognized from local vaudevillians and the headliners in the "Follies" over at the Ziegfeld Theatre where Show Boat opened in 1927. And instead of witty insertions of themes from other works -- a popular device among 18th and 19th Century composers -- Kern and Ziegfeld simply agreed to appropriate two hit songs that everybody knew: After the Ball and Goodbye, My Lady Love.
Directed by Francesca Zambello and conducted by John DeMain, this production is a fully-realized, opulent and smooth-sailing time capsule -- as near to the original blockbuster as we will ever experience.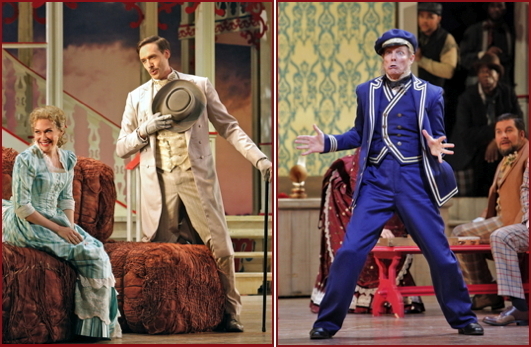 Heidi Stober, Michael Todd Simpson, and Bill Irwin. Photos, Cory Weaver
Baritone Michael Todd Simpson is perfect as "Gaylord Ravenal" -- the smooth-talking, well-appointed river boat gambler who runs out of luck and deserts his family. Depending on the singer, the role can be performed by either a baritone or tenor.
Simpson offers an arresting and sensual interpretation that stands up to a distinguished list of Ravenals including Allan Jones, Charles Fredericks, Tony Martin, John Raitt, Stephen Douglass, Robert Rounseville, and Jerry Hadley. Simpson's pleasing appearance, lyric tone, bright upper register, clear diction and suave demeanor make him the ultimate romantic lead.
Paired with lovely soprano Heidi Stobler as "Magnolia", the couple delivered thrilling renditions of their three duets -- Make Believe, Why Do I Love You and You Are Love. Kern's contemporary, Cole Porter would have described the effect of their combined voices soaring through the War Memorial Opera House as a perfect blendship.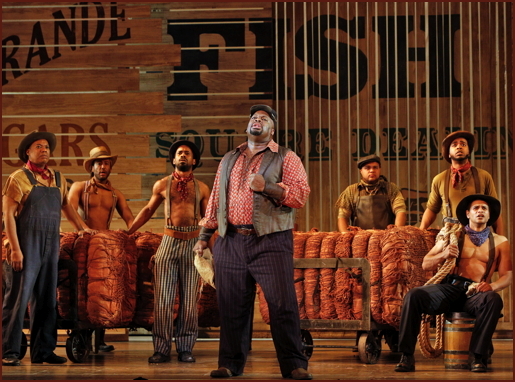 Morris Robinson. Photo, Cory Weaver
Bass Morris Robinson captured our hearts with Kern's greatest composition, Ol' Man River. The song of struggle and determination comes early in Act I and sets the tone for Edna Ferber's story of performers working on a show boat sailing up and down the Mississippi during the period of Reconstruction through the early 1920s. Backed by a chorus of dock workers in sublime four-part harmony, Robinson's velvety bass, sonorous lower register and straight-forward delivery stopped the show.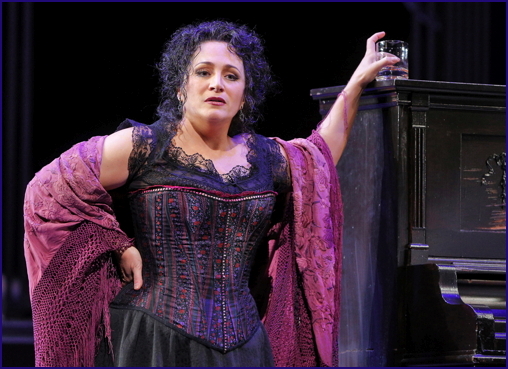 Patricia Racette. Photo, Cory Weaver
Patricia Racette as "Julie La Verne" balances her rich and powerful soprano chops with a practical experience in cabaret. Her recent live recording, Diva On Tour, includes eighteen tracks that prove her know-how with the Great American Songbook. On June 15, Racette returns to San Francisco Opera for her third appearance in the title role of Madama Butterfly - alternating the extraordinary plight of a former geisha with the heart-breaking struggle of a mixed-race tragedienne on the Mississippi circuit. Last season was even more challenging for the soprano. Already scheduled to sing "Margherita" and "Elena" in Boito's Mefistofele, Racette was a last-minute replacement in the title role and world premiere of Tobias Picker's Dolores Claiborne, mastering a complex score in a matter of weeks. Under the spotlight with two of Kern's greatest ballads, Can't Help Lovin' Dat Man and Bill, Patricia Racette is wondrously appealing, sultry and down to earth.
A brilliant move was made in casting Tony Award winning Bill Irwin as "Cap'n Andy". The familiar "Mr. Noodle" of Sesame Street juggles impeccable comic timing, physical agility, and over-the-top dialogue to knock out a performance that rings the bell. Plaguing the Cap'n at every turn is his constantly carping wife, "Parthy", deftly played by Harriet Harris. Broadway stars Kirsten Wyatt and John Bolton shine as the comic/dance duo of "Ellie and Frank". And as the wise and boisterous goddess of the show boat's kitchen, Angela Renée Simpson is the definitive "Queenie".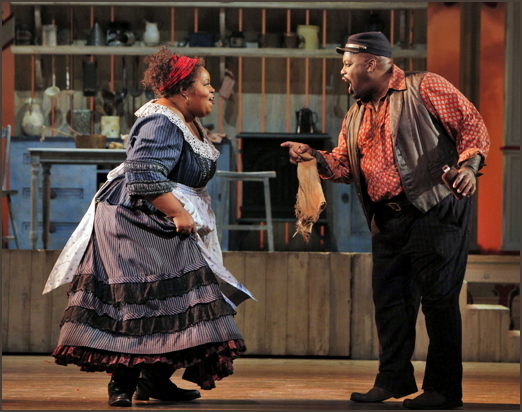 Angela Renée Simpson and Morris Robinson. Photo, Cory Weaver
Four score and seven years worth of tradition and trial have accumulated around Jerome Kern's Show Boat. General Director David Gockley acknowledges that it takes the resources of world class companies such as San Francisco Opera and Houston Grand Opera to furnish the resources needed to bring this hugely important work to life and to engage top drawer performers for a wide range of classic roles. The sumptuous costume designs of Paul Tazewell and the deluxe and manageable set designs of Peter Davison help raise the perception of this sometimes Broadway musical to the realm of such European cousins as The Merry Widow of Franz Lehar and the free wheeling, come-as-you-are shenanigans played out in Johann Strauss' Die Fledermaus. San Francisco Opera's Show Boat celebrates the depth and diversity of our musical heritage and with its brilliant cast glorifies the sounds of America.