Sy Smith is one of the most versatile and compelling vocal artists anywhere around. She drives through the fast lanes of contemporary music and then hovers with ease over a vintage standard. With her multi-octave vocal range, Sy can stretch an improvisation to the starry heights. She is likewise very grounded in her own recording company. Along with producer Mark de Clive-Lowe, her fourth CD Fast and Curious places the genre of Electronic Soul into a new position.
I heard Sy Smith for the first time during the Holiday programs at Davies Symphony Hall in San Francisco. The occasion was a two-night gig with virtuoso jazz trumpeter, Chris Botti, and his stellar band, with the San Francisco Symphony Orchestra under the direction of Steven Reineke. Sy Smith was the featured vocalist. Hands down, it was the most dazzling performance by a female vocalist during the Symphony's 2013 Season. Her first number was Burt Bacharach's signature hit from 1967, "The Look of Love." From the first phrase, her warm and caressing vocals sailed out into the loftiness of Davies Hall and wrapped us completely. She and Chris Botti have been performing the song since his 2009 tour. Sy Smith is the look of love.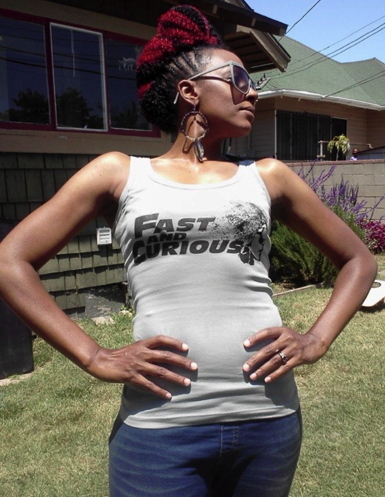 Sy Smith. Photo, Shawn Carter Peterson.
"I've been singing on and off with Chris since 2006," she said.
My cousin, Mark Whitfield, is a jazz guitarist. He used to be with Chris' band. At that time, Chris was looking for a singer. You know how musicians talk to one another. Mark tells Chris that he should hire me, and Chris doesn't know me at all! I saw his show once in New Jersey. What I didn't know was that jazz musicians typically don't rehearse, as do the many pop and R&B bands I'd been performing with. His tour manager e-mails me the material and says, 'See you in Atlantic City.' So, I get there, go through a sound check, run a little bit of each tune -- but we never actually rehearsed an entire song. Chris says 'It will be great,' and I'm dumbfounded. His approach allows the musicians to let the material take on its own life in a more organic sort of way, rather than rehearsing everything to death. The material is all his choosing. But what we do with it -- what I do with it -- has evolved over the last few years.
Sy continued with another number that has been evolving since 1934, Ray Noble's The Very Thought of You. Eighty years later, it's still a hot idea. The piece is certainly prominent in The Great American Songbook and sparkles in the Grammy Hall of Fame. The Very Thought of You has generated a huge pile of recordings -- in every conceivable format and compilation, arranged and re-arranged by every generation's superstar pop recording artists. The tune occurs no less than four times in the soundtrack of Casablanca, and these days, there's nothing subliminal about it. We know exactly who and what is floating through the lover's imagination.
The song begins and Sy heads into the audience. Her tomato-red gown is looking really good. There's a pause. "The very thought of you..." -- She's going to share some really private "me time" with us -- a sudden daydream, the kind that makes a girl forget about ordinary things, and whatever else she ought to be doing. At this point, she's at Row G, blowing a kiss to my partner, he's sending one back. A first. But the lady in red was never so gorgeous as she looked tonight, and so on-fire as she continued up the aisle. A lot of folks know the lyrics that follow, all that behind-closed-doors stuff about "the mere idea of you," and the "longing here for you." The house went nuts.
"When we started doing 'The Very Thought of You,'" she says,
I had listened to a lot of different versions. Whenever I do a new song, I always study the lyrics before I sing it. Then I just hear it in my head a lot. It's more important for me to take in the lyrics, rather than go through the acrobatics of vocalizing. I take in what it really means to say that just thinking of you makes me forget "the little ordinary things that everyone ought to do." Then, when we actually perform the song, it becomes a whole new thing every time. Every audience has a different energy. I do zone-in on individuals a lot. Every person in the audience is in need of something or giving me something. That's probably why I blew that kiss! I was attracted to this energy coming from where you guys were sitting.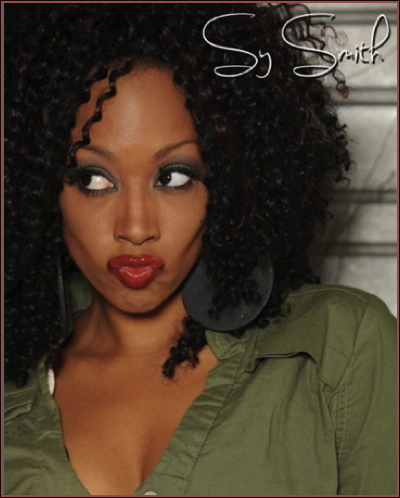 Sy Smith. Photo, Mike Quaint.
Sy Smith receives a great deal of avid praise for her extraordinary high notes. They were in abundance for her third number, Sting's "La Belle Dame Sans Regrets." The improvisational riffs between her and Botti were hot-wired. Often described as imitating the sound of his trumpet, Sy's glimmering tonality is spot-on during back and forth bantering or when in-sync with harmonic thirds. Adding to that complexity, Sy will also play the trumpet valves as Chris continues to blow. The effect is astonishing. Growing up with a fixation on Peruvian songbird, Yma Sumac, I asked Sy about her own vocal agility. Turns out, she was influenced by Minnie Riperton ("Lovin' You"), but never anticipated a singing career.
I've always been a noisemaker. It was never really so much about me being a singer. I didn't consider myself a singer until way later in life. Those notes were just some of the noises I could make. I've always known I could do it, but it wasn't something I did in front of anybody. There was just no repertoire that required it. But a few years ago, while in the studio for one of my modest recordings, I just did it. That was really cool. And I knew I should do that more often -- if it works, if it makes sense in the song. Then I started singing it live. Then Chris heard me do it and he's, like, "Why don't you do that on stage?!" Then we performed "What'll I Do," and I used those notes at the end of the song. Chris and I would go back and forth -- he would play a lick and then I would sing it an octave higher. And he plays very high anyway! It was always really crazy coming in at the end of this soft, delicate song.
Chris Botti is universally regarded as one of the greatest jazz trumpeters of our time. This year, his album, Impressions took the Grammy Award for Best Pop Instrumental Album. His long-term fans know that Botti raises the artistic bar very high wherever he performs. Following the engagement at Davies Hall, Sy headed off with the band to the Blue Note Jazz Club in New York City for Botti's ninth annual three-week/two-shows-a-night New Year's residency.
"That means you have to be a really good girl for the next three weeks!"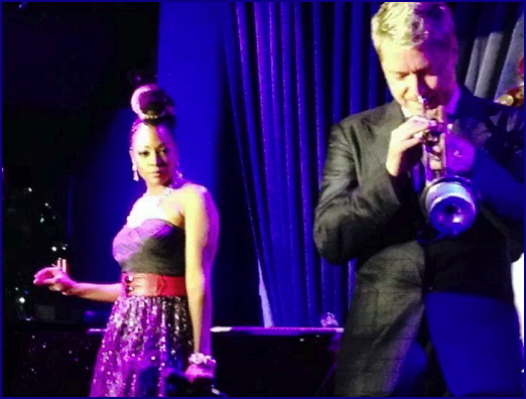 Sy Smith and Chris Botti. Photo, Savoy Walker.
"Tell me about it!" she replied.
I've been a really bad girl for the past four days [Sy is married to actor/director Shawn Carter Peterson]. But it's going to be fun. I've done it once before, and even though I'll be working every single day, it's still a lot of fun. It's a dreamy life. Every time I get to that lyric in "The Very Thought of You" -- "I'm living in a kind of daydream" -- I know I really am. It's a life I never imagined for myself. I've always known I was a musician, but didn't know that music would do this in my life. When I'm on stage, it's a new thing -- all over again."
Click here to stay in touch.