Paramount Pictures had a winning hand in July of 1926 when they released Mantrap, a complete gem starring Hollywood's proclaimed "It" girl, Clara Bow. Popular author of women's erotic fiction, Elinor Glyn, had coined the expression, defining "It" as: A quality which draws others with its magnetic force. For the producers of Mantrap, B.P. Schulberg and Hector Turnbull, that measurable attraction was translated as Box Office Appeal. The film's director, Victor Fleming (Gone with the Wind, The Wizard of Oz), was likewise caught in her spell and the two were well on the fast track to becoming one. Clara was given the full star treatment. Cinematographer James Wong Howe was enlisted to capture her luminous vitality and fashion designer Howard Greer revealed the alluring charms of the perfect flapper. Based upon the somewhat dowdy novel by author Sinclair Lewis (Dodsworth, Elmer Gantry), the screen scenario was rewired by a couple of Moderns - Ethel Doherty and Adelaide Heilbron -- who isolated the "It" factor and turned Mantrap into a vehicle that transformed Clara Bow into a Hollywood Icon.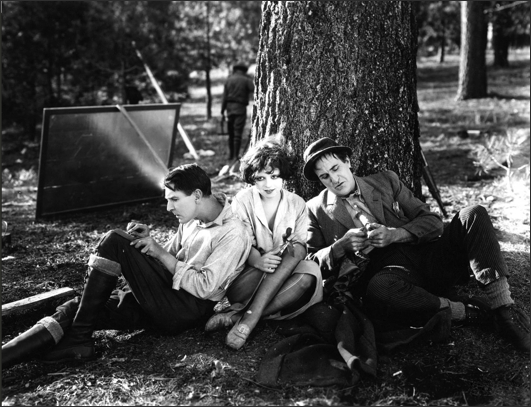 Percy Marmont, Clara Bow, and Ernest Torrence. On location with Mantrap (1926)
Photo, SF Silent Film Festival
Mantrap was a direct hit. Clara's contract with Paramount was re-negotiated and her weekly salary of $750 would eventually rise to $4,000. The following year Clara was teamed with Charles "Buddy" Rogers and Richard Arlen in Wings, a major blockbuster that eventually became the first film to be honored as Best Picture. This year Paramount Pictures celebrated its 100th Anniversary with a major restoration of Wings into high definition. Released in January on DVD and Blu-ray, the film's original score was re-orchestrated and its original sound effects re-created at Skywalker Sound. The "It" factor has proven to be true and ultimately enduring.
The San Francisco Silent Film Festival begins this Thursday, July 12, at the Castro Theatre. The Opening Night film is the 1927 classic, Wings, starring will open The Mont Alto Motion Picture Orchestra will accompany this unique story of World War I and Academy Award winning sound designer Ben Burtt (Indiana Jones and the Last Crusade, E.T., Star Wars: A New Hope, Raiders of the Lost Ark) will create live sound effects. Mantrap will play on Friday at 7 p.m. and be accompanied by the renowned and extraordinary pianist Stephen Horne.
"Mantrap is a charming film," says Anita Monga, artistic director of the festival. "A lot of credit, of course, goes to Clara Bow. But the director, Victor Fleming, had a lot to do with what could have been a bad femme-fatale who ruins people's lives -- which is probably closer to what Sinclair Lewis wrote. But Fleming made this an effervescent comedy that is very generous to all its characters. You don't hate the big lunk (Ernest Torrence), and the effete lawyer (Percy Marmont) is likable in his own crabby way. And the supporting characters are amazing too. It's not positing that life in the big city is bad or life in the rural is bad. The film is very generous to everything and not out to make fun of anyone. Clara Bow is a real character. She's a floozie, but she is lovable and her needs and wants don't ruin anyone. It's a comedy as opposed to a tragedy."
No one needs to be versed in the social mores of the 1920s to appreciate Mantrap. So what if you're too young to understand the culture shock of women's hemlines being raised from their shoe tops to above the knees? Or all the leftover anguish around young women's shorter hair styles, the suggestion being that the bobbing of long corkscrew curls was tantamount to rebellion, godlessness and free love. Given that the first eleven minutes of the film are a set-up for for Clara Bow's entrance, we soon get it that "Mantrap" is not only a synonym for a fatally attractive vamp (certainly a flapper, possibly a gold digger), but an isolated region in Saskatchewan where much of the story takes place - a "he-man country" where "a man can walk for miles without getting chewing gum on his rubber heels". Even so, dedicated backwoodsman "Joe Easter" (Ernest Torrence), proprietor of the Mantrap River Trading Company (a small dry goods outlet where Joe will model the latest in bonnets) admits he's sick of it. He complains to "Curly", the local Mountie, "My last thrill was in 1906 -- when I seen a girl's ankle in Minneapolis."
"Go down to Minneapolis again, Joe," Curly replies. "Ankles ain't the half of what they're showin' now." Done! Joe is off to the great indoors. "I'm going to Minneapolis," he tells bold-faced Mrs. McGavity, "to see some ankles -- I mean, some uncles."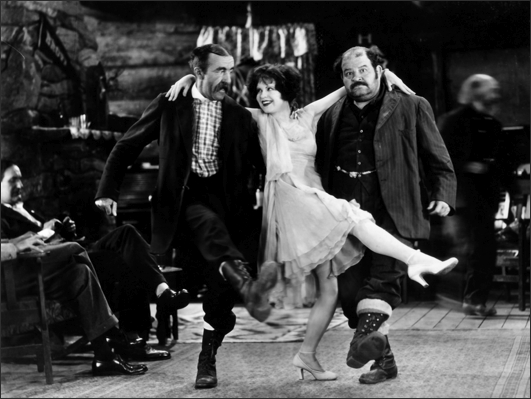 CLARA BOW -- Making eyes with Edwin J. Brady. Mantrap (1926)
Photo, SF Silent Film Festival
Downtown Minneapolis at last! Joe is no sooner off the streetcar and in front of a high rise when a fancy touring car pulls up to the curb. A pair of heels steps down from the car, a slight lift on the woman's skirt reveals rolled stockings and a flash of thigh. Joe is stunned! It's "Alverna", a manicurist at the upscale barbershop inside. "So long, Sweet Man," she says to an older gentleman, the distinguished owner of the car. Joe begins to sweat. The camera travels up from Alverna's ankle strap shoes and follows the seam of her shiny silk stockings. She leans on the open door, the camera turns to her face as she places her gloved hand on the frame of the window. It's taken Victor Fleming eleven minutes and twenty-seven seconds to introduce us to Clara Bow and the first of her many luscious close-ups. She winks. "Thanks for the buggy ride!" By now, Joe is totally smitten. He can't take his eyes off her as she crosses directly in front of him and heads to the entrance. Alverna looks over her shoulder, gives Joe the once over, and continues on in. Joe adjusts his shirt cuffs and stares into the lobby. The uniformed doorman steps in front of Joe, notices his jacket sleeves are too short, folds his arms and scowls as if to say, "Yeah? And whaddya think you're lookin' at?!" Joe moves on. He then decides to go into the barbershop to get spruced up. The barbershop is a bit more progressive than he imagined. One of the customers is a smart looking woman getting the finishing touches on a very short haircut, with lots of pomade to hold it down. Alverna strolls over to Joe. "I just love working on a real he-man's hand -- for a little change!"
Meantime, back in Mantrap, a couple of other wannabe he-men have run off to the woods together. To get away from women. Percy Marmont, as "Ralph Prescott," a pill-popping sourpuss divorce lawyer has just been outfitted in the very latest in men's camping attire with the help of character actor Eugene Pallette, as "E. Wesson Wood," whose company pushes extra fancy ladies hosiery. "A few weeks together in the wilderness," he says to Percy, "and we'll be pals for life!"
"The misconception of the Silent era is that it was old-timey and innocent," said Anita. "It was not that at all. There was a vast audience to appeal to and the best of these films did not talk down to people. They allowed people to get the joke or not."
Mantrap and Wings share many aspects which can be described as timeless. So much, in fact, as to attract even the most resistant viewer -- no matter the age -- and engage the attention. And maybe come back for more. Since Paramount opened its doors a century ago not much has changed in good storytelling, or the set-up of a great joke or the delivery of a punch line, or Love's first kiss. Or last kiss. Especially the one Charles "Buddy" Rogers plants on Richard Arlen in the concluding moments of Wings. It's still enough to knock your lights out. Even more than Garbo and Gilbert in Love (1927). Because, it is the ultimate climax of the film. That kiss has been waiting around the corner for over two hours. And the musicians have been pushing us toward it since the opening credits.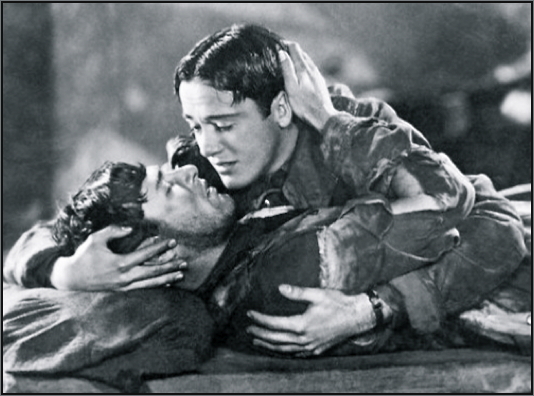 Richard Arlen and Charles "Buddy" Rogers. Wings (1927)
Photo, Paramount/Famous Lasky Productions
"It is a completely different thing to be in a theater with live accompaniment," says Anita. "The musicians have composed their scores. We never have them improvise. I've had the musicians explain to me that they can feel the energy of the audience. There is this, as Kevin Brownlow calls it, "live cinema". What you're seeing is not going to be duplicated. It can be shown the next night and be completely different."
"Wings is the first Academy Award winner. At that point, it wasn't called "Best Picture", but it shared what would be Best Picture with Murnau's Sunrise. Wings will be accompanied by The Mont Alto Motion Picture Orchestra. Ben Burtt, who has won four Academy Awards, is designing live foley sound effects to accompany the film. When Paramount celebrated its 100th Anniversary last year, they restored Wings and Ben did all the research about the sound effects. There were sound effects in the theaters at that time. The sound effects are now married to the track. We thought it would be fun to do it live. So, there's a lot of invention going into this presentation."
"Will you be screening Wings in 35mm or DVD? During a recent interview with Eddie Muller of the Noir City Film Festival, we spoke about the -- let's say, strong-arming -- of theaters to get rid of projectors and only use digital equipment."
"Wings is a digital cinema package. The world is changing. Our Amazing Tales from the Archives program that we're doing the following day includes two studio archivists, Andrea Kalas and Grover Crisp who are coming to talk about restoration. All restorations are created digitally now. We do 35mm when it's possible and when the print is better. What's interesting is that this is the exact same switchover that happened from Silent to Sound. It's going to happen for economic reasons. But also for artistic reasons as well. Nobody is proselytizing for this new technology, but everybody understands that it is here. The crusade now is to get artists working with that technology so that the things that are being created with it look as good and have the depth and quality of the original. I'm much more positive about it than Eddie has been because, again, it is inevitable and I see the bright side to it, especially coming off so many years of film exhibition where one trip to the projector can ruin a completely rare print. I believe it's important to have the original material in 35mm now because it is the material that lasts. We know it lasts ninety years or so. But, prints going out to the public don't necessarily have to be 35."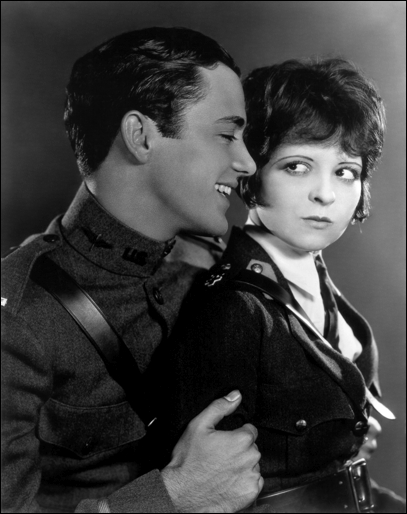 Charles "Buddy" Rogers and Clara Bow. Wings (1927)
Photo, SF Silent Film Festival
A bit of trivia on Clara Bow:
Several reels from the 1923 version of Maytime starring Clara Bow, a film long thought to be lost, were discovered recently in New Zealand. The story is based on the popular operetta by Sigmund Romberg which opened on Broadway in 1917 and played 492 performances. In 1938, M.G.M. Studios revamped it for Jeanette MacDonald and Nelson Eddy, making it the team's greatest artistic success of their eight films together. Romberg's original score, particularly its familiar duet, "Will You Remember?", would have been included in whatever background music accompanied the silent version.
"The New Zealand Archive is working with the National Film Preservation Foundation," said Anita. "We premiered the first thing they restored. In the early days of the Silent era, things went around the world and they didn't come back. It just cost too much to ship it back. So, films have been in New Zealand for a long time. When the Iron Curtain was raised films were discovered there. Have you ever been to a film depot? Film depots are these huge things full of film cans and routinely cleared. They're called "orphans" because you can't find the provenance, nobody has the original materials, somebody has destroyed the last print -- and so you have a lost film."
The fascinating connection in all this -- where accidents of time and space cross paths and are sometimes sweetened by romance, nostalgia, and maybe even an unforgettable strain of music, such as Sigmund Romberg's "Will You Remember?" -- is that Clara Bow and Jeanette MacDonald are buried side by side at Forest Lawn Memorial Park in Glendale. Surrounding them are Nat "King" Cole, Alan Ladd, George Burns and Gracie Allen, and Marie "The Body" McDonald. It's just never going to stop. There will always be something to keep the Art alive.
"That is the raison d'etre of our festival. One of our reasons to exist is to knock the notion people have about silent film that it has nothing to say to us, that it is over-acted, or runs at the wrong frames per second. The other big thing for us, along with trading this breathless moment where you get to be with music and image as a living thing - is that it is hard to plumb the Silent Era because things are being discovered all the time. It's extraordinary!"
Click here for more information: SF Silent Film Festival