Composer Benjamin Britten's 2013 centenary sparked performances of his many-varied works around the globe. His catalogue of operas, orchestral and chamber works, song cycles and more were programmed everywhere, some of the material being tagged as rare or seldom performed. Early last February, cellist Zuill Bailey appeared with Music Director Grant Llewellyn and the North Carolina Symphony for one of those infrequent happenings - Britten's 1963 masterpiece, Symphony for Cello and Orchestra, Op. 68. The site was the Meymandi Concert Hall in Raleigh, the work would be recorded. Telarc released the CD this past week. The performance is an artistic triumph for Zuill Bailey and a marvel of engineering by the recording team of Five/Four Productions. The disc also includes Britten's Sonata in C Major for Cello and Piano, Op. 65, which was recorded later at Clonick Hall Studio at the Oberlin Conservatory of Music. Pianist Natasha Paremski is electrifying.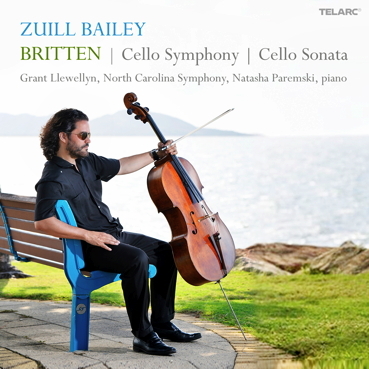 Courtesy of Telarc
As the saying goes, this recording will "open doors you never dreamed existed." For Benjamin Britten, those doors were thrown open by an inflamed desire to create music for Mstislav Rostropovich, the most celebrated cellist of his day. Combining these two musical titans was pure Destiny.
"That is one of the things that guided me to love the cello so much," said Zuill Bailey. "During my childhood, Rostropovich was the most inspirational cellist. His stature and larger-than-life image also inspired Shostakovich, and Prokofiev - guys who weren't necessarily cello-centric, but became so through their friendships."
Easy to understand. My awareness of Zuill Bailey came about in 2010 when he released the double-disc set, Bach Suites for Solo Cello. The music had never been on my radar, but this edition kindled an obsession. His subsequent recordings, particularly Brahms Works for Cello and Piano with pianist Awadagin Pratt and the live recordings of cello symphonies by Dvořák, Elgar and Saint-Saëns have likewise become favorite haunts. When Britten's centenary was still on the horizon, the North Carolina Symphony came calling about the Cello Symphony.
"I was less familiar - and embarrassingly so - with Britten's music prior to the last couple of years. It was a language I had to familiarize myself with and then make my own. Everything in my life is booked about a year or two in advance. When the concept of 'we'd like you to play the Britten Cello Symphony' came up - I thought that was very interesting, because I've always wanted to know the work. So, I sat down with my score and started looking into it, just the music. I didn't see any limitations - until I picked up my cello. And I had already said 'Yes!' Then I'm like - omigod! - how am I supposed to do this? What's even crazier, I had no one who I could just call and say, "Hey! What's the formula for figuring out X-Y-Z?" I had to prepare this with my own imagination, my own tools, and really without any example - except, maybe, the recording with Rostropovich and Britten. You've seen my schedule. I'm playing somewhere every other day. Then I had to figure out, in the course of that year, a time period when I could disappear, literally, and saturate myself to get everything to work. These days, that's very limited. A year can just snap and be gone."
How does someone like Zuill Bailey isolate? Like Mahler, does he have a secret little house on a lake?
"I went to Alaska. It was fifteen below zero. I was staying at an incredibly wonderful hotel and I disappeared for about two weeks. I just sat there looking out the window - at this frozen earth and the wrath of Mother Nature. Practicing. All day long."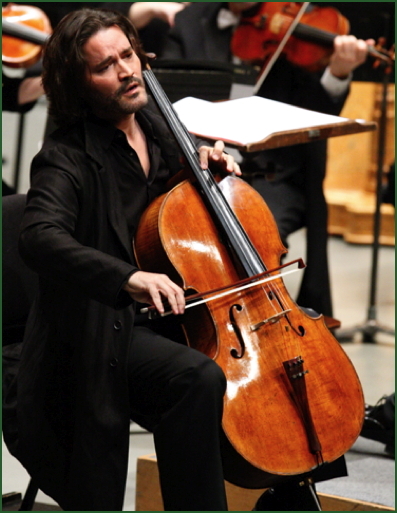 ZUILL BAILEY. Photo, courtesy of Kalamazoo Symphony
Britten's Cello Symphony could be the soundtrack for a meditation on Moby Dick. The undercurrents are menacing, the third and fourth movements slash through heavy turbulence, the resolution is decisive and magnificent. Not exactly what another guest might expect to hear looping all day long from the room down the hall. Was the hotel empty?
"You mean like The Shining? All work and no play makes Bailey not a happy camper? It wasn't a time of year when there were a lot of tourists. I did this on purpose, to become one with Britten. It was perfect. I was inspired by what was happening with the weather. It's very dark in Alaska during the winter months. But when I finally walked out on stage, I was not only ready - I was psychologically, physically, emotionally at the top of the mountain. I was bubbling out of my eyeballs with Britten. This is why I've been drawn so heavily to live recordings recently. We have gotten so accustomed to grounded, manicured recordings - so manipulated to be perfect that they don't necessarily mirror what one hears in a live concert, something that is a one-time-only shot. This is a very exciting CD for me. The recording team mics everything on the front of the orchestra and in the middle of the hall. The sound is then refined to the best seat in the house. They've mapped it out. You can see the stage. Look to your right, you hear the basses come in. Look to the left, there are the violins. You can hear the horns on the back right. You hear me to the left of the conductor. This is all with your ears. That's what is invigorating to me."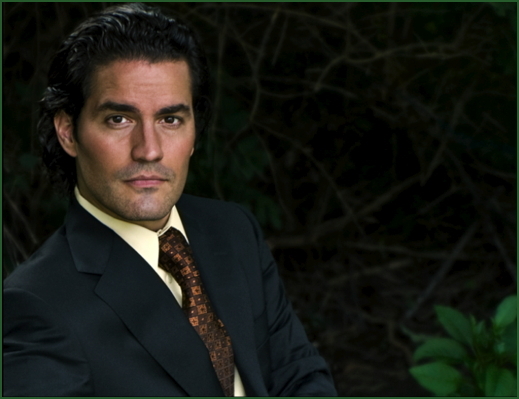 ZUILL BAILEY. Photo, Lisa Marie Mazzucco
Compared to the epic flavor of the Cello Symphony, the Sonata for Cello and Piano is an intimate exchange, an exploration. A pas de deux. It was Britten's first composition for Rostropovich, completed in less than a year after their first meeting in September 1960. With Britten on the piano, the dynamic duo debuted the piece in 1961 and released a recording.
"I see the sonata as the relationship between Britten and Rostropovich. The whole first movement is called Dialogue for a reason. It's back and forth, trying to get to know each other, and having this rambunctious intertwining which is very separate at first. The second movement, the Pizzicato, is playful. Again, he uses a technique that not many people have used. There is no bow in the second movement. I learned these works in the opposite order. I prepared and did everything for the Symphony, then recorded the Sonata separately six months later. I found that having already climbed the mountain with the Symphony, there was something very simple and very accessible about the Sonata. It was a simpler product, with very similar ideas, but not with the boundaries blown out. Supposedly, the two men joked a lot with each other. When they talked, there were a lot of gestures. The last movement, the Perpetual Motion, is so Rostropovich. He's the Bullet Train. Natasha and I played several recitals together preparing the sonata, with long talks about how it worked. She was also privy to my preparing the symphony - and heard all my rants and rants. When I was able to come to the table for us to start mapping-out the sonata, we were both ready and excited to do it. It was a shared experience."
Benjamin Britten is very singular to himself, recreating everything, difficult to compare with other composers - but an enduring friend once you open the door. With this outstanding recording, Telarc and Five/Four Productions dusts off the Welcome mat and presents the man at his best. Rostropovich said to Britten, "A hundred years from now everyone is still going to be talking about you." Zuill Bailey just made sure of that.
Click here to stay in touch with Zuill Bailey and Natasha Paremski.