Sarah Miller Caldicott, great-grandniece of Thomas Edison, introduces the night's program
For those tired of watching Hollywood starlets parade mindlessly past adoring fans, the chance to honor real contributions to science and technology is a welcome change of pace. The Edison Awards, a.k.a. "The Oscars of Industry," took place Tuesday evening at Capitale in New York City. Awards were given out for the most innovative products in categories ranging from green technology to medical breakthroughs.
The ceremony honored both startups (like Bobble, maker of a screw-on bottle cap that filters water as you drink it) and well-established companies (Apple's iPad took home a gold in the handheld devices category). Nominees were reviewed by members of the Marketing Executives Networking Group, which judged entries based on their societal impact, marketplace creativity and success.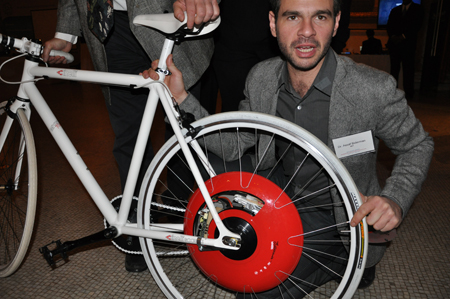 Assaf Biderman, the charismatic Associate Director of MIT's SENSEable City Lab, shows off the Copenhagen Wheel, which took home silver in the personal transportation category. The steel hub contains a torque mechanism to make peddling more efficient, as well as sensors that record air pollution levels. You can use a smartphone to change gears and lock the bike.
The contrast between the types of products nominated was at times jarring: inventions that seemed to belong in different weight classes were pitted against one another. For instance, Kinnect, a video game controller, finished second in the locational technologies category; API's Hawki, an aiming device for the bomb diffusing robots like those used by SWAT teams, came in first. In personal transportation, SENSEable City Lab's Copenhagen Wheel -- a torque mechanism and air quality monitor that affixes to the rear wheel of a bike -- took silver to the Chevy Volt's gold. In any case, the winners were announced in a single rapid-fire video montage -- a mercy, given that this year's real Oscars Awards dragged on for more than three awkward hours.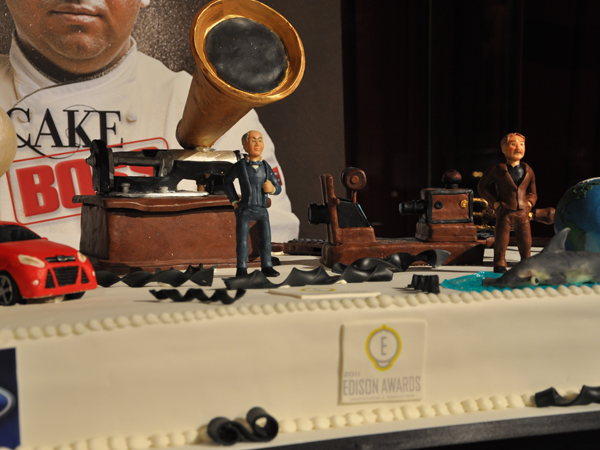 Thomas Alva Edison: Inventor. Businessman. Marzipan cake decoration.