Get dinner on the table without breaking a sweat.
For SELF, by Audrey Bruno.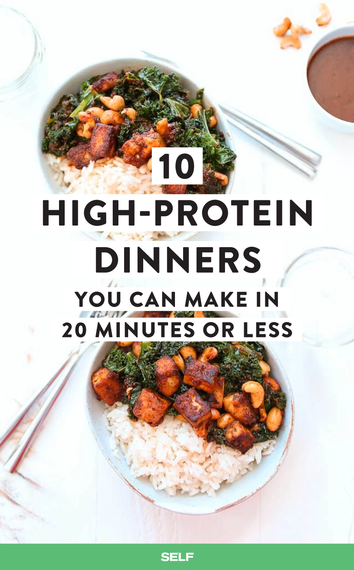 Kess Smith via inquiringchef.com / Graphic by Jocelyn Runice
Coming home after a long day is when all of the Veruca Salt vibes happen. Dinner? Yeah, we want it and we want it now. Sure, a slow-cooked stew or an elaborate chicken dish sounds totally amazing, but sometimes you just don't have the time to throw it all together.
But the issue with most quick meals is that they can be disappointing, leaving you hungry again in a few hours. That's where things like fiber, fat, and the all-mighty protein come into play--they take longer to digest so you'll feel satisfied for longer.
So these dishes below, like a zesty salmon piccata and skillet chicken fajitas, are packed with protein and take less than 20 minutes to cook. Scroll through the recipes and find a favorite that you can add to your Sunday meal prep menu for delicious and hanger-preventing dinners all week long.
1. Avocado Couscous Grapefruit Salad from Well Plated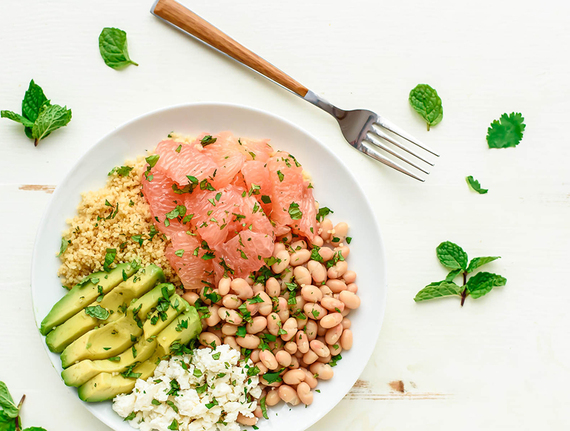 Erin Clarke via wellplated.com
This refreshing grain bowl makes a great dinner or lunch option. Get the recipe here.
Per One Serving: 17 grams protein
Related: 7 Side Dishes Under 150 Calories You Can Make In 10 Minutes Or Less
2. Easy Salmon Piccata from Cafe Delites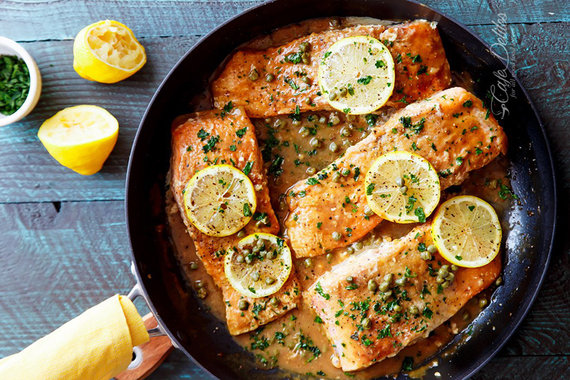 Karina Carrel via cafedelites.com
If you already love chicken piccata-the briny, lemon and caper-packed Italian favorite--you'll be obsessed with this speedy salmon version. Get the recipe here.
Per One Serving: 36 grams protein
3. Ancho Chicken Tacos from Pinch Of Yum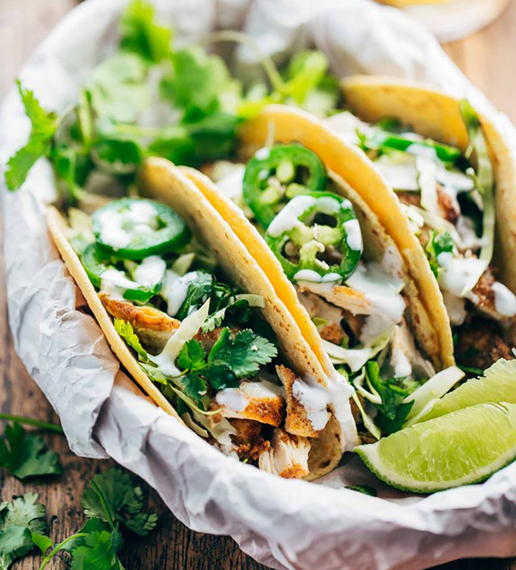 Jenna Arend via pinchofyum.com
Each one of these tacos is just a little over 150 calories, so eat two or three for a full meal. Get the recipe here.
Per One Serving: 14 grams protein
4. Thai Chicken Zucchini Noodle Salad from Joyful Healthy Eats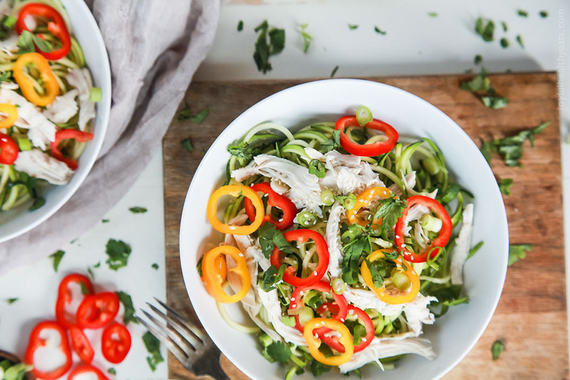 Krista Rollins via joyfulhealthyeats.com
What's best thing about zucchini noodles (aside from the fact that they're a low-carb, low-calorie pasta alternative)? They take hardly any time to cook! Get the recipe here.
Per One Serving: 16 grams protein
5. Lean And Green Tofu Stir-Fry from Eating Bird Food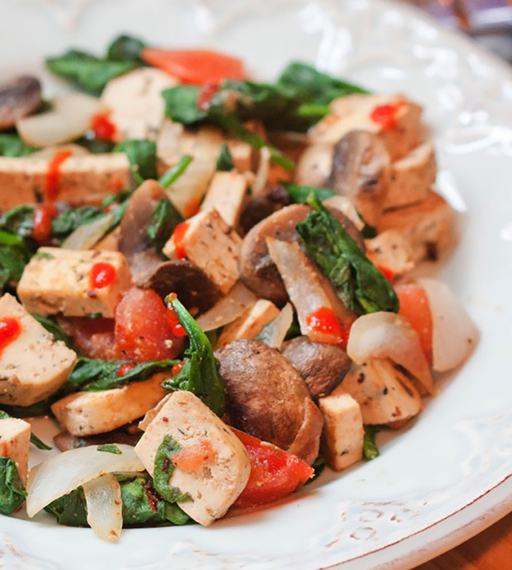 Brittany Mullins via eatingbirdfood.com
This veggie-tastic stir-fry only takes ten minutes to throw together--perfect for your busiest nights. Get the recipe here.
Per One Serving: 18 grams protein
Related: 10 High-Protein Lunches Under 400 Calories
6. Spicy Black Bean Soup from Hurry The Food Up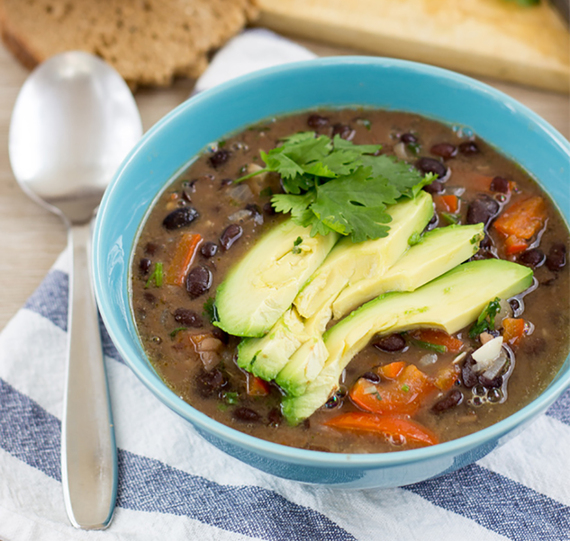 Kat Gröber, Dave Bell, and Howie Fox via hurrythefoodup.com
This spicy soup tastes a lot like chili, without the lengthy cooking times. Get the recipe here.
Per One Serving: 15 grams protein
7. Sweet Chili Rubbed Salmon Filets from Nutritionist In The Kitch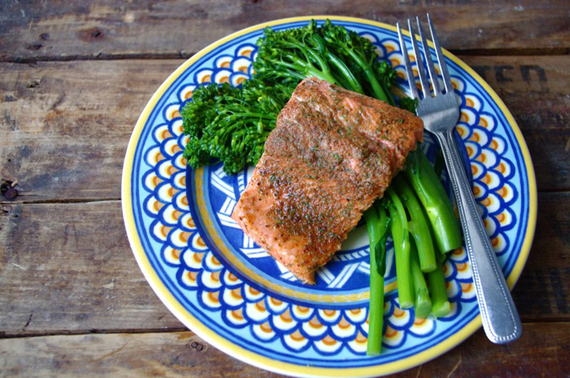 Christal Sczebel via nutritionistinthekitch.com
The sweet and spicy chili rub on this salmon will satisfy all your flavor cravings. Get the recipe here.
Per One Serving: 35 grams protein
8. Orecchiette Pasta With Chicken Sausage And Broccoli from SkinnyTaste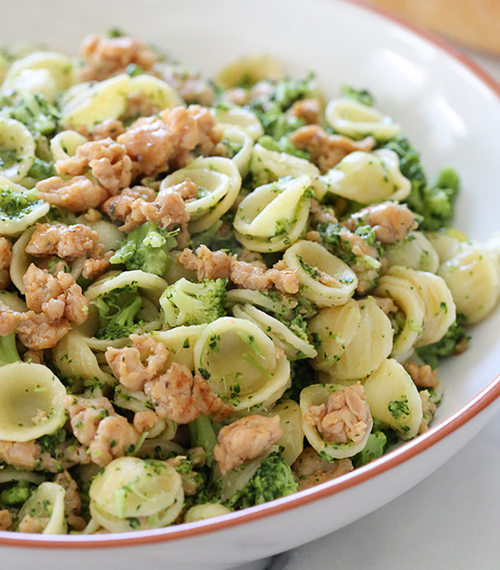 Gina Homolka via skinnytaste.com
Not familiar with orecchiette? The hat-shaped tiny pasta is the perfect vessel for turkey sausage, broccoli, and Parmesan cheese. Get the recipe here.
Per Serving: 17 grams protein
9. Crispy Tofu With Thai Chili Paste, Cashews, And Kale from Inquiring Chef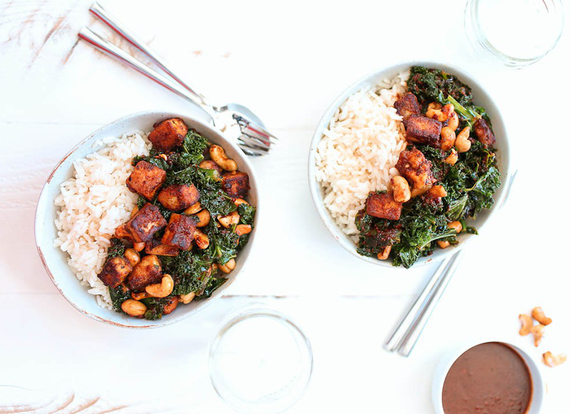 Jess Smith via inquiringchef.com
This dish is another excellent way to use up that bag of kale. Get the recipe here.
Per One Serving: 14 grams protein
10. Skillet Chicken Fajitas from The Iron You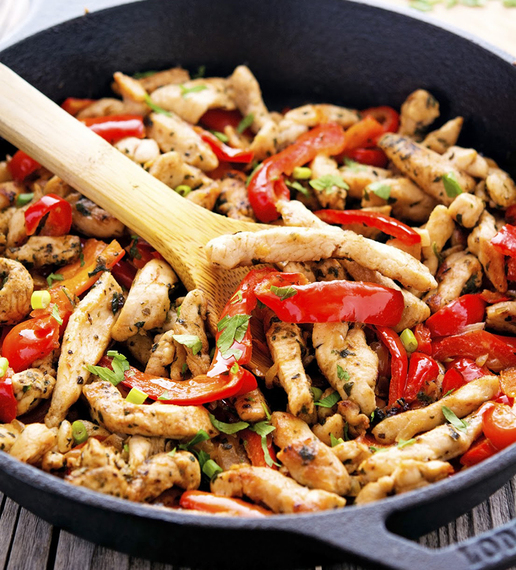 Mike Brosio via theironyou.com
Get your skillet out--this is what you're making for dinner tonight. Get the recipe here.
Per One Serving: 36 grams protein
More from SELF:

7 Things To Know About Buying The Right Olive Oil
The One Thing That Will Make Your Sunday Meal Prep So Much Easier
5 Ways To Make The Best Eggs Every Single Time
11 High-Protein Breakfasts You Can Make In 15 Minutes Or Less
7 Completely Doable Tips for Your Best At-Home Blowout Ever