By Marissa Stephenson, SELF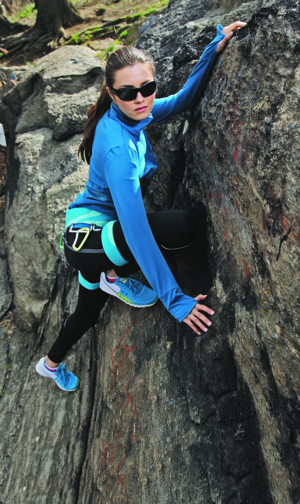 Photo credit: George Chinsee
I'm kinda over the same point-A-to-point-B road races. And plain pavement running in this weather? Please. I have a House of Cards Netflix marathon to attend to. So, I took a look around, and, shockingly, there are almost more unique, kooky, wait-I-have-to-sign-up-for-that fitness races in the winter than the tolerable-season months! (I huffed through one of them, the Empire State Run-Up; put it on your bucket list -- if that list also includes brutal-but-elating events.)
Boston Urban Idiotorama
March 1
Instead of dogs, the Idiotorama calls for a team of four to six people, and instead of sleds, you use shopping carts. There's no grueling multi-day snow course here; you've got the streets of Beantown and a foot race, talent contest and pub crawl all rolled in one. Entry fee: $89.
Detriot Fight for Air Stairclimb
March 3
Despite the scary-sounding name, this race is totally uplifting. Physical, yes -- you'll charge up 1,035 stairs of 70 floors (585 stairs and 40 floors if you take the half-climb option) at the Detroit Renaissance Center -- and your race bib fee also goes to the American Lung Association to help fund research to treat lung disease. Entry fee: $35, with a $100 fundraising minimum.
Rangeley, Miane Moose Dash
March 16
This one is a snowshoer's dream. (What? You've never snowshoed? You must. It's like walking...only so much better. You can float over piles of feet-deep powder!) Because it's March in Maine, you're practically guaranteed virgin-snow terrain during the 5k- or 10k-course, which also include gnarly accents and descents (do some squats before hand, k?) and National Geographic-like backdrops that may even include a sighting of the race's namesake. Entry fees: $10-$20.
New Hampshire Cardboard Sled Race
April 6
Your provisions: cardboard, tape, paint and wax (nothing else -- thems the rules). Your mission: Build the best possible sled to careen down a 200-some foot snow hill. Costumes, not shockingly, are encouraged. Two feel-good bonuses: Your entire $30 entry fee goes to David's House, a place for families to stay when their children are receiving medical treatments, and the award ceremony is held at local Goosefeathers Pub, which yes, is just as amazing as it sounds.
Colorado Winter Adventure Race
April 14
This Copper Mountain event is pretty much the winter version of a Warrior Dash. You'll dive into a pit of "hot chocolate," fast-pitch like crazy during a snowball fight and generally leap, roll and sled your way through this 3k snow-packed obstacle course (that's 1.8 miles -- yep, we looked it up so you don't have to). Entry fee: $25 (Day of: $30).
Bend, Oregon's Pole, Pedal, Paddle
May 17
Find your most adventure-loving friends -- or be that nutjob, I mean, incredible person, who does this whole thing herself -- and try the ultimate outdoor relay mashup: Downhill skiing, cross-country skiing, biking, trail running and kayaking. It will take hours. It's technically Spring, but you will traverse snow, grassy fields and whitewater. You may need an actual Caravan to fit all of the gear. How AWESOME does this sound?! Entry fee: Varies.
More from SELF:
20 Superfoods For Weight Loss
The 24-Minute At-Home Boot Camp
Secrets To Firing Up Your Metabolism
6 Moves To Resize Your Butt and Thighs
5 Simple Steps to Cellulite-Free Skin
Simple Ways to Slim Down in 14 Days!