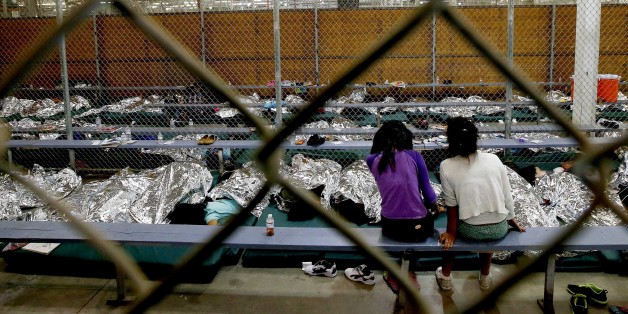 Co-written with Jose Calderon, President of the Hispanic Federation
The arrival of more than 50,000 unaccompanied children at our Southern border since last October has created a humanitarian crisis. In government offices and policy circles in Washington, and in state capitals nationwide, people are dissecting the laws, procedures and politics of dealing with this crisis. The central issue in this crisis is that many of these children are fleeing horrific conditions: vicious persecution and violence, including murder, rape, and torture.
The current refugee crisis has nothing to do with border security. The children arriving at the border are not trying to avoid detection. Instead, they immediately present themselves to customs agents, seeking protection from the deadly harm that has come to define life in some of the Central American republics. Gang warfare, drugs, human trafficking, corruption, and smuggling have combined to produce a veritable witch's brew of death and desperation. Crime rates in countries such as Honduras, the murder capital of the world, are at historic highs. No one is immune to the carnage. Against this backdrop of mayhem and cruelty, parents are doing the seemingly unthinkable and allowing their children to make the dangerous trek north. Along the way to the United States, many of the children are victimized by traffickers and corrupt government officials. Stories of children kidnapped for ransom or forced into prostitution are horrifyingly common.
The United States can help, but only if officials in the White House and Congress put politics aside and approach this refugee crisis with intelligence and bipartisan commitment.
Our first goal should be to do no harm. Do not broadly and rashly repeal crucial protections for children who have been victims of human trafficking and other crimes. Under current law, children from Central America have the right to a hearing to determine whether they are entitled to seek asylum status in the United States or be returned to their country of origin. The circumstances of each must be considered. Children who do not receive a full hearing may be summarily returned to places where they may be harmed or killed -- many with valid legal claims that would entitle them to stay. For a hearing to be meaningful, a child 6 to 15 years old or even older needs a counselor to advocate, interpret, and advise.
Congress must pass a supplemental appropriations bill that targets the refugee crisis by providing children with legal counsel and age-appropriate, short-term housing facilities, as well as supporting the work of communities that welcome and care for children until they find a permanent home.
Finally, our nation should also work to address the root causes of the current crisis. Historically, the United States has stepped up when foreign instability subjects children to rampant violence and threatens to undermine international peace and stability. Such a response is the right thing to do, and it serves our country's long-term interests. Representatives of the Northern Triangle countries have made clear to Sen. Blumenthal and other members of Congress that the region needs assistance to restore the rule of law and improve the conditions that drive children to make their treacherous journeys. By improving processes that allow Guatemalans, Salvadorans, and Hondurans to request legal refugee status safely while remaining in their home countries, we can avoid the danger that comes when tens of thousands of children see no choice but to pay a "coyote" to get them to the United States. Targeted, appropriate assistance to countries in need will do much more than bellicose rhetoric and unneeded troops to stem the flow of migrants arriving at our Southern border.
In the long run, Congress must pass comprehensive immigration reform that provides an enduring solution to the problems that plague our current system. But the refusal of some members of Congress to let that happen is no reason to abandon our values -- especially when doing so will be detrimental to addressing the current crisis. The lives of tens of thousands of children are at risk. The practical reality is that they have crossed the border into our country, and we owe it to them, and to ourselves, to treat them with the fairness, compassion, and due process that have made our nation a beacon of hope to people around the world.