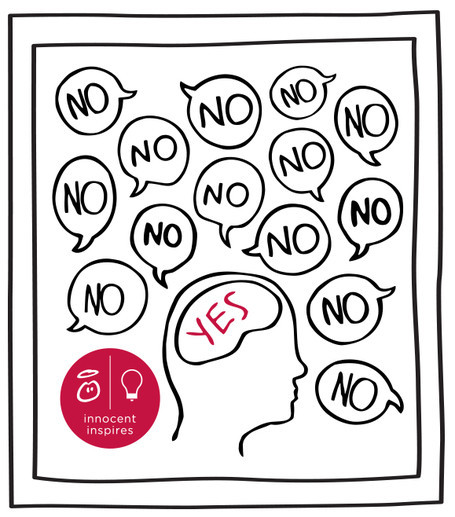 I don't like the term "entrepreneur," and I really don't like gatherings of these so-called people. Well, at least I thought I didn't, until last Wednesday.
Cue robot arms. Walking into the Innocent Drinks HQ with two arm splints on, due to Carpal Tunnel Syndrome from overworking, I have to admit I was not in a particularly good mood. I was there for a conference on entrepreneurship, which was part of their Innocent Inspires series. By the time the evening was over, I walked out with a completely different attitude.
In fact, I was so innocently inspired by the six panelists, that I wanted to share some of their wisdom with you. Without further ado I give you:
Richard Reed (founder of Innocent Drinks), Bec Astley Clarke (founder of Astley Clarke), Eben Upton (founder of Raspberry Pi,) Martin Morales (founder of Ceviche), Sophie Cornish (founder not on the high street) and Jeremy Gilley (founder of Peace One Day).
1. Find something that fits your DNA, and just do it.
If you love what you do, you are also more likely to succeed, as you will be happy to put the hours in and probably already have a good base of knowledge. Inertia is too easy. Get stared, no matter how small the idea.
2. "No" is more interesting than "Yes."
Don't stop at "no." Astley Clarke claims that a "no" usually means one of three things: you haven't pitched the idea well enough, it's not the right time or you're not talking to the right person. Boden turned her down for investment, and then one year later called her up and not only apologized for being wrong, but asked to invest.
3. Break with convention.
Do it your way, not the "right" way. Don't rest on anyone else's laurels. The very essence of being an entrepreneur is the ability to navigate a new route to success on unchartered waters. Never rest on the laurels of your business -- just because it worked for someone else does not mean that it will work for you, and most importantly, vice versa.
4. Know your customer.
Think about who you are targeting and do not to spend a penny on anyone else. Don't worry if that customer is someone that you strongly identify with -- there's nothing wrong with targeting your own demographic.
5. Be emotional.
Never underestimate the personal element in what you are doing. At the end of the day, you are dealing with people. Despite his successful career, Martin Morales had problems pitching his initial idea of Ceviche to investors because he had forgotten to include a human element. Story telling is key, something that Innocent does very well.
6. Implementation is key.
Everything's been invented before, it's about how, when and why you do it that makes a difference.
7. Enjoy it.
Martin Morales expressed this nicely: "You have to enjoy running, and not just the finish line."
8. Only hire A-types.
"I'd rather have a hole than an asshole," said Dan Jacobs, Head of Talent at Apple. B types will only hire C types. Only settle for true believers in the project and adopt the mantra.
9. Have one mission.
As dumb as it sounds, make sure that you are creating a product that people want and do it well, the rest will take care of itself. To put it in Steve Jobs' own words: solve a problem elegantly.
10. Pivot.
Being entrepreneurial, you won't have a plan B because you will want to make plan A work at any cost. Don't lose sight of your vision but learn to be flexible: you need to be able to adapt to the times and be open to suggestion.
Now, take your hand, put it on your back and give it a pat, then smile.
Most importantly if you're an entrepreneur, you're going to have to get used to doing this. No one's going to be there to hold your hand or give you a hug every time you have a success. You need to learn to be strong and self-sustaining.
And, there you have it: a plan to take over the world in 10 steps. Now for a business idea...