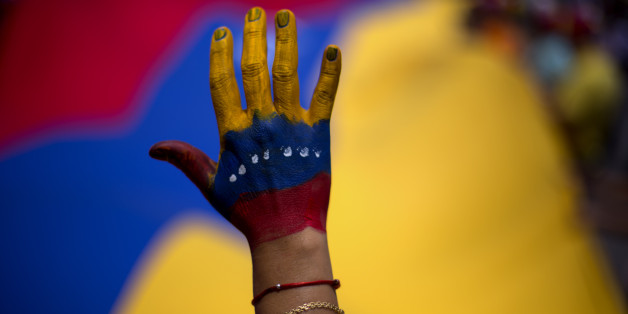 Given his virtuoso performance as a power broker who helped thaw a half-a-century-old conflict between Cuba and the U.S., the audience Pope Francis has granted Venezuelan President Nicolás Maduro this coming Sunday has aroused hopes the Argentinian pope can instill a sense of normalcy to Venezuela's political life.

"Pope Francis would perform his first miracle if he can work out a meaningful dialogue between the government and the opposition," says Xabier Coscojuela, editor of the newspaper Tal Cual in Venezuela.
I called him to find out what his expectations were for the upcoming audience.
"Perhaps he could make Maduro set an official date for the parliamentary elections this year to keep up with the constitutional mandate. That," adds Coscojuela, "would be a great leap forward."
Why, I wonder, would Maduro want to meet again with Pope Francis? According to the statement released by the Vatican two years ago, during their first meeting Francis already urged the two opposing sides to talk to each other to reduce tensions. That did not happen. Quite the contrary: in the two years since, the government's repression against the opposition has hardened. So much so, that 27 former heads of government from Spain and Latin America have issued a statement calling on Maduro's government to free all political prisoners and hold "fair and transparent" legislative elections later this year. The demand followed the Venezuelan government's refusal to allow Colombia's Andrés Pastrana and Bolivia's Jorge Quiroga from visiting jailed opposition leaders.
Sergio Dahbar, an editor at El Nacional, another Venezuelan newspaper that has miraculously survived the government's brutal assaults against the press, speculated, "Maduro went to the Vatican to ask the pope to include Venezuela on his Latin American tour. Yet reading Venezuelan Archbishop Roberto Lückert statements during his stop at the Vatican, I don't believe Francis will come here as long as there are political prisoners in the country." Francis plans to visit Ecuador, Bolivia and Paraguay in July.
Historically, some leftist leaders have sought to have popes visit their country, while others feared them and sought to keep them away. When novelist Gabriel García Marquez learned Fidel Castro planed to invite Pope John Paul to Cuba, he told me he ran to buy and ship a copy of Carl Bernstein and Marco Politi's book, "His Holiness" to Fidel Castro.
He thought maybe Fidel did not know this pope could claim credit for dismantling communism in Eastern Europe. "'Without this Pope none of the events in Eastern Europe' leading to the collapse of communism would have occurred, "they quoted Mikhail Gorbachev as saying. What Gabo did not know is that Fidel knew of the pope's reputation but did not fear him.
Once in Cuba, John Paul did not mince words criticizing communist Cuba, but for all its flaws, the system prevailed. Not only that, John Paul called the U.S. embargo "unjust and ethically unacceptable." In 2005, when John Paul died, Fidel mourned him as an "unforgettable friend."
"'Pope Francis would perform his first miracle if he can work out a meaningful dialogue between the government and the opposition.'"
To predict what Pope Francis will do about Venezuela is anybody's guess. In his homilies he has called on Venezuelans to reject violence and to engage in a sincere and constructive dialogue. He has also prayed for those who have been murdered but so far he has not offered himself as an intermediary for talks among the opposing groups.
The man who could tip the balance towards political normalcy in Venezuela is Cardinal Pietro Parolin, the Vatican secretary of state and former "nuncio" or ambassador to Venezuela. Reportedly, Paroli played a crucial role in the diplomatic effort to reach out to both Cuba and the United States.
Fernando Gerbasi, a former vice minister of Venezuela's foreign affairs office, told me: "Paroli knows perfectly well what is going on in Venezuela. It was he who first proposed the mediation of the Vatican for the dialogue between government and the opposition, and he is absolutely on top of things in Venezuela."
For the past 15 years, the Chavistas have been able to hang on to power because they have absolute control over all state institutions, the presidency, Congress, the courts and the electoral institute. They also count on a repressive apparatus that jails the leaders who oppose them and censors them with frivolous lawsuits against the few media outlets that maintain their independence. If all this fails, they resort to the populist policies that help them buy votes.
Yet, as the massive demonstrations that have flooded the country's main cities make evident, the response of the Venezuelan people to the perpetual economic, political and social crisis of the country has been to push for democracy. Their response to the rampant inflation, uncontrolled criminality and acute shortages of essential goods from milk to medicines has been a reaffirmation of their faith in democracy.
Like so many others, I hope Pope Francis' intervention will facilitate a civilized dialogue between the government and the opposition that leads to fair, free and transparent elections this year. The opposition should prepare now for that moment by unifying to pursue the common goal of a real democratization of the country. You never know when divine intervention might work.
PHOTO GALLERY
Tensions Rise In Venezuela