Plagued with visa obstacles and high inflation, young and emerging Iranian artists find it easier to have their art travel to the art markets of the world than their persons. Pegah Lari's art has found a fitting temporary home in Antibes.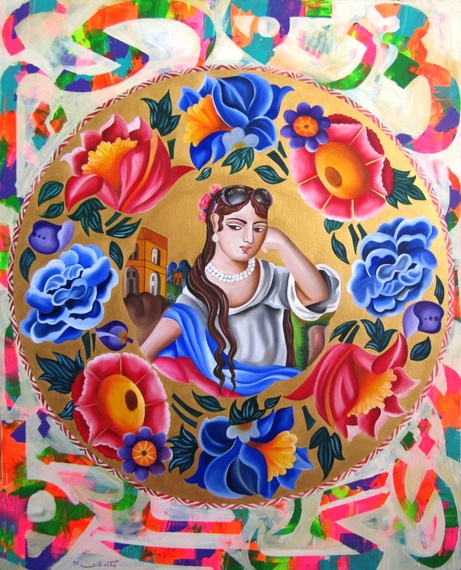 Last night I went to the opening of Pegah in Wonderland at Simine Gharib's Le Cameleon Gallery in Antibes, France. It was a magical kind of evening. The old town of Antibes, with her winding pebbled roads that all seem to lead, one way or the other, to the Picasso Museum on the other end of town, is a great setting for a gallery. Simine Garib's Le Chameleon is a gem of a, small but high ceiling-ed, airy and bright, gallery. For more than a decade she has been exposing local and international artists that catch her very discerning and experienced eye. Of Swiss and Iranian parents, speaking both French and Persian (and many more), this is the first time that Garib is devoting an entire show to an Iranian artist.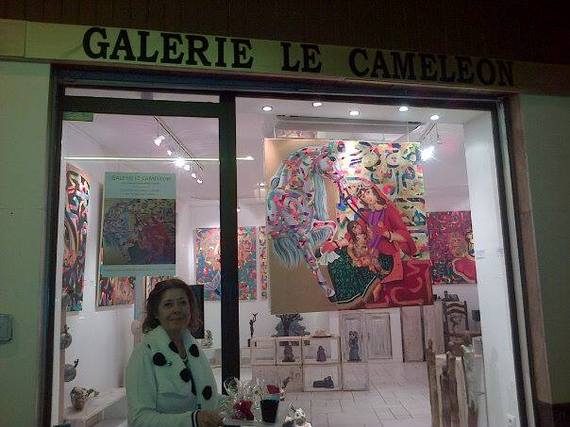 The party had spilled over onto the two pebble roads on each side of the corner gallery when we arrived. Champagne and conversation poured with ease against the backdrop of the brightly lit, stone walled room, which was bursting with big colorful canvases of the young artist. The only thing missing was Pegah Lari! I was told by one of the organizers that Lari had been denied a visa to come to France. A fate that often befalls Iranian artists.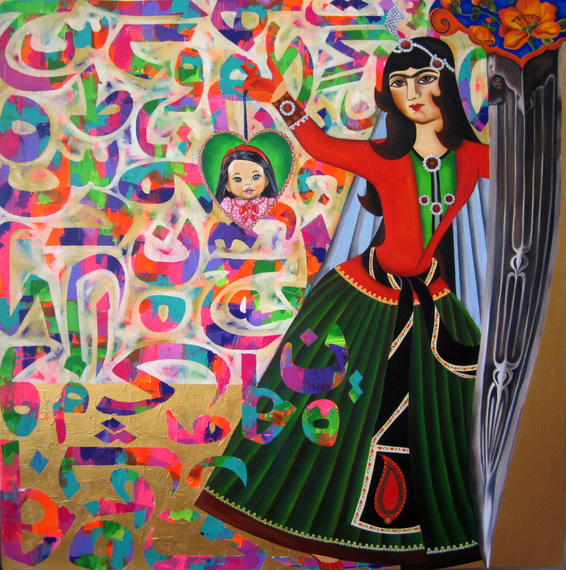 Fortunately, art travels well and crosses borders that people can't. And Pegah's paintings brought her youthful and bright vision to Antibes to show us that despite all the censorship and repression, young artists in Iran still dream, still conjure up beauty, and manage to overcome not only physical but psychological barriers. It is rather beautiful that these big colorful canvases traveled beyond Iran's borders carrying her imagination and bringing Pegah to us in a way that her physical presence alone would never achieve.
Hesam Khalatbari and Yassi Metghalchi who helped Simine Garib organize this exhibition, are two dedicated and untiring sponsors of Iranian artists in Paris. Their Gallery Flamel, in the heart of fashionable Paris, exposes and promotes Iranian artists who would not otherwise have a chance to expose their work this far away.