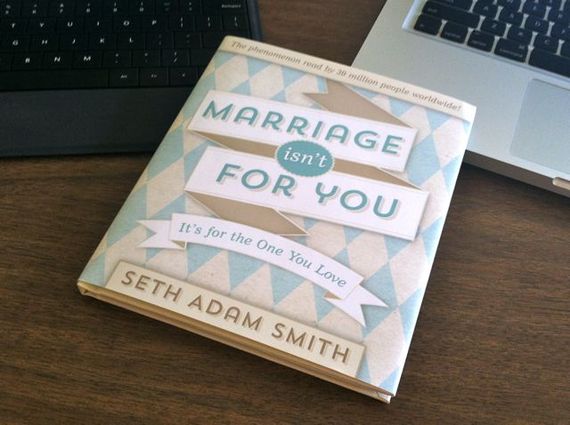 Six months ago, I published an article on my blog entitled, "Marriage Isn't For You." It was based on some advice that my dad gave me before I got engaged. "Marriage isn't for you," he said. "It's about the person you marry."
Within days, the article received millions of views, was translated into over twenty languages, and went viral in places like China, Germany, Slovakia, and the Czech Republic.
The article was featured and discussed on the Today show, BuzzFeed.com, Daily Mail, Cosmopolitan, MSN Living, Yahoo, Deseret News, Today.com, KSL News, TheBlaze.com, HuffPost Live, HLN, and numerous radio programs. My wife and I appeared on a number of news programs, including Good Morning America and Fox & Friends.
After making some revisions to the article, Shadow Mountain Publishers turned it into a beautiful gift book. Within two days of its official publication (on May 6) the book skyrocketed to the top of the charts on Amazon.com, ranking from #640,650 to #989. It also reached #12 in the category of Marriage, and #13 in Love & Romance.
To this day, I still receive emails from people congratulating and praising me for the article. But amid all the praise, of course there are those who criticize the article. Many claimed that I didn't know what I was talking about -- that I was too young, too naive, or that I hadn't been married long enough to give advice.
And you know what? They're right. Kim and I just celebrated our second anniversary. So when it comes to giving marriage advice, I'm certainly not the most experienced or qualified person to speak.
But here's the thing: It wasn't my advice that went viral; it was my dad's. And I wasn't the person who exemplified the advice; it was my wife who did that. If praise is to be given to anyone, it should be to them. I'm not the hero of this story, and I don't pretend to be.
However, there has been one repeated criticism of the article that I simply cannot accept. Immediately after my article was published, dozens of other articles sprang up insinuating, to one degree or another, that marriage and your life are purely for you -- for your benefit and pleasure. I will tell you right now that that is a lie -- probably one of the most damaging lies.
This kind of lie breeds selfishness. And the more selfish we become, the easier it is to fall into habits of lying, cheating, stealing, and breaking promises. Because if each of us is the most important person in our own little world, then why would we ever choose to deny our personal desires?
Some time ago, I embraced this lie. When I did so, I started living a life of addiction, self-centeredness, and isolation so severe that it culminated in a suicide attempt.
But during my recovery I came to understand that my life wasn't purely my own; I shared it with my family and friends. So I began to let those people back into my life, and the love and friendship that we shared was liberating.
Albert Einstein once said, "A person starts to live when he can live outside himself."
I believe that. Marriage and love are truly not for you. Neither of them can exist without involving people other than yourself.
If you want to live a rich, full, abundant life, you must love other people -- love them with your whole heart and soul.
As my wife Kim said in one of our interviews, "You never lose by loving. You never lose out by choosing to love somebody else."