This one-minute excerpt comes from a special colloquium celebrating the 25th anniversary of the SETI Institute.
Watch a video of Dr. Peter Jenniskens giving a one-minute summary of his work.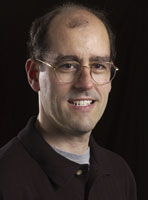 Astronomer Peter Jenniskens joined the SETI Institute in 1995. He is an expert on meteor showers and on the natural and artificial atmospheric entry of objects from space. He aims to give meteors and fireballs their rightful place in astronomy.
Peter recently completed a very successful mission, observing the Hayabusa capsule reentry from the air. Check out his website for a video and some beautiful still photos from the mission.