This one-minute excerpt comes from a special colloquium celebrating the 25th anniversary of the SETI Institute.
Watch a video of Dana Backman giving a one-minute summary of his work.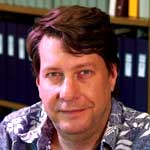 Dana Backman joined the SETI Institute in 2003 as the Director of Education and Public Outreach for the Stratospheric Observatory for Infrared Astronomy (SOFIA). Dr. Backman is an infrared astronomer interested primarily in observations of planetary system formation, but his main goal in life right now is to get teachers and other educators flying on SOFIA in partnership with astronomer research crews.