This post originally appeared on SF Critic.
Written by Darryl Kirchner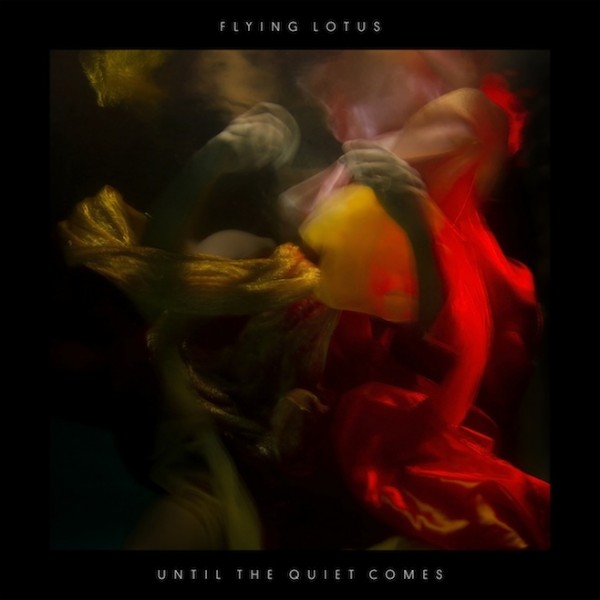 With his string of critically acclaimed records such as Los Angeles, 1983 and Cosmogramma, Steven Ellison, a.k.a Flying Lotus, seems to be at the forefront of the worldwide beat movement. Flying Lotus has been in the thick of it all for some time now, playing dozens of festivals, giving countless interviews, making short films, performing worldwide -- you name it -- but what makes his new album so great is his ability to rise to the occasion.
Flying Lotus' album, Until the Quiet Comes, is a near perfect execution of taking an idea, expanding on it, reworking it, stripping it down and in the end, perfecting it. The album carries a certain weight that unlike most beat oriented efforts, feels like a complete piece from start to finish. The undertones are dramatic and beautiful and seem to pay homage to the overall spirit of his previous work. Then there is the cohesion. The tonal quality that carries throughout the entirety of the 18-tracks, and the free form jazz undertones that together tie his celestial efforts (Cosmogramma) and hip hop touch (1983) into a new blend.
The free forming jazz elements are a staple of this record and are apparent within the first track, "All In." You can feel the sense of expansive simplicity peaking through the cross cutting bass and synth notes, with a seemingly suggestive melody that urges you to hear more. The success of Cosmogramma was recognized and appreciated for its use of unique layering and a dense ensemble of samples, keyboard riffs and futuristic beat construction. The contrast to this record is more about the timbre and overall feel that the work represents. Each track plays seamlessly off the other. Just as you have wrapped your head around the opening offering, the springy and float-worthy "Getting There" (feat Niki Randa) appears; a track that seems to draw from old west coast hip hop sound of thumping bass lines and hard hitting one's and three's, all while carrying the same overall jazz feel of the opening track.
By the time you reach "Tiny Tortures," you realize you're experiencing a truly well thought-out piece with thoughts like, "What is the reasoning behind this tonal quality? Why has he chosen to name this record Until The Quiet Comes?" The introspective rise and fall of the sweeping guitar licks, played over the occasional tabla crack and a winding melody leave you feeling alone, but secure, all at the same time. The album then once again falls beautifully into the punchy and hopeful "All The Secrets," which carries casio style bleeps and breakdowns with a new age sound that is brought to the forefront by the use of choppy synth uppercuts and cleverly timed vocal samples that add to the overall mood.
Another pleasant and welcoming surprise is the use of guest appearances on the album. Each artist seems to mold into the space provided, and not try to trump the record by falling into their typical styles. This is apparent on the worldy "See Through U" feat Erykah Badu. Her soulful luster that we have grown so accustomed to is almost non-existent, trading in an unembellished and modest quality unheard in any previous effort. This same departure from the normal is also heard on the punchy and catchy "Electric Candyman" featuring Thom Yorke, where his vocal arrangements are nearly hidden, and may even take a few listens to be able to hear, let alone decipher their meaning.
If there is one track that speaks to the overall feel of the record and provides the listener with some sort of conclusion, it would be the second-to-last, "me Yesterday//Corded." The opening instrumentation sparks nostalgia almost instantaneously, as the song progresses beautifully into the altered and manipulated opening lyric of what sounds like 'I want to stay in my room.' The song is seductively dark, with a halfway point that releases the reclusive -- and seemingly anxious -- melody into an introspective, boundary-pushing synth ridden beat that carries the futuristic quality that Flying Lotus has so much perfected over time. It feels to be much more of a finale than the closing track "Dream to Me," which is more of a statement or reassurance of what you have just heard: a beautifully, introspective musical journey, with a chilling undertone that may paint a picture of what's to come.
One cannot help but to try and make sense of the whole piece. It seems Ellison was particularly careful in his approach to this record, and that it must somehow carry an overall underlying message that he is trying to get across. Certainly, there are references and hints to dreaming, and even perhaps the time in between our reality and our dreams, but to me it feels bigger than that. It seems like there is an overall message of warning; The music is beautiful and dark, which may pay tribute to the bigger meaning of where we stand as a culture. In a time of beauty all around us, there are the dark looming realities and atrocities of the world today. Until the Quiet Comes, enjoy this record.