Around the world, artists come together and decide to work, create, and at times even live under the same roof. There are many reasons for this phenomenon, including community-building, artistic authorship, and self-staging. Such communities at times thrive, and at other times falter, and critics have sometimes called such spaces of art production a romantic notion. Whether fanciful or not, such artist "colonies nearly always draw the attention of other artists, art fans, and art professionals.
What makes a community truly successful is a strong group of artists who agree to join together and collaborate for reasons other than real estate. They will likely do so because they believe that, as a group, they will broaden their individual artistic horizons, grow as artists, and learn from others - especially those working with a different art medium. The sculptor, for example, will learn from the painter, who in turn will have learned from the digital media artist and the photographer.
This kind of interaction is a hallmark of the living artist community, and is truly an added value to any artistic expression. One of the latest additions to the roster of artist communities is Mana Contemporary in Jersey City. By creating such a community and by adding additional components, Mana Contemporary ventured into new territory in the art world. It is a strong and modern example of how the humble artist colony can come together to collaborate and elevate the creative process, thereby bringing art to a new level.
Opened in May 2011, Mana Contemporary has quickly evolved into one of the largest and most innovative contemporary art organizations in the United States. By growing organically and sustainably, and through an integrated design, the center provides spaces, services, and programming for artists, collectors, curators, performers, students, and the greater community within a single location. At its core is the creative hub of over 100 artists working amongst one another in their bright and airy studios.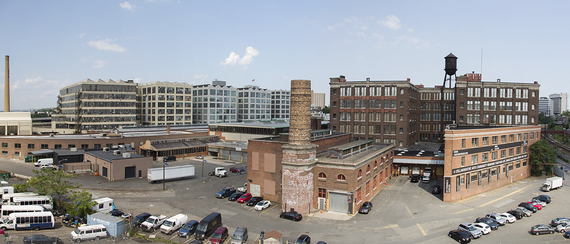 "Mana utilizes a hive concept to serve as a catalyst for the integration and exchange of ideas between artists and leaders in the art world," says Eugene Lemay, when asked about the center's mission. Eugene Lemay is Mana's president and founder. "Artists of diverse disciplines - painting, sculpture, photography, dance, theatre, film, sound and performance work alongside each other in a progressive campus environment that fosters experimentation, collaboration, and mutual inspiration," he adds.
While the concept is as old as art, what Mana has done with the artist concept is nothing short of groundbreaking. What sets the center apart is that it also offers services of all kind to artists, including a frame shop, a crate shop, a logistics center, and soon will also offer consultation from an expert in ergonomics. These in-house services are a value-added to the artists. For physical art, Mana artists are able to avoid any unnecessary movement and shipping of an art piece for framing and crating. This means that risk is minimized, and the entire process is not just safer but also faster for the artist, and the gallery or collector.
The sheer size and scope of Mana Contemporary and its community of artists attracts an equally eclectic group of visitors every day. Oftentimes such a visit establishes a dialogue and an exploration of a possible collaboration that will follow, to the benefit of the artist community. Such an out-of-the-box dialogue started when acclaimed physical therapist Dr. Andrea Lazzari, visited the center. Based, in Rome, Dr. Lazzari specializes in Global Postural Reeducation (GPR), an innovative method of posture correction. The GPR method is well known and commonly applied in Europe and South America, but is heretofore rare in the United States.
During his recent visit, Dr. Lazzari visited a number of artists in their studios and, setting his appreciation of art aside, observed them in their creative process, focusing on their movements and posture. In the resulting conversations with the artists, Dr. Lazzari learned that some of them suffer from health problems and injuries that can be linked to their profession, and the creation of their art. Documenting these injuries, he took notes and pictures, and eventually analyzed the data he had gathered from the artists.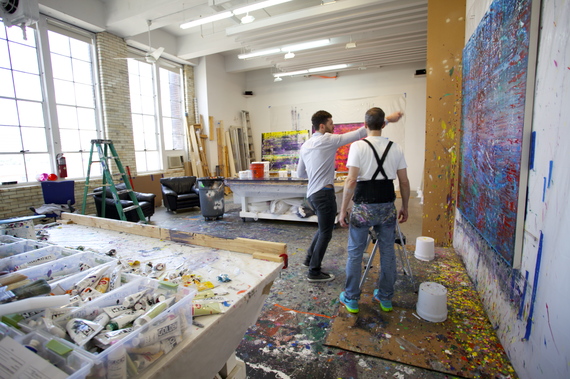 Dr. Lazzari explains that for many artists drawing or painting can actually become painful over time. "Artists tend to underestimate the physicality of creating art. They very much depend on their bodies in the exercise of their profession," he says. The problem, more often than not, is a repetitive strain injury. Dr. Lazzari adds that a professional analysis using the European GPR method will identify when discomfort is created, and in which altered position the artist will be able to find relief. Further training with the artist himself can provide that person significant relief. This leads to a higher quality of life, better quality art, and an extended professional career.
Using this technique, Dr. Lazzari could teach artists proper posture in their repetitive movements, the value of periodic rest and stretching therapies, and preventative changes that assist with recurrent pain, such as creating an ergonomic workspace. Lazzari point out that "[w]e all should live an awareness of the centrality of elasticity of our bodies. And artists especially will understand the benefit of a heightened state of range and flexibility because it allows them to express their emotions through the enabled precision movements of their bodies."
For these artists, these suggestions were certainly a welcome byproduct of maintaining a studio at the center. Eugene Lemay adds that artists at Mana Contemporary, because of its unique set-up, are protected against the forces of gentrification, unlike other such artist colonies that had developed, and were then pushed out of Manhattan and Brooklyn. In Mana's hybrid concept, the artist community is its heart, surrounded by businesses and services benefiting them and the local world of art. The artists are the center of gravity that is complemented by the for-profit and non-profit elements, such as the exhibition spaces, the dance studio, as well as the unique and varied programming. The value of the real estate is linked intrinsically to the artists and while their presence will lift the surrounding areas this inevitable gentrification will not price them out because they are the center of the Mana Contemporary community. It is a synergetic relationship that underlies this special artist community.