It is not always possible nor necessary to think of Rio de Janeiro beyond what some called "a flat-Earth vision of carnivals and caipirinhas." With important events taking place in the Cidade Maravilhosa -- the Marvelous City -- however, it is worthwhile to have a closer look. In July, Pope Francis drew millions during World Youth Day. In 2014, the city will host the soccer World Cup and in 2016 the Summer Olympic Games. The beachside Brazilian city is in focus of the world now more than ever before.
This summer it was not just tourists and Catholic pilgrims who made Rio one of the most visited cities in South America but also art professionals and art lovers. The contemporary art fair ArtRio 2013, in its third year drew galleries, collectors and artists from all over the world.
Globalization, economic growth and democratization of culture in an expanding middle class are among the supporting factors that Brazil, including Brazil's art world, is experiencing increased attention. Deservedly so. The widespread demonstrations protesting economic policies are a sign of maturity of society in that regard. Brazilian art is becoming more accessible and increasingly valued, both in the domestic but also in the international markets. Even though the market is growing it still represents only one percent of transactions in the art world.
This upswing in the Brazilian art market has recently been confirmed by Project Latitude, the bureau for Promotion Project International Contemporary Brazilian Art Market. Its research released in July 2013 showed not only an increase in galleries and represented artists but also a whopping 81 percent increase in sales as compared to the previous year. And this trend seems to continue despite hindrances. While only one segment of the art market, taxes on the import of art are detrimental to collectors but also museums and therefore the general public.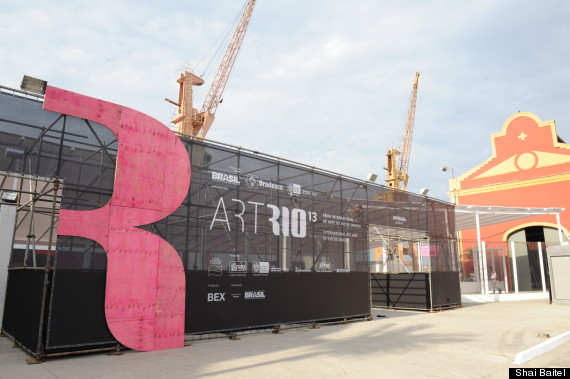 Art exhibitions have a storied history in Brazil, with the São Paulo Bienal dating back more than 50 years. And while São Paulo has indeed been the center of Brazil's art market Rio de Janeiro is stepping up its game. Now in its third year, the contemporary art fair ArtRio recently closed its gates after a more than successful show. With an audience of over 52,000 guests, with over 100 galleries and showcasing what amount to a who's who of Brazil's artists -- Beatriz Milhazes, Adriana Varejao, Nelson Leiner, Cinthia Marcelle, Maria Nepomuceno and Vik Muniz -- ArtRio has established itself as one of the most important art events in the hemisphere, if not the world.
One of the four partners behind ArtRio, Luiz Calainho, recently took time to speak about the art fair's vision and mission. A dynamic 'carioca' (native to Rio de Janeiro), he is an entrepreneur who manages no less than 12 different yet synergistic businesses. "We have a special vibe here in Rio de Janeiro -- we talk about 'spirit.'" Beyond the natural beauty and architecture, the perception of the city now needs to include art as well. And ArtRio contributes in no small measure to this change.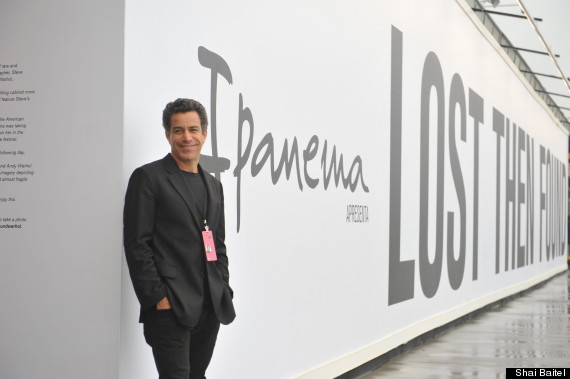 Calainho agrees that it is perfectly okay to think of Rio in terms of the Sugar Loaf Mountain, the Copacabana, and the Christ the Redeemer statue. However, "[w]e have [also] a lot of art in Rio ... We [the team behind ArtRio, SB] are very passionate. We love what we do ... It's about changing the positioning of Rio de Janeiro and, for that matter, of Brazil. As Brazilians we want to expand the perspective. [ArtRio's unique] flavor is absolutely fundamental."
ArtRio is keenly aware of its role not only in the strengthening of the existing components of the art market -- galleries and collectors -- but also in the formation of a new audience for art, people who are now having contact with galleries as well as artists. What distinguished ArtRio's approach is its resolve to actively contribute to a successful supply chain of art in Brazil's major cities and its support of exhibitions, galleries and highlighting the training of young, emerging artists throughout the year. "We continue our work even after the fair ends. We are talking about art every month, convening workshops, staging performances and other activities."
Art Rio's website is designed to be a clearinghouse and information portal for the art community. In the end, its goal is to bring art into the broader agenda, to create a dialogue highlighting contemporary concepts of art. "We want to grow the art market to another level. People in Brazil so far believed that it was only possible to understand art if one understood it in depth. Brazilians so far were afraid that art might bite," Calainho says with a smile. This is why ArtRio remains active throughout the year -- to grow the whole art eco system.
This includes Brazilian and international collectors. "ArtRio has a division that focuses on the cultivation of collectors but also of those who have the capacity, large or small, to buy but who so far had not considered collecting. We talk to them and build close relationships with them. We are introducing them to the art world."
The art fair's success indicates that Calainho and his colleagues are on the right track. Beyond building up new audiences, ArtRio aims to "to contribute to the region. We attract [galleries, artists, and visitors] from all over, including from the still nascent South American market," he adds. In addition to the recognized and emerging Brazilians, ArtRio indeed featured also international heavyweights such as Gagosian, White Cube, David Zwirner, Gladstone, Marian Goodman and Massimo De Carlo, who find that Brazil holds much promise as a growing art market. "They see in Brazil a region that holds a path to grow. They are investing. Sales are very good," Calainho reports.
"From talking with galleries we hear that people are increasingly open, increasingly ready to buy. And in general, people are starting to have art on their minds." Calainho is keenly aware of the challenges ahead. "At this moment in time, ArtRio is just a child. We need to grow. But as the market gets stronger so will we." But the mission is clear. ArtRio wants to be recognized worldwide, through consistently excellent work that takes place also throughout the year.
One cannot but wish ArtRio success because the world of contemporary art beyond beautiful Rio de Janeiro and Brazil can only benefit from it. This is uplifting art, indeed.