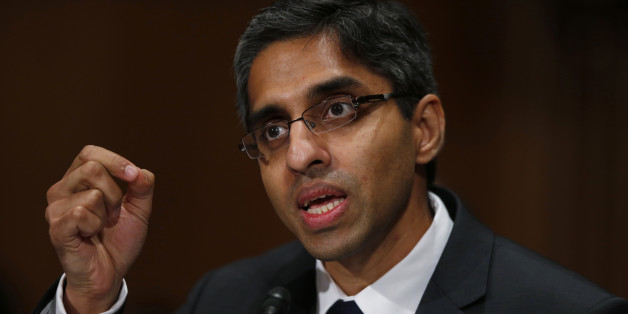 Dr. Vivek Murthy is a physician, educator, health technology entrepreneur, prevention expert and national coalition builder, with over 20 years of experience working to improve health. He believes the future of public health lies in ensuring that all institutions in our communities -- from our hospitals to our businesses and faith-based organizations -- recognize and embrace the role they can play in improving health. He has the skills, experience and perspective necessary to be a 21st Surgeon General, and is poised with the experience and acumen to unite younger and older generations toward building a society firmly grounded in wellness.
Dr. Murthy is exactly the kind of leader our country needs to coordinate and champion an agenda that improves the well being of our nation at large. But, as it stands, we have been without a confirmed Surgeon General for over one year now.
So, why hasn't he been confirmed?
Because a single-issue special-interest group has been able to irresponsibly wield enough power to derail his confirmation -- and this is a huge problem. It affirms that our government values powerful lobbyists over prevailing scientific truths. Neglecting the broad, bipartisan support Dr. Murthy has garnered -- from two former Surgeons General, the American College of Physicians and the American Public Health Association among other reputable medical voices -- threatens future public service involvement. It is disenchanting and makes it harder for Generation Y to see worth in civic engagement.
This is exactly why millennials should care.
This confirmation is about more than just the United States Surgeon General. This confirmation is about how we elect leaders in America and how the millennial generation views its place in government -- whether we submit to the political blackmail of a single-issue special interest group, or hold our process to a higher standard.
Not confirming Dr. Murthy because his views are out-of-sync with one special interest group completely undermines the integrity of our election process. His eminent qualifications and experience speak profoundly to his ability to serve as the public health leader that our nation so desperately needs right now.
Moreover, physicians are trusted members of our communities. What message are we sending to future physician advocates if Dr. Murthy is not confirmed? In a health care system that craves advocacy for the most vulnerable, the voiceless that struggle in our system, we need to affirm physician advocacy is valued in the democratic process.
Now that midterm elections are over, the lame duck session offers us the opportunity to galvanize around this confirmation. It is time to mobilize and vocalize in the spirit of our democracy. So long as we can respond with fervent action and advocacy that reiterates truth, we can create the change we seek in this country -- a nation in which our leaders are elected for their merit, their passion and their vision for a better tomorrow, for all.