I recently realized I have taken the benefits of my walkable town for granted. Although I have lived in Hoboken for almost eight years, for much of that time I worked within the suburbs of New Jersey, where it was necessary to make lengthy, traffic-laden commutes to and from the office. And on top of that, I then would spend thirty minutes patrolling my neighborhood in search of a spot big enough to park my bulky Toyota Rav 4. There was always the stress of getting caught in a jam, being late for meetings and the headache of rush hour. And even though my town offered all of the perks of a metropolitan area -- several parks, bikes lanes, a paved walking path along the Hudson river, and too many restaurants and bars to count -- I wasn't fully taking advantage of these elements because of my lifestyle and the few waking hours I was around to enjoy them.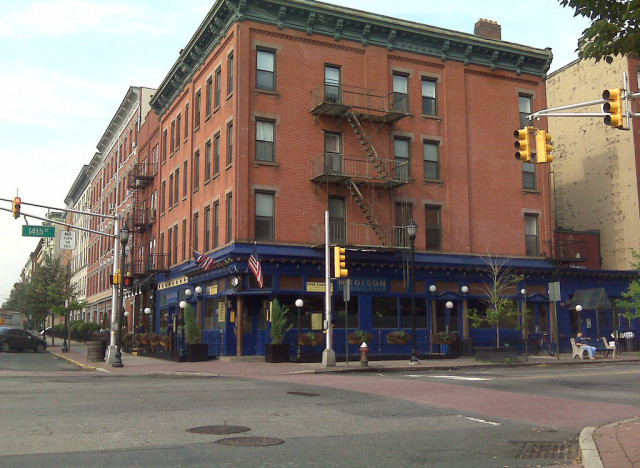 Flickr photo by Hoboken Condos
Now, with a new job (working at this very website!) in nearby Manhattan, which I can get to within minutes via public transportation and a brisk walk, my days have been transformed. I get a daily dose of fresh air, some exercise and time to clear my head on my way in every day. In addition, I have the opportunity to catch up with family and friends on the phone or chat with one of my neighbors on the PATH train. And on the way home from work, when I'm not in a rush, I can leisurely stroll home, window shop at my neighborhood's boutiques and stop at the grocery store to pick up some ingredients for dinner. The whole experience is so much more relaxing than my commute of the past and I find myself feeling calmer, happier and healthier (and even a bit thinner!). It wasn't until I read an article about designing communities with health in mind that I really considered the connection between my home environment and my physical and emotional well-being and how lucky I was to have access to great amenities and the ability to get around easily that my community allowed me.
I realize that at some point in my life, it may be necessary for me to commute again by car, and I will probably not live in Hoboken forever. But my experience living in a walkable city has made me aware of the positive effects. So wherever I end up, I will be sure to step outside for a breath of fresh air and ditch the car whenever there's an alternative.