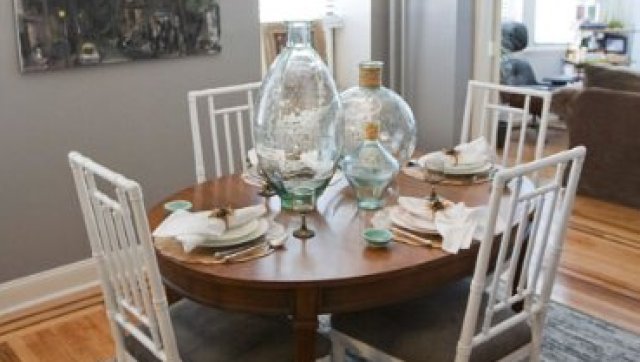 Last week's episode of the NBC comedy 'Up All Night' featured a scenario that my husband and I are all too familiar with. The show's leading couple, Reagan and Chris, were forced to actually talk to each other during dinner when their television set went on the fritz. The camera panned from their spot on the couch to their unused dining table which appeared to be covered in bills, kids stuff, a Zappo's box waiting to be shipped and a bunch of other non-dining related items. We sheepishly glanced back from our sushi takeout on the sofa to our own dining table, which looked uncannily similar.
While on the show Christina Applegate's character had to make a cheat sheet of conversation starters for the next evening's meal, my husband and I aren't that bad... but we do eat many suppers off of our coffee table while we have a full dining room just a few yards away. The parallel between our life and the sitcom made me think: Are dining rooms becoming obsolete in modern homes?
Let me back up a bit. Three years ago, when my (now) husband and I signed the lease for our current one bedroom (plus den) rental apartment after looking at countless other places in Hoboken I was ecstatic about the dining room, a ten by twelve space adjacent to the kitchen with glass-paned french doors leading to the living room. None of our other late-twenty-something friends in the area had a dining room, and we immediately began imagining all of the themed dinner parties we would host. I didn't waste time scouring Craigslist for furniture and bought a vintage Drexel oval table with two leaves, allowing it to extend and seat up to ten.
Although over the last few years we've had a couple of pretty fabulous dinner parties around that table in addition to have hosted our first family holiday get-together there, in actuality, the dining room is used for other purposes other than eating the majority of the time. This is the place my mom and I put together my wedding invitations in an assembly line, it's where I clip coupons...and sometimes even where I fold the laundry. But, do I wish we originally designated the real estate as something else, like a home gym or a glorified walk-in-closet? No way. Although we don't sit down at that table everyday, the few times a year that we fill the table with delicious home cooked food and gather around it with family or good friends makes it worth it.
Have something to say? Check out HuffPost Home on Twitter, Facebook, Pinterest, Tumblr and Instagram.