Before you toss that stack of sweaters as an attempt to jump start the spring season, here is a quick 'upcyling' craft that utilizes those gently used cardigans. It transforms your chunky cable knit sleeves into two sweet little wine holders that are great for toting bottles to your next dinner party.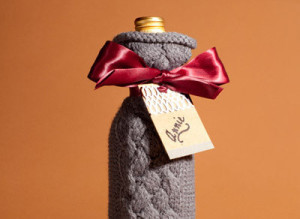 Photo by Bobby Doherty
Cut the sleeve off close to the seam, so you have 12-14 inches to work with (see below for how I cut the sweater). Turn the sleeve inside out and stitch the cut edge closed with a bit of thread or craft floss. Invert the sleeve, slip in your favorite bottle of vino, add a pretty bow and a gift card and there you go!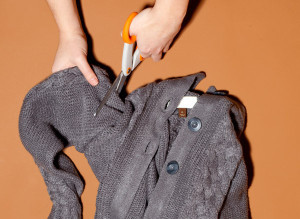 Photo by Bobby Doherty
Wondering what to do with the remaining knit pieces? Cut out a pair of four inch squares, tuck in a handful of potpourri, and sew them closed around the edges. These aromatic sachets will keep your sweater drawer smelling fresh for next year.