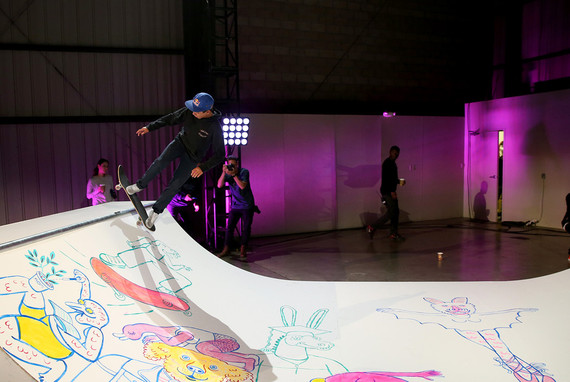 Alex Midler skates a half-pipe covered in art by Lisa Hanawalt
Last month in Santa Monica, I attended a multiplatform art event sponsored by Audi to promote their new A3. As many friends of this page know, I do not drive a car, so I'm not all that well-equipped to judge, but the car looks really nice. I gather the point is that this A3 retains the trappings of the high-end brand but is "affordable" to younger consumers -- a demographic with which some savvy decision-makers at the company apparently realized could best be communicated in two ways: live online, and through edgy visual art and music. The event centered around a thematic hashtag, #PaidMyDues, a call for content to which some 2,300 social media users responded with tales of life challenges overcome. The most intriguing were then interpreted throughout the event by a dozen or so creative artists, working in painting, drawing, printing; cooking, skateboarding, deejaying; video, comedy, fashion, technology, and live music.
I was asked by the organizers to participate in the hashtaggery, and here's what I shared, without overthinking it, because it's true. "I am still paying my dues! Today I have copywriting, Obamacare paperwork, catalog planning, newspaper listings... All I really did was be a starving artist and stick with it; and now I'm slightly less starving but/and way more people know my name. It's not been a particularly unique experience and I've been a thousand times more lucky than many, but, you know, you can't eat fame."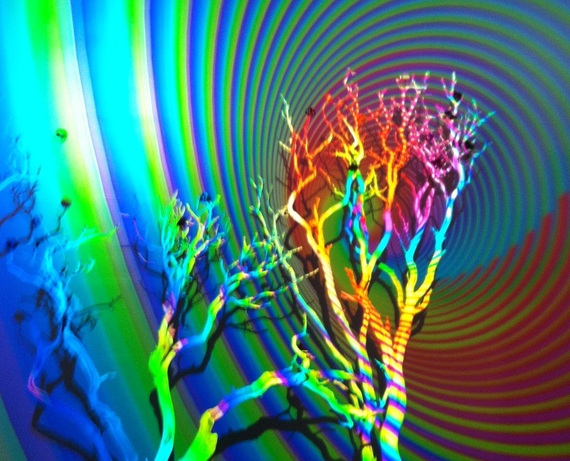 Jordan Kahn/Red Medicine booth
So there I found myself immersed in this surreal hybrid of gallery and TV-show set, like a futuristic art bazaar, built inside Hangar 8 at the Santa Monica Airport. Participating artists included Money Mark; Oddisee; Ben Landis; Upright Citizens Brigade; MADSTEEZ; Church of Type; Jim Mahfood; Sumi Ink Club; Gui Marcondes; Oh Yeah Wow; MachineHistories; Lisa Hanawalt; Alex Turvey; Dam-Funk. Here's a sweet time-lapse video of the whole day's event. But for me of course, the highlight was seeing my somewhat offhanded hashtag turned into a salient and magical "portrait" of me by award-winning chef and Red Medicine partner Jordan Khan -- in the form of a foraged micro-shroom salad with edible flowers, which if you know me at all is pretty accurate. They made a video of that process, which is quite lovely.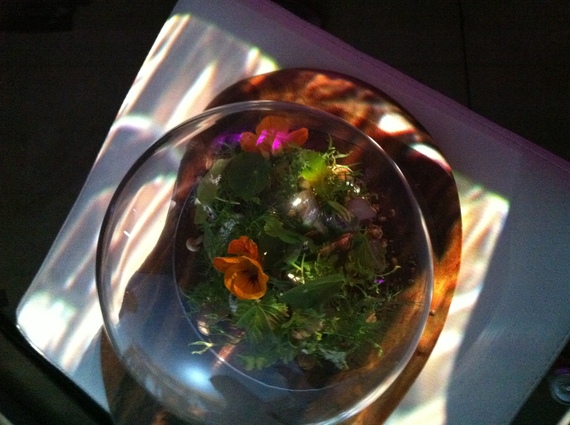 Portrait of the author as a salad, by Jordan Kahn

We spent a few hours roaming around, dropping in on Jim Mahfood's drawing station and the Church of Type's 200 year-old printing machinery, periodically checking back on the MADSTEEZ outdoor mural, rocking out to Dam-Funk. The whole thing was being livestreamed, so there was this automated matrix of lights and cameras on steel-track runners and small handheld-production crews darting around. We ran into some friends on site, and then my Twitter started blowing up with people who had seen me on camera from their remote devices. It was surreal and absorbing and it felt like the future. I remember thinking that I had had no idea how cool the Audi company was (which it turns out, is pretty cool).

A #paidmydues story interpreted by Jim Mahfood
Of course I couldn't help getting a little meta. The experience reminded me of the old days of Absolut, and their legendary patronage -- er, Warhol-inspired ad campaign -- featuring visual artists. That affection for the arts forged a brand loyalty in me that endures to this day. And there are dozens more examples in which a commercial concern does more than just donate to arts-based charities, going to great lengths to establish support of art as integral to their brand identity. David Choe once told me that Scion was "the new NEA" because they wrote checks and didn't ask questions. I've heard from many folks with direct experience that companies like Nike, Vans, Converse, Red Bull, and Miller all have very respectful attitudes toward compensation and artistic freedom in their dealings with artists. Marvel Comics sponsored the Guggenheim's Roy Lichtenstein survey when I was working there; they were terrific and totally helpful with the education aspects. The three murals adorning the parking structure walls of the West Hollywood Public Library (RETNA, Kenny Scharf, Shepard Fairey) were funded by Cadillac and Vanity Fair for use in an ad campaign photographed by David LaChapelle and somehow in tandem with MOCA's "Art in the Streets" juggernaut.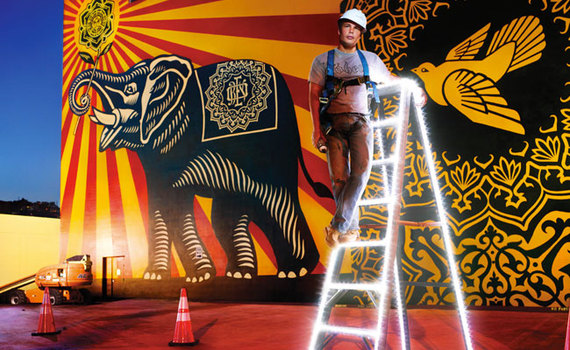 Shepard Fairey at his West Hollywood Library mural site. Photo by David LaChapelle, courtesy of Vanity Fair and the artist.
What, I wondered, is it really possible to know about the character or citizenship of a brand/company based on the tenor of their public relations? More specifically, what can we know about them based on their relationship to independent artists and to their strategies and priorities when it comes to supporting the arts? As I see it, even the most cynical reading is a net positive, because worst case scenario, you can know they've hired decision-makers who realize art has value. And that means that artists are getting paid. Writers, curators, musicians, filmmakers, etc., are getting paid.
But then it's funny -- speaking of Shepard -- more and more these days and especially here in Downtown LA, there seems to be a double standard when it comes to artists making a living. When experimental filmmakers or indie rock bands get placement in national ads or radio rotation, their fans are happy for them. When visual artists get sponsorship money, people lose their minds. It has been this way for years. Shepard and I have spoken about it at length both in private and in public, on panels and in interviews. He was an early target of charges that he had sold out way back when his print-shop started producing merch and taking paying gigs like the "Man on the Moon" movie-poster campaign some 15 years ago. He still gets hate-mail. Why, he frequently wonders, does it make people so mad that he can afford to send his daughters to college?
Why indeed does it make people -- especially those who fancy themselves culturati -- so mad when artists get compensated for their skills and their contribution to the visual landscape? Right now, a pitched battle is being waged in the Downtown Arts District along the continuum of the city's Mural Ordinance and its complicated relationship to commercial sponsorships. Among the dozens of sites affected, perhaps none has been as emblematic of the controversy as Vyal and Ron English's amazing "Urban Bigfoot" on Jesse Street. Its 140-foot expanse is a marvel of color and wit and was, briefly, a cause for celebration. Then someone realized Converse had funded it (I wonder who they thought was paying for the permits, insurance, equipment, materials, time, travel, and imagery?) and now it's bona fide kerfluffle, as yet unresolved, because detractors claim that this sponsorship constitutes illegal advertising per the city rules, which are scrupulous about keeping commercial interests at bay.
The nuances of the municipal ordinance make for a classic slippery slope; and a combustible mix of stakeholder personalities has not helped matters. Sorting all that out is not my station. But it begs the question of whence and wherefore this purity test only when it comes to visual artists? Hypocrisy is a strong term, but it's hard for me to really understand the true nature of the naysayers' objections. In art history school, I learned that during the Renaissance, the Church and its patrons like the Medicis were often intimately included in the works they commissioned on its behalf. The individual faces of patrons were often depicted in the scenes from the Old and New Testaments being rendered. Did anyone make noise that this diluted the "word of God"? No they did not. Compared to that, how much are we really prepared to care what kind of sneakers Bigfoot has on? Converse or Puma, the neighborhood is improved by the presence of a major piece of public art by a living legend of the mural genre. In fact, I'm inclined to go out and buy a pair of Chuck Taylors as a political act and a way of saying thanks for the amazing art -- just like I still drink Absolut; and just like if I ever buy another car I will no doubt consider an Audi.
Companies who want to share in the success that Audi and a handful of others are having with the arts -- and avoid political controversy -- might benefit from the insight of art experts supporting their programs as part of a more cohesive, curated, bridge-building, art-world outreach mechanism. Language and perception clearly matter -- and in the art world, they are everything. What if they brought in even more aspects of the art world apparatus and really went for it, applying themselves to intentional and specific public happenings? Immersive experiences such as these that leverage corporate technological resources, media access, and audience reach seem like a match made in pop culture heaven and a win-win-win for companies, consumers, and creatives. Visionary brands are in a position to spearhead a whole new system of classical patronage and fill the void of shrinking public funding with the thoughtful deployment of private-sector funds. This model could well be the future of art... But in this post inspired by something called #Paidmydues, I'm mostly thinking that it's the artists themselves who, having more than paid theirs, deserve to reap some rewards from the products and companies who are conscious enough to seek them out.

Photos Copyright WireImage/Audi*
*Ron English's Urban Bigfoot.
*David LaChapelle's Shepard Fairey portrait.