Jack Kerouac said in On the Road that "Somebody tipped the American continent like a pinball machine and all the goofballs came rolling to LA in the southwest corner." And that seems pretty accurate. But what about those who were raised here? Are they the children of Kerouac's tilt, or something else entirely?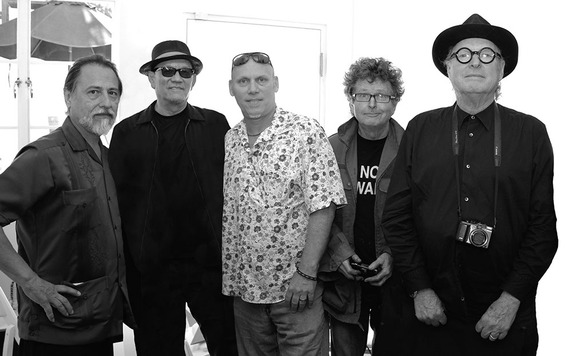 California Locos. Photo by Allison Stewart
The history of California Locos is not a history of styles. If anything, as a decades old but freshly christened movement, it's anti-style. As a school of practice and thought, Locos is an unusually fractal, retroactive, and personal matter. Deriving points of view from a hybrid insider/outsider mix of higher education and non-traditional artistic experience, the moment in LA cultural history the Locos embody (roughly 1980-2000) was itself a time of splintering, struggle, and great change for the city and the world. With an iconoclasm bred in the interlaced underworlds of surf, skate, graffiti, and and punk, the Locos represented, and continue to celebrate, a break from the shiny optimism of the past that had come to define LA's visual culture; seeking instead to replace it with something dirtier, rougher, far more vital -- and more than anything, something local. For artists Chaz Bojorquez, Dave Tourjé, John van Hamersveld, Norton Wisdom, Gary Wong, and their contemporaries, being from LA was everything. It still is. But like all great artists, these five have never stopped working, never stopped growing, absorbing, refining, and innovating. What they did changed everything -- but what they are doing now is the best work of their lives.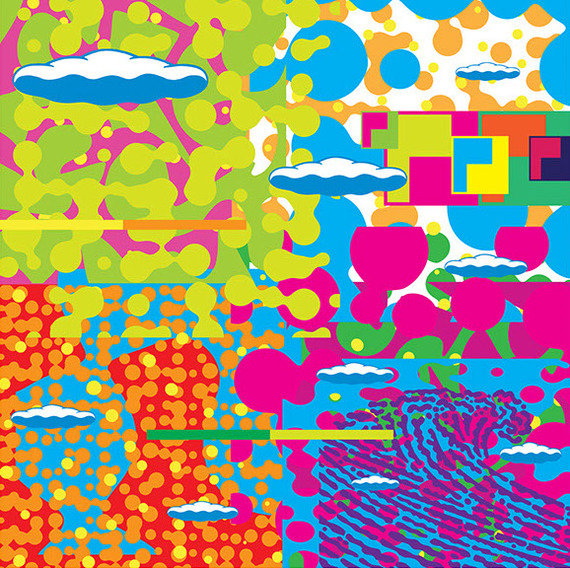 Gemengde Gekleurde #2 by John van Hamersveld
The Getty Center's sprawling Pacific Standard Time juggernaut happened in 2011, and covered in painstaking but not quite all-inclusive detail the Greater LA art world of 1945-80. Despite some unruly outliers, it was legendarily scholarly, formalist, conceptualist, and wholeheartedly Modernist. More ambitious than any previous historical undertaking, PST was successful in revamping the art historical record to include the seminal achievements of the artists who lived and worked here during those formative decades. Mission accomplished, and thanks to PST, the whole world is up to speed on the post-War vibrancy of the painting, sculpture, and architecture that took root here and flourished into the amazing 1960's scene that produced icons like Ruscha, Baldessari, and Hockney, within movements like Abstract Expressionism, Light & Space, Pop, and Finish Fetish. Assumptions are a future iteration will take up where PST left off at the dawn of the Big '80s. But for now...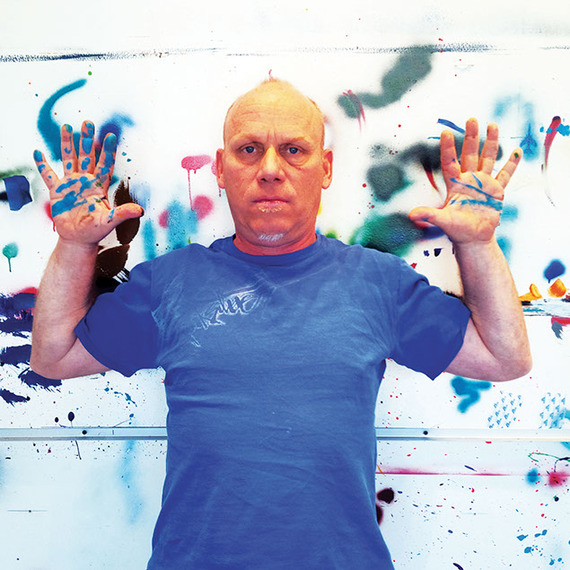 Dave Tourjé. Photo by Andrés Cuervo
Jump to about 2000, when everyone from skateboarders in Europe to gallerists in Chelsea started paying attention to a new generation of LA artists -- that's the world we live in now. Galleries around the world are clamoring for LA talent; art fairs, institutions, publications, and collectors want a piece of the new avant-garde like never before. But what happened between those heydays? What went on in LA's streets, studios, and galleries during those decades? According to Locos frontman Dave Tourjé, the missing link is "20 years of chaos. It was fractal, it was broken pieces," and it produced the first native generation of LA artists influenced by the edgy, irresistible surf, skate, graffiti, and punk subcultures. Artists like Robert Irwin, Larry Bell, Craig Kaufman, John Altoon, Guy and Laddie Dill -- and many others in the PST pantheon -- they were from here too, some of them, but they had a different set of influences and inspirations, things that came from the art-world's insider places.
The idea that became the California Locos first began taking shape in 2002 with Tourjé's solo exhibition Dream Kitchen at the Riverside Art Museum, but it wasn't until 2009, when his friend Gilbert "Magu" Lujan of Los Four told him definitively that more needed to be done to crystallize and articulate the thoughts being cooked up in that kitchen. Tourjé's next big show was LA Aboriginal which happened in 2011, in triumphant and sort of accidental collision with PST. WIth this installation, Tourjé was able to give profound form to his central ideas, especially the emphasis on being locally reared. This gesture was urgently needed, since the independent, counterculture voices LA produced were seen as not properly represented in those mostly-hallowed higher halls. The Locos officially began when Tourjé invited the other four to a panel discussion that was also a part of the documentary on Tourjé's career and the LA Aboriginal show in particular. "The filmmakers named us the California Locos -- and it stuck!"
For the purposes of this particular assault on the history books, Locos focuses on a core group of five artists. But really it's an inclusive, curious-minded sort of movement, in which membership is fairly easy to come by. All you have to do is have been raised around LA, and have made fucked up art here in the 1980s and '90s. Tourjé thinks about it this way, "It wasn't about the artists who came here in the 1940's-60's and stayed. It was about the artists that were raised here. Homegrown. They came up outsiders to the art parade. They came from the surf, skate, graffiti, and punk scenes -- not the gallery scene." Despite many of them attending the art schools LA was rapidly becoming famous for --all but Tourjé attended Chouinard (later reinvented as CalArts), both Hamersveld and Tourjé studied at Art Center, and Tourjé attended the UCSB College of Creative Studies -- they maintained a maverick sensibility through their stylistic and lifestyle/career choices and the threat they posed to the polished, poised version of LA culture their predecessors promulgated. What all those progressive art schools had in common was a dedication to the boundary-blurring, impure crossover -- whether that be the use of non-traditional materials, or the elevation of the common, from surfer 'zines to Mad Magazine, band flyers, and tagging. Transgressive mixed media impulses combined with the advanced skill sets that come from an art education and were applied to new ideas in what Tourjé calls an "open-barrier calamity." And as the years have passed, those skills have only deepened -- and their ideas have only gotten bigger.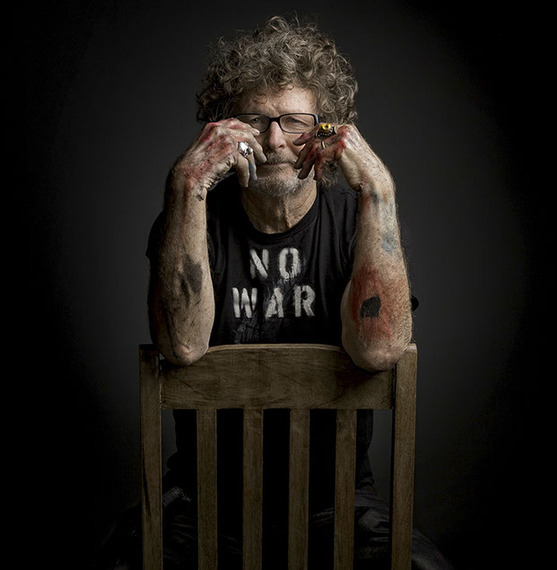 Norton Wisdom. Photo by Regina Pagles.
Norton Wisdom calls himself an anti-war activist before an artist, and after studying at Berkeley, he also had a whole career as a decorated and legendary lifeguard. Despite being a student and lifelong practitioner of painting, he's spent the last decade or so focusing on his performance art, taking his live-painting improv act on the road in collaborations with musicians like Banyan, Lili Haydn, Nels Cline and Llyn Foulkes. But the political and frequently sexed-up pictures resulting from the live shows are just the most public part of Wisdom's story. He's dedicated his career to exploring the infinite possibilities of an abstract structure, the proscenium/rectangle. Since the late 1960s, Wisdom has been tirelessly, unendingly rendering this shape in pure color, expressively distressed surfaces, and collages made with images both found and cannibalized from his own canvases. This is in pursuit of a practice he first undertook way back up in the Bay Area, when he experienced an epiphany in which he envisioned a solo, steady studio practice as a form of peaceful protest. He still paints every day.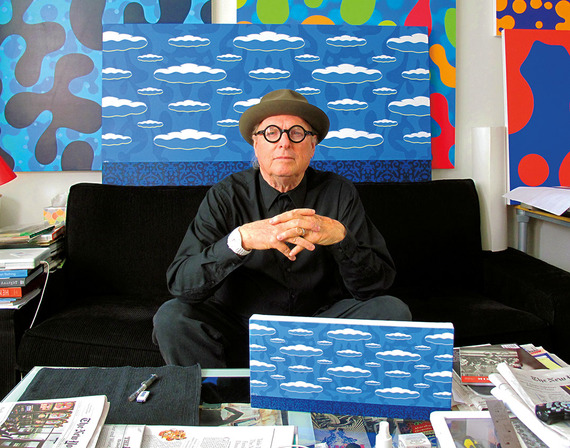 John van Hamersveld in his studio.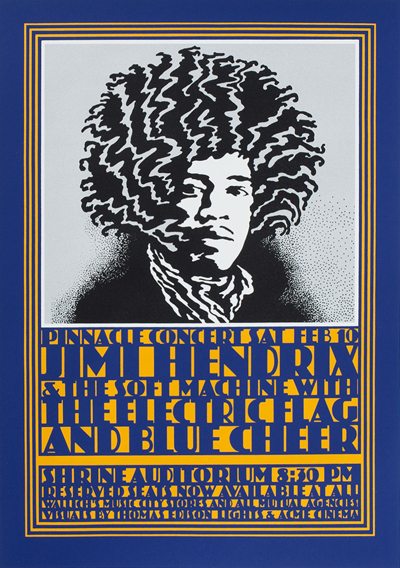 Artwork by John van Hamersveld, 1968.
Of all the factors propelling the cultural revolution of the 1960s, you could argue that none was more pervasive and evocative than the era's iconic album covers, posters and magazine illustrations.The artists and designers of the time tapped into the same broad desire for revolution, peace, beauty, adventure, freedom and the absolutely new as the splashier performers. Among the greatest of these greats is the prolific John Van Hamersveld. His more than 50-year career includes time as art director at Surfer Magazine and Capitol Records, and he's responsible for a graphics pantheon that includes album art for the Beatles' Magical Mystery Tour and the Rolling Stones' Exile on Main Street, the Grateful Dead skull, and indelible images of surfer heaven like the oft-sampled, iconic poster for the king of all surf films, 1966's The Endless Summer. Shepard Fairey has been known to credit his work in these interlaced worlds of surf, rock and film posters as a seminal influence his early OBEY campaign.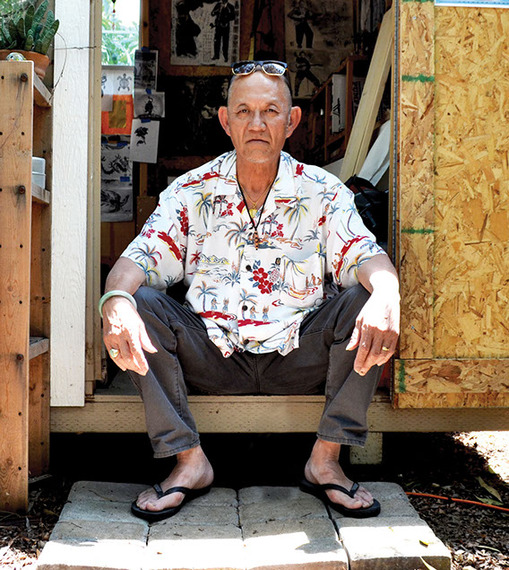 Gary Wong. Photo by Andres Cuervo.
Gary Wong is a profoundly confounding figure of monastic ubiquity and a penchant for character-based performance-art band-music. His work is "about jazz and baseball," although of course all of it is run through a filter of exciting expressionistic collage, painting and drawing. Wong like many of the Locos is assertively a lifestyle exemplar more than a producer of art objects -- but one who nevertheless makes gorgeous images of saturated, rough-handed elegance, and objects of visceral impact, often incorporating the symbols and signs of outsider, transnational identity into his program.
Dave Tourjé's work reflects the history and religion of his beloved Highland Park neighborhood but also the hot-rod, gang, and motocross cultures that permeated the LA consciousness during his youth -- as well as an immersion in mural cultural both in LA and in Mexico. He is known for employing various techniques, non-traditional materials, and hybrid styles into a volatile but measured vision that combines both instances and derivations based on his eclectic influences. He is widely known for a very analog and unwieldy reverse-painting technique where he gets the best of two worlds -- gesture and perfection, as raw color and line assume a glossy, architectural surface. He likes to build things, too, out of wood and concrete, favoring inconvenient but unforgettable hand-made objects. Ed "Big Daddy" Roth, Rick Griffin, Zapp Comics, and Mad Magazine were at least as big a deal as school was in forming his unique artistic identity.
Chaz Bojorquez was a graffiti writer who tagged mostly in the Arroyo Seco and Highland Park -- until he was encouraged by the legendary Chouinard teacher and Abstract Expressionist painter Matsumi "Mike" Kanemitsu, who saw Chaz's talent through the context of sumi ink, of which Kanemitsu was a master. Chaz's tag "Señor Suerte" was the first known stencil tag -- 30 years before there was a Banksy -- and it was adopted by the Avenues gang as a symbol of protection they called Mr. Luck. He has pursued a refinement of these poetically vandalizing impulses between then and now -- resulting in a unique combination of legible passages, invented fonts, and familiar symbols that describe, depict, and evoke the cultural and linguistic mash-up he inhabited. He is known as the Godfather of Graffiti -- but he is solidly in the realm of fine-art painter now. Having moved off the street and onto the museum walls, he can also be seen as a pioneer of the now-accepted trend of street artists producing work for a gallery context. The art-world embrace notwithstanding, his compositions tenaciously refer to the more dangerous and unappreciated time when maverick writers festooned a once-decaying city with emblems of individual existence.
Where Locos once set itself against the grain, its sensibility has become the grain of art history itself -- partly because America loves a good redemption story, but mostly because its legacy is apparent and immortal in the younger artists taking prevalence internationally. This work is not regional, not any more. It's global now and there's no going back, only appreciating. The Locos fractured aesthetic is characterized by fearlessness, and a love for the shadows cast by the famous SoCal sun. It's a confrontational mystery, a counterintuitive realism, and a big part of the reason people are obsessed with LA -- the grit, the underbelly, the trespass, the lawlessness, the lore. For all these decades, the work the Locos did and continue to do has exercised a fascination on artists in LA and around the world; artists who were once skeptical of the dominance of pop and conceptualism in LA's official art-world record, and are now skeptical of the inaccessible marketplace. Understanding the Locos legacy is not about who influenced them, so much as it is about who they have gone on to influence. There is a proliferation of literature on the skate, surf, music and street art scenes -- but this is the first time the art made in that same time and place takes precedence, finally catching the wave it deserves.
Coagula Curatorial brings the LOCOS to the CONTEXT: art miami fair this December 2-7. Read the press release here.