The Internet streets are a modern-day wild west where there are more bad guys than peacekeepers. However, even the darkest corners of the interweb have some (formerly) unwritten rules that could be the difference between a relatively peaceful existence or a complete dragging through social media.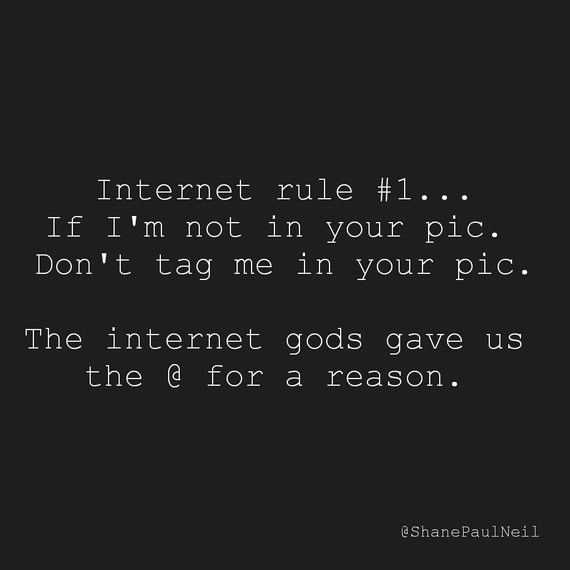 Seriously, there is no reason for this. Whether you found a hilarious Jordan cry face meme, a moving inspirational quote or have a bootleg sunglass business you are trying to promote (see rule No. 4) all that tagging me on a pic, that I'm not in, does is make a mess of my feed. If I absolutely have to see your pic just mention me in the comments. It's not hard.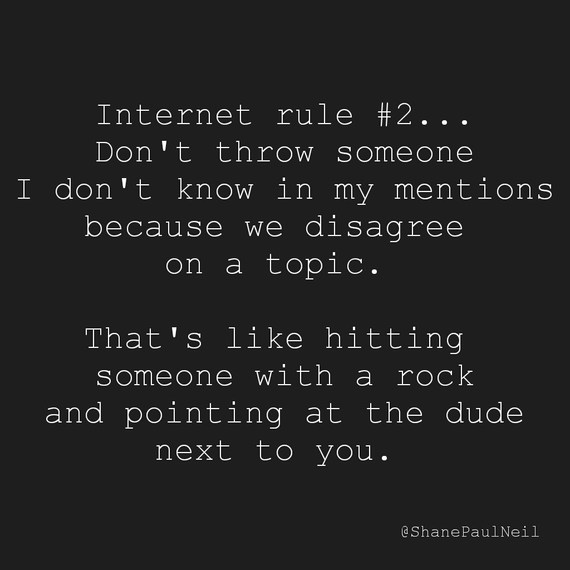 I get it. I've posted about Cam Newton, the Oscars or whatever else is going on in the world and that horrible dude you know on Facebook is saying something ridiculous; but throwing me into the conversation is the equivalent to setting up an intellectual cockfight. It's interesting to watch but it's still pretty crappy. I already have enough trolls on my feed. I'd rather not advertise for more.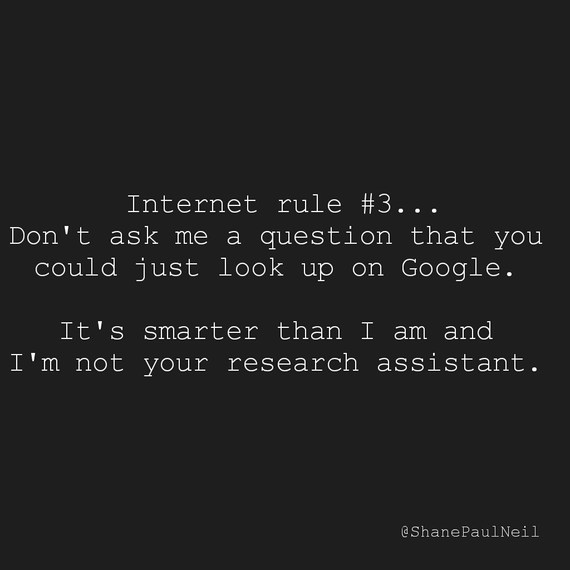 This is simply a matter of laziness. I have had people tweet me to ask if I had a link to an article about some topic I posted about a week ago. Or, if I could explain what a word I used meant. Google is an amazing thing. It has every bit of information in the known world. You don't even have to type your question. I literally pick up my phone, say "OK Google" and the lovely woman inside my smartphone is ready to answer any question I can think of. The best part? The Google machine is 100 percent free!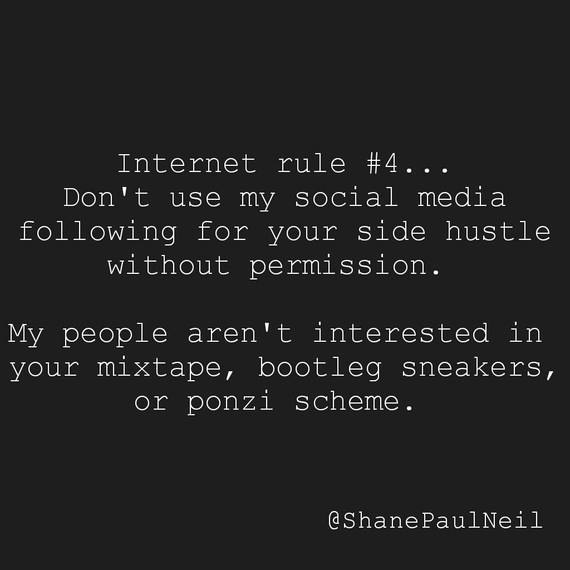 It's one thing if I don't know you. Everyone gets spammed at some point by some overzealous bot or someone trying to sell me a million followers for three bucks, but if we know each other spamming my feed is a complete dick move. If you have a business or some other venture I'll probably promote it myself (my friends at Wendy's Cake Pops are freaking amazing) but if I don't, just ask. If you are doing something of quality I'll shout you out myself. My reputation and my endorsement, however small, are important to me. I respect your hustle but you need to respect my name.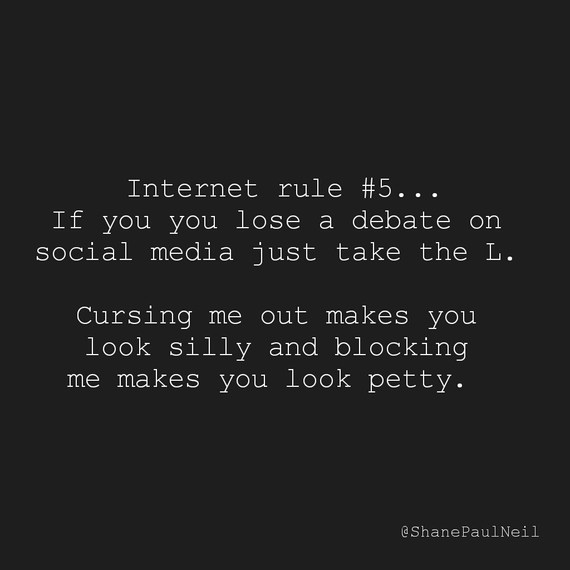 I like debating online. Whether it's a subject I'm passionate about or simply an exercise in logic, I'm probably more than willing to have some back and forth with you. Generally speaking, one of two things will happen: either we'll reach an impasse or one of us will lose. If it's you taking the loss be an adult about it. Being loud or obnoxious won't make you right. Think back to your days playing little league and be a good loser.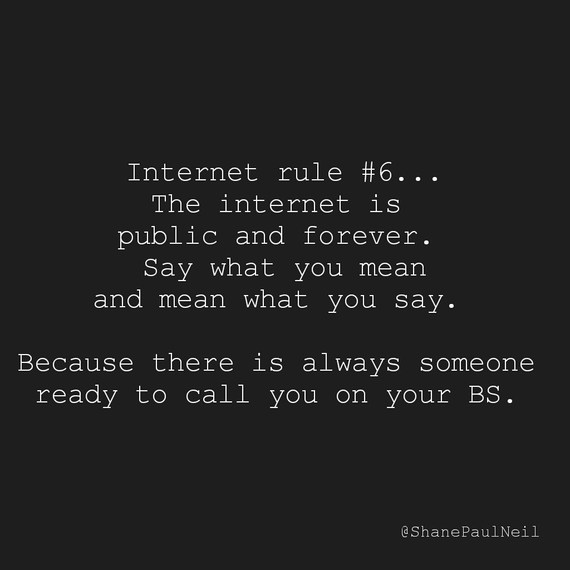 Think twice before you hit send. For every hastily posted status or blog that turns out to be a little racist, homophobic or sexist there is someone grabbing a screenshot before it's deleted. The Internet is forever and Google never forgets so if you're planning to run for office, get a job or pass a social media background check from your next date take a second to decide if that really ridiculous viewpoint is worth shouting to the entire known universe.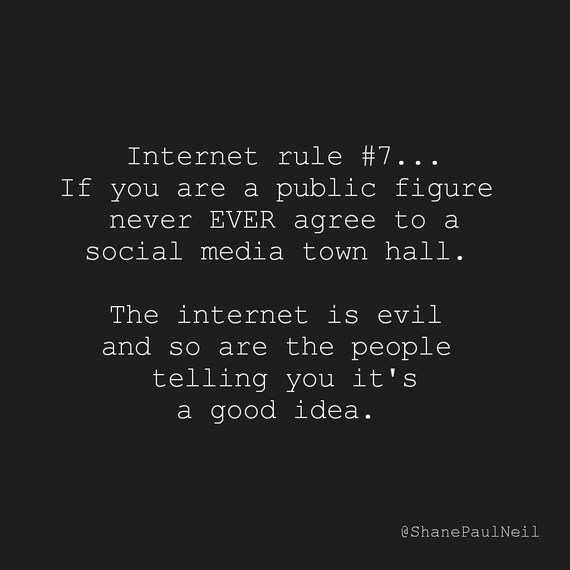 R. Kelly, Bill Cosby and the NYPD all found out the hard way that the Internet is an awful place to go if you are trying to prove that you aren't awful. If you are a celebrity or organization trying to recover from or deflect controversy, exposing yourself to the anonymous online masses probably isn't the way to go. Actually, why am I giving awful people advice? Forget everything I said. You should take a picture of yourself holding up a sign for us all to photoshop.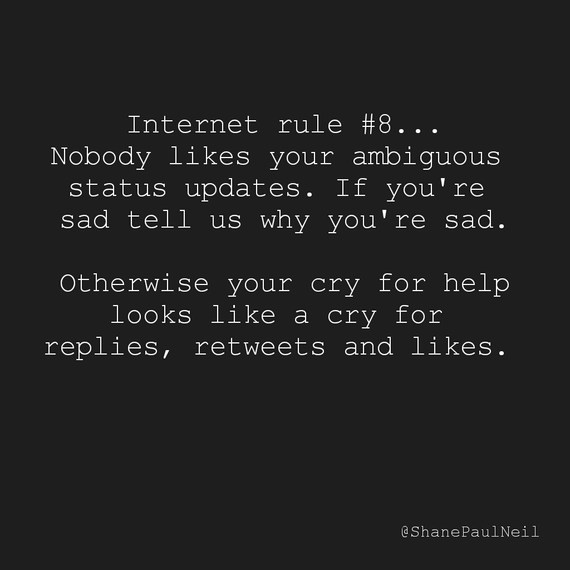 If Sylvia Plath was a passive aggressive she would probably post one of these types of statuses. Vaguebooking is as annoying as a clickbait article. Seriously, if you really need support from folks, tell us what the hell is going on. Though I would recommend that you keep your problems offline. Most of the people liking and responding to your half-status are more emotional rubberneckers than supportive friends. Talk to your significant other, a therapist or your mama, you'll be better off in the end.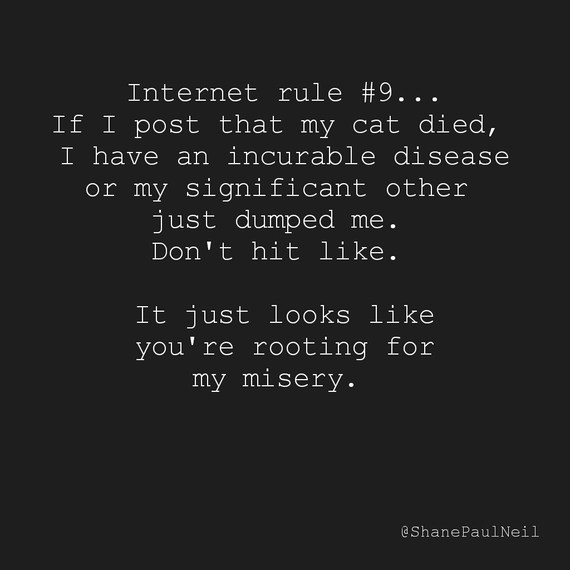 To be fair, this is more a failing on social media's part then it is you (though Facebook has finally fixed the issue). Generally speaking, there hasn't been many alternatives to acknowledging a less than happy post when you just don't feel like writing a reply. It's probably the ultimate in first world problems but "liking" a sad post is kind of like giving a funny toast at a funeral. Well-intentioned but kind of inappropriate.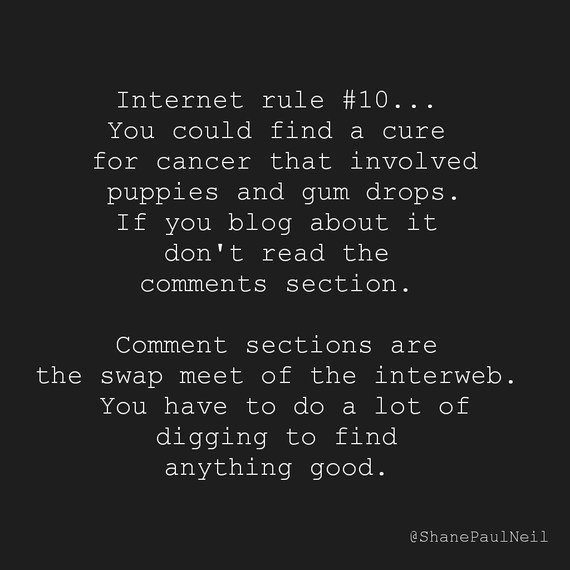 Comment sections are where Internet trolls go to mutually masturbate. Don't believe me? Go look up your favorite YouTube video and read the comments. In my time writing online, I've been called every name in the book and even had someone suggest that I am an advocate of children being bullied. Nothing good comes from reading or participating in any comment section. Just... Don't... Ever...